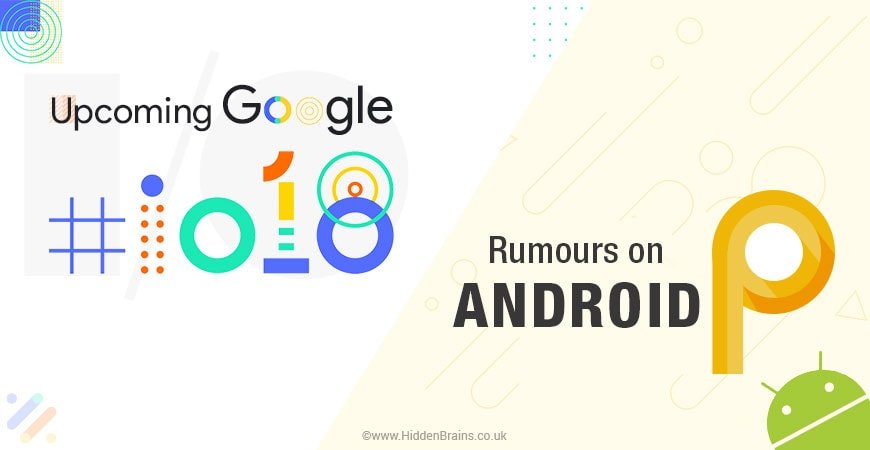 All Android enthusiasts have marked their calendar for the mega event – Google I/O Developers Conference 2018. This annual event is scheduled on May 8 – 10 @ Shoreline Amphitheatre, Mountain View, California. What makes this the most awaited event of the year is the announcement of a new version of Android and features of Android version 9.0.
Soon after the announcement of I/O conference by Google, the hashtag #io18 was flooded with tweets from all techies and technology companies.
Names for Android P: Rumour or a Reality?
Google would most probably continue the legacy of naming the Android version in alphabetically order – this time it is 'Android P'. Rumours are already rolling out for the names of this new version. Rethinking on the names of desserts starting from letter 'P', people are coming up with interesting names such as 'Pineapple Cake', 'Pie' and 'Pudding'.
Android 9 Pie Features: Everything You Wanted to Know About Android 9 Pie
As per the information received from reliable sources connected closely to Google, following are some of the expected features of Android P:
Prevent Background Apps from Accessing Camera
In an attempt to protect privacy and security of user, Android P would come up with an important update for apps. Any app that is idle for more than a fixed amount of time would not be able to access smartphone's camera. This is a minor update, but it can be significant in fixing the vulnerability of Android phones.
No Mic Access to Background Apps
Another addition that comes in the line of improving privacy of Android users is restricting idle background apps from accessing mic of smartphone. Oreo version limited several background services; however Android P would go a step further in this direction.
This new feature of Android P would ensure that malicious apps don't record your conversation without your notice. The new Android operating system would identify idle app's UID to prevent it from accessing microphone.
No More Built-in Dark Mode: Android P Will Support Night Mode
Google does not seem to fulfil the longstanding request for dark mode. However, the team plans to release a toggle in Android P that allows users to switch to 'night mode' in their apps. Twitter – a popular social media platform already has this option that allows users to access the app without much strain to their eyes in low light conditions.
Get Notified for Call Recording
Android P would establish transparency for users by allowing them to be notified for calls being recorded. While Android OS has been supporting call recording since long, smartphone manufacturers rarely enable the feature on their phones because of privacy and legal issues. To make it easier for manufacturers to overcome this issue of privacy, Android P would play 15 seconds alert tone for the opposite party to notify of call recording.
Related Post: Why Should you Hire Android Developer for Your Project?

Conclusion
It would be quite interesting to know what's next in the line of Android 9 Pie Features. We hope to see more clues and glimpses before the commencement of Google I/O Developers Conference 2018. Stay tuned to this blog for catching all latest updates surrounding Android P, its probable names and expected features.
Hidden Brains is a leading Android app development company that builds innovative apps on latest OS version to utilize its unique advantages.