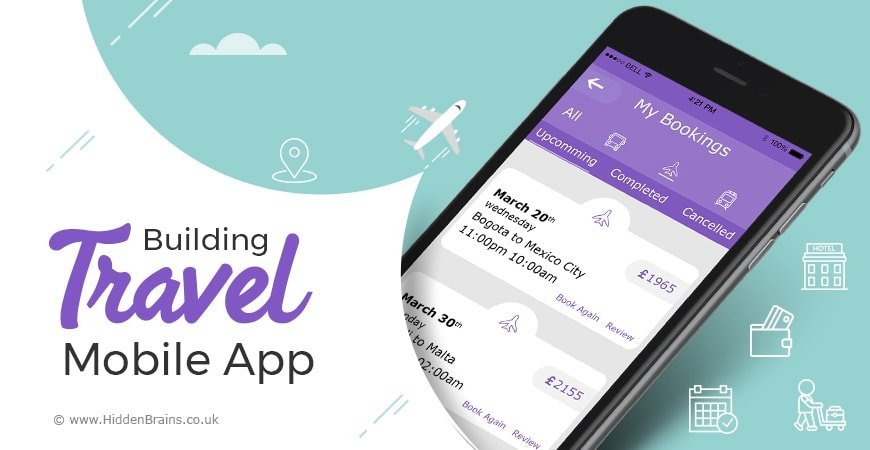 The only rule for excelling in travel and hospitality industry is "delivering excellent customer service". Improving on customer service isn't as simple as you might think. It requires innovative minds and strategic plans that have the ability to make sense from volumes of customer data and harness it to improve business outcomes. Building an all-in-one Travel mobile app development solutions that takes care of all sorts of travellers needs is a viable solution in this digital age. Let's know how.
Building Holistic Travel Mobile App Development Solutions
Majority of travel agencies have their mobile app that enables customers to browse through tourism places and make bookings. In a scenario where everyone is leveraging benefits of digitization, how would your app be preferred by customers over other apps of same category?
"Consumers prefer to make bookings for travel on mobile due to larger smartphone screens, simple, secured mobile payment methods and overall time spent habits shifting to mobile. On the same lines, airlines, hotels and online travel agencies have made both apps and mobile websites easier to use."
—Chris Bendtsen, Forecasting Analyst of eMarketer
There are chances of your travel app to survive in the marketplace only if it is unique and offers exclusive features or functionalities that no other apps possess. This is where all-in-one travel mobile app idea comes into picture.
While there are different apps available in the market for different purpose, building a holistic travel app that combines functionalities of multiple travel category apps would be loved by targeted audience. Let's understand this concept in depth:
The best way to build a holistic travel mobile app is to get answer to this question – what would users expect in your app who are planning to travel or are already travelling?
Get precise information on all tourism places across the globe on your travel mobile app.

Suggest users of places to visit based on their current location, interests and preferences.

Join the community of travellers that have visited the place or are planning to visit and get into direct interaction with them.

Get help in packing of travel bags by suggesting a list of items to carry while heading for a particular destination.

Allow users to browse through various accommodation options at the travel destination.

Compare prices and amenities at hotels to take a wise decision.

Book hotel room in advance for selected dates and pay through secured payment gateway. Give options to make the payment via Credit card, Debit card, Net Banking, PayPal, mobile wallets and cryptocurrency.

Get the best airfare deals and allow users to book the tickets right away.

Inform users of flight delays, weather forecast, boarding time, departure time and arrival time for the booked flight.

Get notified of sightseeing spots at a particular place and get detailed roadmap to reach there.

Suggest best local food restaurants and other restaurants as per your choice of cuisine at the travel destination.

Share real time photos of travel and holidays with the travel communities through the travel mobile app.

Share experience of entire trip with your travel communities and other social media platforms directly from the app.
When all such functionalities are available for use through a single app, why would any traveller keep 3 to 4 different apps in smartphone? Having travel mobile solution is an assured way of boosting sales through garnering large and loyal user base, hotel and flight bookings.
Read More : How much it Costs to Build Flight Ticket Booking App?
How is Mobile Technology Reshaping Travel Industry?
Travel companies need to be more agile and responsive to customers' needs in order to standout in the cut-throat competitive market. In this endeavour, they are adopting unique Travel mobile app development solutions to outweigh competitors and mark their strong presence in the travel industry.
IATA global passenger survey asked business travellers a simple question 'How do you see the airline experience changing for your business travel over the next 3-4 years?' and the answer is clearly represented in the graph: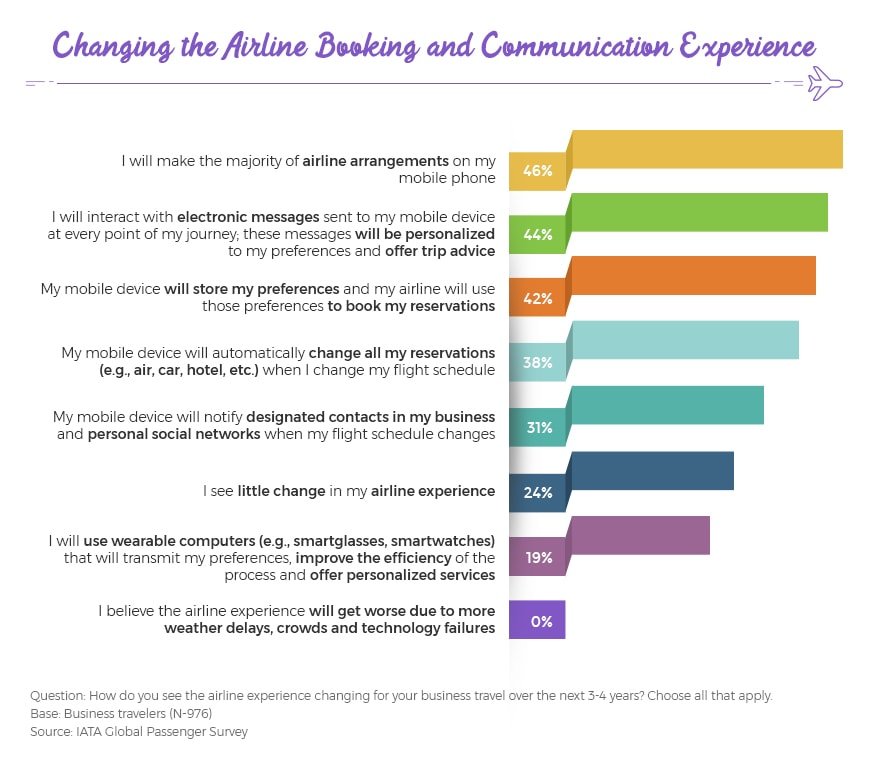 This graph shows an inclination of people's preferences and changed behaviour pattern. Maximum number of people now desire to make airline and related arrangements through mobile devices. There are several other reports that depict the dominance of mobile over other platforms for travel industry.
"By 2021, mobile will represent nearly half of all digital travel sales."

—Report from eMarketer
The rising trend of mobility is compelling companies to invest in travel mobile apps and mark a presence where customers would most likely search for them. IT solutions for travel industry are gaining traction considering the unprecedented rise in demand from travel agencies in this decade.
Build your Own Travel Mobile App
Hidden Brains is a reputed travel mobile app development company that offers integrated digital solutions for tour operators, airlines, rentals and hotels. Our IT travel solutions are aimed at optimizing your resources, gaining new efficiencies to provide personalized, best-in-class experience to customers and streamlining processes to optimize costs and increase agility.
We enable businesses to leverage the strength of new technologies for addressing their pressing needs with the help of our Travel mobile app development solutions. Intelligent, intuitive travel solutions aims to innovatively and cost-effectively reach to their customer base, win their hearts and retain them. Empowering clients to use Big Data analytics for monitoring customer behaviour, Our mobile app developers help to incorporate necessary steps for customer engagement and enhance brand experience.