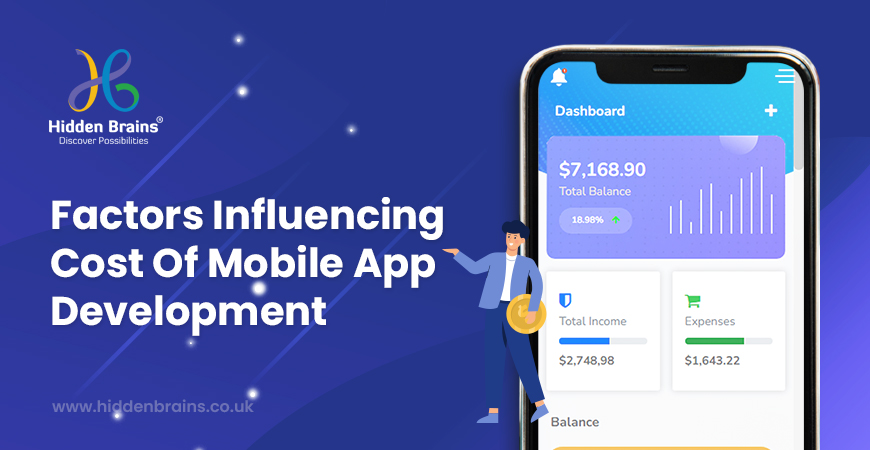 Mobile app development is the establishment of software on mobile devices. In recent years mobile app development has gained tremendous momentum. As a result, it has become one of the main reasons for business success.
In today's generation, mobiles are filled with apps. People are so addicted to various apps on their mobile phones that they either play games read the news or watch videos, which causes more and more demand for the development of apps. And that is why, it is most important to know major factors that are affecting the cost of mobile app development for your business.
The most important thing needed for developing a mobile app is idea and creativity. One should hire mobile app developer with market awareness and provide end-to-end best mobile app development services for iOS, Android, and Windows. There are some factors below which affect the cost of mobile app development.
Factors that affect the cost of mobile app development
1. Native app Vs. Hybrid app
The first factor for app development is the field or platform on which you are making the app. Native apps are platform-specific, that is, the iOS platform. For this, you need to hire mobile app developer for iOS who is dedicated. The native platform can also be for Android platforms.
Native apps are speedy and responsive. If you make a native app, the iOS app will never work on the android app and vice-versa because of a different codebase, making it costly.
The advantage of a hybrid app is a single codebase for both platforms and hence costs less than native apps. If you talk about time frame, iOS takes 400 hours, Android takes 500 hours, and hybrid takes 700 hours. The longer the time, the more will be the cost. Mobile app development services are aimed at building iOS and Android applications.
2. Features of the app
The cost of any application depends on what functionalities and features you want in your app. The more functions we add to our app, the higher the price. If your app needs data or mobile app development services from a third-party application, you have to bear that cost of API. If you build an app with basic features, the development team will require less time to make, and hence the cost of development will be less. Whereas if you want complex and many elements in your app, the development team will require a longer time; hence cost will also increase.
3. UI or UX design
UI (user interface) and UX (user experience) are designing styles. Any design that creates an interface is known as UI design. UX also creates an interface, but it's more than just a standard interface design. It is like a bridge connecting your applications with users in a friendly manner. UX interface is easy to use as compared to the plain interface. People use mobile apps much more than websites. So for apps, having good UX design is essential to attract and retain users. The cost of UX design is higher than UI initially, but UX design provides excellent value over UI design in the long run.
4. App hosting and SSL
Mobile apps carry large amounts of data for users to access. It can be transactions, search data, or employee data. Any danger to the data means the end of the business. It will help you select the best hosting web service for you. SSL prevents hackers from hacking your applications. The cost of app hosting and SSL has to be renewed every year to make sure your application is running smoothly.
5. Cost of Updates and maintenance
Mobile apps require regular maintenance. Maintaining an app means releasing new updates to upgrade the features for the smooth functioning of applications, fixing bugs, and improving the server's performance. Besides updating, your app also needs marketing to reach the audience and stand in competition in the market. Hence even after launching the application, the expenses extend.
6. Application testing
Testing is carried out at every step to check for bugs. Testing is done continuously to keep the app working and updated. As the complexity of the feature increases, so is the time for testing, and hence there is a rise in cost. If the app has basic features, not much time is spent on testing; as a result, the price required also gets reduced.
7. Platform
There are two platforms for developing mobile apps: Android and iOS. IOS apps have a higher cost of development as compared to android apps. The price of developing an iOS app does not differ much from Android; the problem arises when you want both. The situation gets expensive as they both use different programming languages and different tools, so you need to hire mobile app developer for both, hence enhancing the cost.
8. Website
Only the users who have downloaded your app can use it, but what about the users browsing the web? For this reason, many app owners make a website. Sometimes the website and mobile application are made with the same features and functionality. If we use both simultaneously, some coding and features can be re-used. It makes it easier to develop the mobile app in a shorter period. This way, the cost can be reduced, and at the same time, you will be able to reach the users on the web.
9. Development hours
If you aim to make a complex app, you need to hire mobile app developer in large numbers to speed up the work, and this means you need to invest more money. On the other hand, if you want to develop a less complex app, you need to hire fewer developers and pay them relatively less. Therefore development is a significant factor in the rise in the cost of applications.
The Final Take
The cost for mobile app development is huge. With the increase in features, testing, and maintenance, more time is needed, increasing costs. Therefore the price greatly depends on the mobile app development services and features. Features, testing, maintenance, and development hours behind an application are all related.
If one increases, the other is also bound to increase. Besides all these, if you want your app to succeed, your idea for developing the app should be unique. It should work as a problem solver. If the concept is unique, then no doubt, the app will be successful and set the standards of the market high. These are all the factors behind the cost of the development of the application. Therefore before making an app go through all the elements wisely.
Related: Infographic : How Much Does it Cost to Create an App?