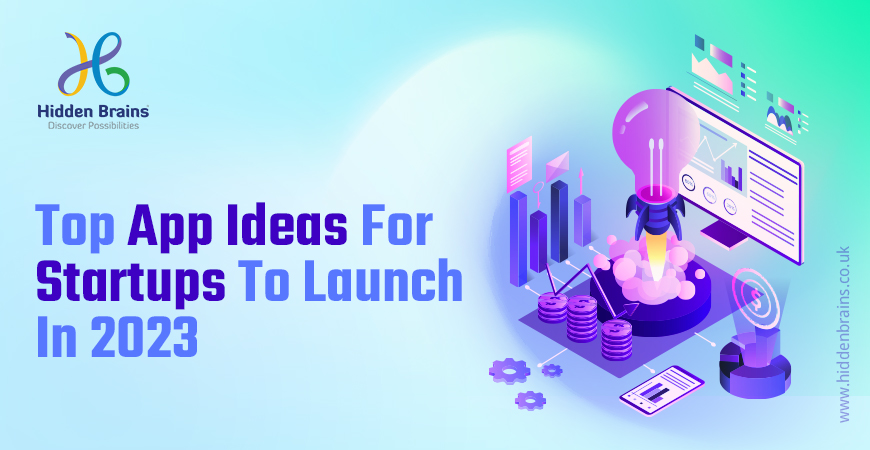 It's never been a better time to be a developer or entrepreneur, and the growth of mobile app development has made it easier than ever before to make your mark on the world and find success! From medical apps to eCommerce solutions to games and more, the world has never needed your apps more than it does right now. To give a boost to your new business, you must know the top app ideas for startups.
But how do you decide which app ideas are worth your time? Which will give you the most return on your investment? And which can you actually build from scratch?
Take a look at 16 top app ideas for startups to launch in 2023
1. An app for creating real estate videos
Do you have an idea for a new app that will help people find the perfect home for their family and budget? With more people turning to real estate videos, an app that creates these videos would be a great choice!
This app would allow users to create custom videos of properties they like. The user could choose the style of video, add pictures or text, as well as set the floor plan and room setup – all in real-time. They could even save their homes search so they never miss out on any new listings again. This could be one of the coolest app ideas for startups.
2. An app for correcting bad posture
What if we had an app that could monitor how often we slouch, or what if we had an app that would tell us when our back muscles were getting tired and needed some rest? That would be amazing.
A lot of people have bad posture, and these apps could help with that immensely. Slouching can cause a host of problems from pain in the back and shoulders, to poor circulation which can lead to long-term health issues such as high blood pressure and diabetes. But this problem isn't just about health: It also impacts how others perceive us.
Slouched postures make it appear as though we're less confident than those who maintain good posture. So it's not just about fixing the problem for ourselves – it's about fixing it for other people too!
3. An app designed to help people find their phone
A simple app designed to help people find their phone, this app would have three main functions:
Find my phone
Ring my phone
Locate my last position
The find my phone function would work by sending out an alert to every phone that's connected to the user's account and asking them to locate the device that is ringing or has been located via GPS. The ring my phone function sends out an alert and asks whoever hears the sound of the ringing cell phone to go up and get it; if they do not, it will continue to ring until it is answered or has rung ten times, at which point someone can call back with a special code and make the ringing stop.
4. An app where you can connect with inspirational people from across the world
This app would be based off of the concept of an inspirational board, but with a new twist. Users can connect with people from across the world that share their passions and interests, including people that could be seen as role models or mentors for them.
They would also have the option to chat with these people or receive notifications from them when they publish new content so you never miss any important updates from the people you care about most.
This service would provide an incredible way for users to make connections and build meaningful relationships with other like-minded individuals who share their interests, giving them the opportunity to get instant inspiration from others' life experiences.
5. An app for senior citizens
An app that connects senior citizens with youth interested in hearing stories about life experiences of seniors
One app that caught my attention was one that connects senior citizens with youth interested in hearing stories about life experiences of seniors.
Senior citizens could post themselves on the app and find someone who is interested in hearing about their story and vice versa so they can share their life experiences with those who want to hear it.
This app could help senior citizens feel less lonely and give them a sense of purpose while helping younger people connect with the past and learn something new. This could be one of the best and most helpful app ideas for startups.
6. An app where users can book directly from hotel websites
Imagine the convenience of being able to book directly from the website of any hotel near you, without having to search through tons of websites and compare prices on each one. With this app, users can find hotels nearby and book with just a few clicks. They would have access to up-to-date information on what's happening at the hotel, such as events, discounts, and reviews. Best of all, they can book at whatever time is most convenient for them.
7. An app that helps customers order flowers and gifts without talking to anyone on the phone
Did you know that 61% of customers would rather order flowers and gifts over the phone and avoid talking to anyone? They don't want to be put on hold, or be bounced around from person to person. With this app, the customer can select their preferred order method and the store will confirm their order with them before fulfilling it.
This app will not only increase sales but also improve customer satisfaction since they won't have to deal with annoying phone reps who just want to close the sale and get off the phone as quickly as possible.
Call us today for a FREE no-obligation quote.
8. An authentic crowdfunding platform connecting users who need money with those who have it
Bridging the gap between those who need money and those who have it is one of the most lucrative opportunities of our lifetime, and there are a number of ways that companies can do this. One example is crowdfunding: an authentic crowdfunding platform connecting users who need money with those who have it.
When people need funds, they post their campaign on the platform, and get backers, or donors, to pledge money towards their project. It's up to them how much they want backers to pledge, but it's typical for campaigns to be based on reaching certain milestones that the company sets out when they create the campaign ́s budget.
9. A social media platform dedicated specifically to students
In the age of social media, more and more people are using it to promote their personal brands and share their lives with friends, family, and new acquaintances. People use social media to stay connected with what's happening around them, which is why many schools have begun to introduce social media platforms into their curriculum. This platform would be specifically for students to connect with other students and teachers as well as learn about events happening on campus or any updates from the administration.
10. A better credit card payment experience
In the future, I could see card companies operating more like Venmo, which will allow me to pay my credit card bill at any time and have the payment come out of my checking account automatically.
It would also make it easier for me to keep track of how much I'm spending. Companies like Wealthfront are already starting this process by taking over the majority of the responsibility when managing personal finances and handling automatic transactions such as payments with a bank or debit card.
11. A Car Service and Fueling App
No more waiting around at the gas station and paying too much just because it's late at night or you need fuel urgently. The Car Service and Fueling App will help drivers find the closest gas station, order fuel on their way, and pay from their phone – all without leaving their vehicle. What's more, when drivers make a purchase with this app, they'll earn points that can be used to get free refills or discounts on products (available only through this service). It's easy enough to see why this would be an attractive product for anyone who owns a car – especially those who spend time traveling long distances.
12. Tenant Finder/Communications App
This app is designed to bring tenants and landlords together by providing a space where they can showcase their properties and find potential renters or tenants. The potential renter can search for the desired property, contact the landlord directly and make an offer on the rental agreement.
They would then be connected through the Tenant Finder/Communications App with appropriate documentation and other necessary steps needed to secure their tenancy. Landlords can also keep track of inquiries made through this app without having to spend time responding back and forth via email.
13. An On-Demand Home-Cooked Food App
If you've ever been stuck in traffic and had the sudden urge for something delicious, then this is the app for you. The food prep process starts with an order form which includes meal type and dietary requirements among other things.
This order is then posted on a map of the surrounding area and matched with someone nearby who can fulfill it, while also keeping track of cooking time and estimated delivery time so that the customer can wait until they have arrived at their destination before they eat.
14. The Brand Authenticity Checker App
The Brand Authenticity Checker is an app that instantly scans any item and tells the user if it's fake or not. This is great for those who want to avoid getting duped by knockoffs, and also saves them time from having to research whether or not their favorite product is authentic.
Not only can this app identify counterfeit items, but it can provide suggestions on where they can get the same thing with authenticity at a lower cost. It even has sections of which stores sell authentic versions of different products as well as posts about tips and tricks to spot counterfeit goods without fail.
15. On-Demand Fuel Delivery App
The world's population is expected to increase by 1 billion by 2030, which will be accompanied by increased demand for fuel and resources. On-Demand Fuel Delivery App can help address this issue with an app that connects drivers with fuel stations, who order their fuel ahead of time and deliver it when needed.
This type of service is already being offered in some countries, such as Israel, but many more countries will need this kind of service as the population grows over the coming decades. With the app connecting drivers with nearby gas stations, On-Demand Fuel Delivery App offers a scalable solution for the future.
16. VR-based Room Adjustment App
The VR-based Room Adjustment App will allow users to use an Oculus or Vive headset and an accompanying controller, like a Wii remote, as they get feedback on their room dimensions and see an image of the furniture they want in their space. A good augmented reality app development company in the UK can help you create this type of application.
This could be handy for people who just moved into a new home or apartment and want to make sure that everything will fit where it needs to before taking the leap with the purchase of new furniture. If there is some part of the house which doesn't have a good line of sight or direct access to natural light, this app would provide visuals so that it is easier for someone designing the space to anticipate these obstacles.
Conclusion
Whether you're an entrepreneur or investor, the new year is a great time to brainstorm new business opportunities and generate fresh ideas that will set your company apart from the competition. Hiring a mobile app development company in the UK can help take the pressure off of trying to tackle the difficult coding issues and allow you to focus on the marketing side of the app and app ideas for startups.
There are a lot of benefits that come with working with an experienced team who knows how to create successful apps, so don't get caught up in trying to do it all on your own without any guidance. If we could offer one piece of advice, it would be this: don't be afraid to think outside the box and experiment with creative solutions that have not been tried before–that's where breakthroughs happen!
Do Not Forget To Visit Our Robust and Secure Services:
Mobile App Development Services in The UK | iOS App Development Services In the UK | Android App Development Services in the UK | Web Application Development Services in the UK | PHP Development Services in the UK | ASP.NET Development Services in the UK | Hire Developers in the UK | Hire Best iPhone App Developers in the UK | Hire Android App Developers | Hire Web Developer in the UK | Hire PHP Developers In The UK | Hire ASP.NET Developers in the UK