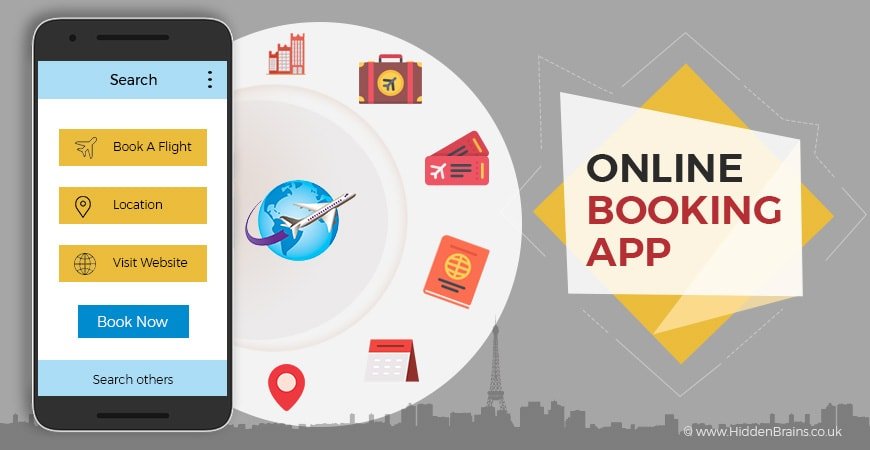 Digitization is the need of the hour. Consumers have become used to availing all types of services instantly through online booking apps. Smartphones and mobile apps have made users self-dependent by empowering them to book tickets on their own.
The unprecedented rise in demand to build online booking apps can be gauged from following statistics:
79% of the people

named mobile as an area of huge interest in a survey of 183 European travel industry executives
Online travel booking through app secures 4

th

place with 24% of interest among travel executives.
Travelers use smartphones more than tablets to book hotels. Following chart shows more travelers around the world book hotel stays on mobile apps.
As per the rule of economics, the high demand from consumers is correspondingly met by online booking app development companies that build different types of apps for unique needs.
Reasons for Rising Demand of Online Booking Apps
There is an app for every task – be it booking a cab to reach workplace, booking a movie ticket for the weekend or booking of flight tickets for your holidays. This concept of online booking is much appreciated by users for following reasons:
No external dependency such as contacting an agent to book air, bus or train tickets

Transparency of ticket costs and its availability

Easy accessibility and flexibility – convenience of booking tickets round the clock

App promotional offers, discounts and cashbacks that reduce the total cost of ticket
Growth of Online Booking Apps Industry
Several booking agencies such as travel companies, cinemas, airlines and bus agencies are looking forward to build a mobile app. This is an effective medium for agencies to serve customers in better way by giving them complete rights to make their own bookings as per their feasibility and convenience.
Building an online booking app is advantageous, but it comes at a cost. This makes it necessary for companies to evaluate how money is needed to invest in building an online booking app and how much ROI can be expected from it.
Cost of building an online booking app isn't a fixed amount. It varies depending factors such as for what purpose consumers would use the app, what features are to be incorporated and overall complexity of developing the app.
Some of the online booking sectors covered by private as well as government companies through building of apps are as mentioned below:
App to book movie tickets

Flight ticket booking app

Health and beauty appointment booking app

Doctor appointment booking app

Booking of hotel rooms through mobile app

Restaurant table booking app
What's the Total Cost to Build Online Booking App?
Let's discuss about the major concern that comes in the way of developing online booking app, i.e. its cost and overall budget. We shall talk about the cost of developing such apps through different perspectives and use case scenarios:
Basic Apps:
Mobile apps that are informative in nature, simple to implement and do not possess much features or functionalities come under the category of basic apps. These apps do not consume much time in development and are offered at minimal cost ranging from £1,000, to £7,000.
However, online booking apps do not fall under this category as they require integration with other platforms via APIs as well as strong database.
Database
This is a level up app category that enables users to search, sort and get results from a large data set. These apps require contacting another website or online web service to fetch data as per the user query. The cost of developing such apps range anywhere between £5,000 and £30,000.
This range may or may not cover the cost of developing online booking app as per the desired functionality and complexity.
Estimated Cost to Build Online Booking App
In order to get proper estimation on cost, let's take a sneak peek into expected features of such apps:
Enable user to log in with Apple or Google account and even social media accounts

Cheek real time availability of seats

Compare prices of tickets prior to booking

Allow for advance booking

Integration of secured payment gateway for easy and fast transfers

Generation of booking confirmation mail and sending it automatically to user's registered email address and phone number
Analyzing the total amount of time that needs to be invested in implementing these features and number of resources for the same, it can be said that overall cost of building online booking app ranges anywhere between £10,000 and £60,000.
For further clarification on exact budget for developing online booking apps, it is recommended to request for a free quote from leading mobile app development company.
Choosing the Right Online Booking App Development Partner
Hidden Brains is a Top mobile app development company that has established feat in building online booking apps. Being a house to talented pool of resources, this company offers one stop solutions to your app requirements.
To know about this company's previous work, its working methodology, engagement models and pricing for different projects, contact them by requesting for a free instant quote.