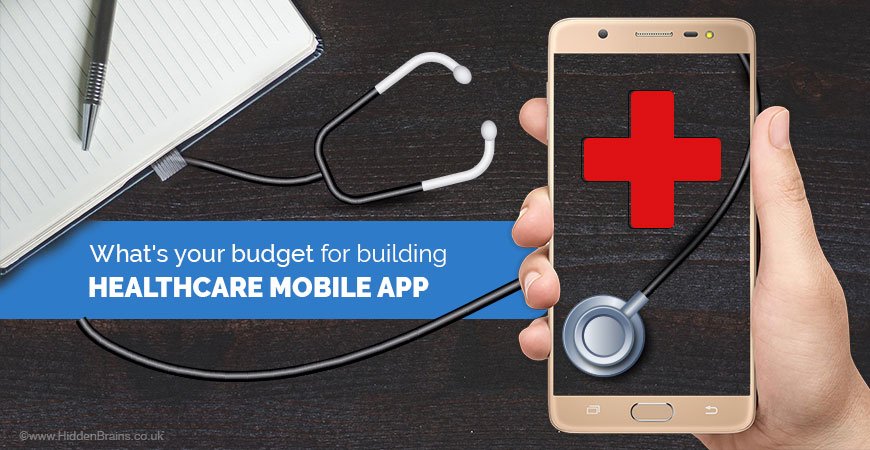 The terms of 'healthcare mobile app development', 'digital health' and 'mHealth' have evolved not so long ago. These terminologies came to existence in the light of digital transformation and interactive mobility healthcare. Observing the change in preferences, behaviour and lifestyle of people in this digital age, the healthcare industry has come up with wellness and fitness apps.
In this blog, we shall discuss the rising need for healthcare mobile apps and the cost to build a healthcare app, how can one build a healthcare app for patients for doctors and patients and how much would it cost.
What's the Need for Healthcare Mobile Apps?
The fast adoption of smartphones and increased dependency on the same is one of the main reasons for rising in the number of healthcare mobile apps. When wellness tips and remote doctor consultation can be made available through the healthcare app, why not use such an easy facility?
People find it difficult to spare time for regular check-ups and health monitoring. The introduction of the mobile app for healthcare has made it possible for people to keep a constant check on their health and know about the wellness quotient through predefined parameters. These details can be shared with a doctor through the same app to detect any unusual symptoms and body changes.
Another driving force for this Trend in Healthcare is an increase in demand for medical mobile apps among doctors. Physicians can connect to more patients through these healthcare mobile apps monitoring their patients' health remotely and offering consultation services through video calling.
All in all, the demands of both patients and doctors have created the need for healthcare mobile apps. 
Future of Healthcare: Statistics
Let's take a look at some impressive statistics that support the development of healthcare mobile apps and Costs to Build Healthcare App?:
In 2016, there were about

259000 healthcare apps in the market from 59000 mHealth app publishers on the majority of app stores.

It would be fair to say that the healthcare mobile app development industry is one of the fastest-growing one's today.

The global mHealth app market is growing at a rate of 32.5% CAGR.

The market for mobile medical apps is projected to reach approximately a

hundred billion Euros by 2022.
As per Pricewaterhouse Cooper's analytics, mobile devices have revolutionized the healthcare industry:
56% of physicians rely on healthcare mobile apps for making medical decisions
39% of professionals are of the view that mobile application helps to reduce the time consumed in administrative tasks
36% of healthcare providers think that they could increase and improve interaction with patients through medical mobile apps 
Categories of Healthcare Mobile Apps for Patients & Doctors
Enable patients to constantly monitor their health and help doctors in remote consultation with the help of different types of mobile apps. Few popular segments for building mobile apps in healthcare domain areas listed below:
Pregnancy Apps: Keep a track record of scheduled appointments with doctors through pregnancy mobile apps. It is also possible to educate patients on infant care, prenatal and postnatal instructions through this mobile app.
Chronic Care Apps: Patients suffering from chronic diseases such as cancer, diabetes, tumour, blood pressure or other heart diseases need the continuous attention of consulting doctor. A chronic healthcare mobile app is the perfect option to monitor the health of patients.
Emergency/Urgent Care Apps: Such apps help in locating the nearest hospital or clinic in case of emergency. It gives all the details including directions to reach the clinic, approximate travel time, availability of doctor at that place and waiting time.
Fitness & Healthcare Mobile Apps: This app is aimed to manage personal health to track nutritional information, calorie intake, workout details, heartbeats, weight loss and weight gain. Users can also get regular health and wellness tips via push notifications.
Medication Tracking App: These apps act as a reminder for taking a daily dosage of prescribed medication. Such on-time medication for critical disease helps in the fast recovery of patients.
This list is not exhaustive and can include many more types of healthcare mobile app such as hospital asset management app, patient database management app, hospital staff management app and many more.
Related post: Hospital Management System
What's the Cost to Build Healthcare App
As we discussed in the previous section about different types of healthcare mobile apps, it would not be fair to tell the exact amount for building one. Type of mobile app, its complexity, number of features, integration with other smart devices and the platform for which it is being built together contribute to deciding the cost of building a healthcare mobile app.
The final amount depends on the number and complexity of features you wish to include in the medical mobile app and the kind of interface you choose. If you wish to know the exact cost of building the app as per your specifications, talk to our professionals by requesting for a free instant quote now.
Telemedicine Software By Hidden Brains 
Hidden Brains telemedicine applications for iOS, Android and web offer a complete suite of features such as Online Doctor Consultation & Instant Chat, Appointment booking, Schedule Management, and more.  Connect with our experts to get information and challenges about telemedicine applications.
Patients, healthcare institutions, pharmaceutical agencies and medical practitioners can directly benefit from healthcare mobile apps. The concept of mHealth is widely accepted considering its obvious benefits and advantages. More people are becoming conscious of their health and interaction with doctors is no more a task with such apps available in the marketplace.
On a Concluding Note…
Healthcare mobile apps have bridged the gap between patients, doctors and healthcare professionals and overcome flaws that existed in conventional medical systems. Automated systems that operate through medical mobile apps have added to the ease in working and help to save a lot of time and money.
Hidden Brains is a reputed healthcare mobile app development company that takes pride in building innovative medical apps for patients and doctors. We have an established feat in the healthcare industry and good experience in serving medical professionals and institutions.