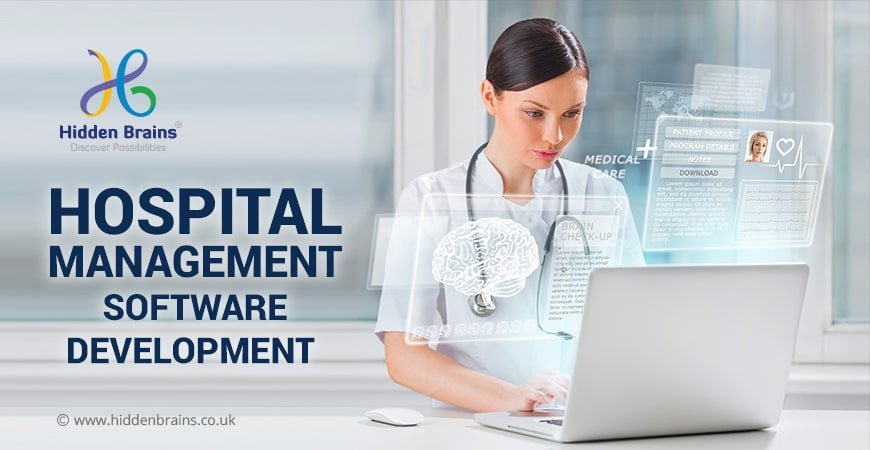 Healthcare has been among the last movers to embrace technology. However, things are fast changing with healthcare app development, healthcare software solutions combined with emerging technologies changing patient care hospital management system and hospital management.
HIMS offers automated systems specifically designed for tracking patient health records, diagnoses, prescriptions, interactions in healthcare organizations like medical clinics or hospitals.
Industry Growth Rate:
Digital Health Market size was estimated at over USD 106 billion in 2019 and the industry will grow at 28.5% CAGR through 2026. The growing number of COVID-19 cases across the globe has increased the adoption of digital health technologies and will boost the digital health industry growth.
Call us today for a FREE no-obligation quote.
What is a Hospital Management System?
Advantages of hospital management systems help hospitals, clinics, doctors and medical practitioners to organize a host of information on internal operations. Digitization of documents pays the way for paperless communication and enhances coordination between stakeholders, doctors and patients.
Hospital Management System Growth Drivers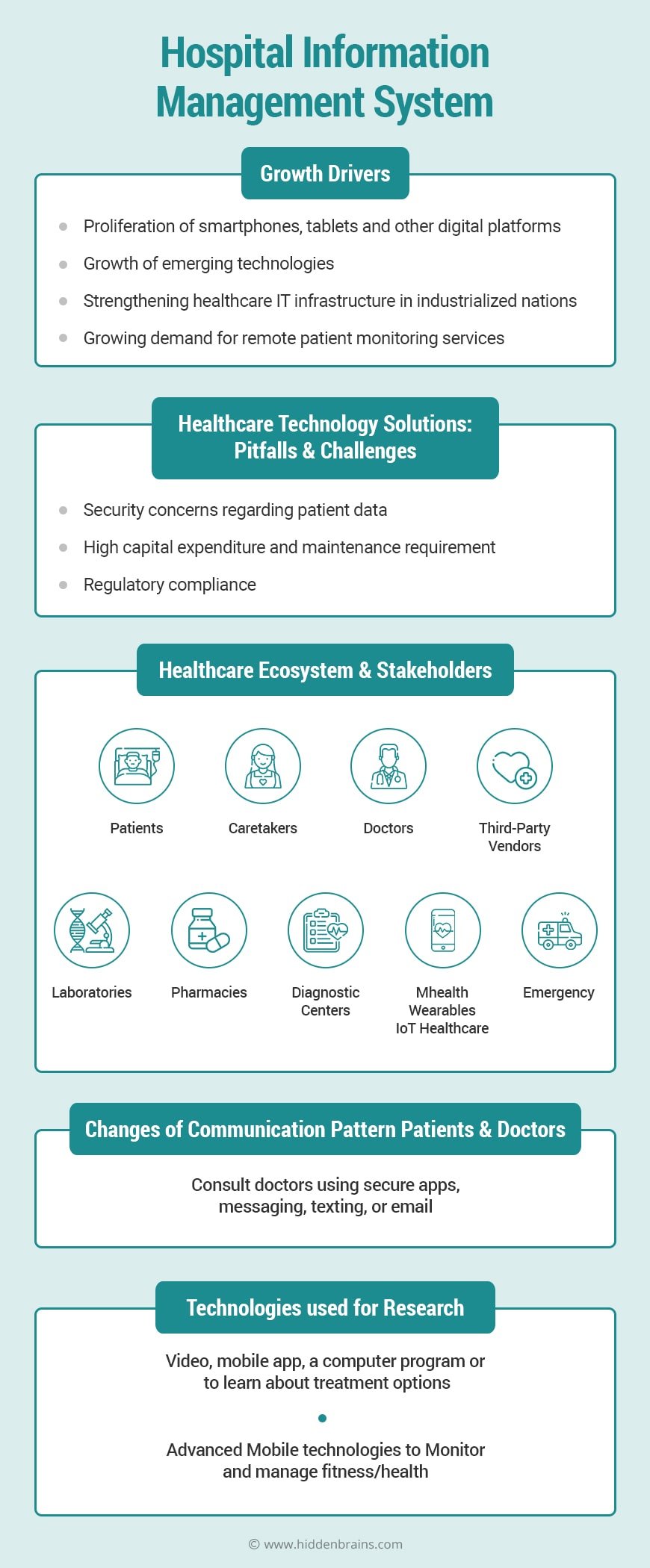 Advantages of Hospital Management System and Software
Healthcare Software aims to streamline operations related to healthcare services and patient care with a host of features ranging from virtual consultation, pharmacy management, emergency care and inpatient management.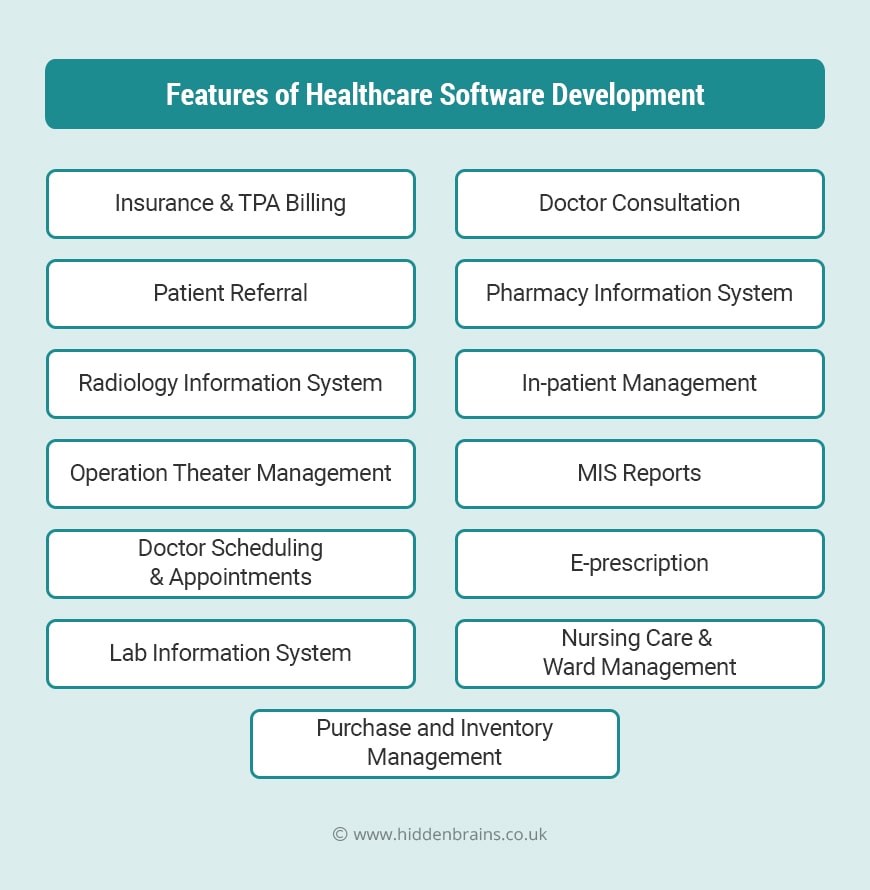 Related Post: Telemedicine App Development UK
Call us today for the best hospital management system.
Key Functions and Features of Hospital Management System
Insurance Management
Record, store and manage the insurance details of the patients making it easy to fetch details making insurance validation easier. It provides information about patient billing, insurance and credit tracking.
Radiology Management:
Record and store all reports from the radiology department for easy access by the doctors.
Book & Schedule Appointments:
Manage doctor timetables and scheduled appointments by empowering doctors to plan and browse their timetables. Check available time slots and sharing relevant information with patients to make an appointment.
Pharmacy Management
Pharmacy monitoring and stock management providing details regarding drugs and supplies in stock to avoid shortage and order in advance to avoid product shortage. Pharmacy information, booking and purchase for patients. Allows a patient to buy a particular drug immediately or order it in advance.
Operation Theater Management
Operation room availability schedule and management.
Ward Management
Provides different types of planning, tracking and performance report separately for every single ward.
Inventory Management
Deal with any consumables not belonging to pharmacies. Also involves fuel tracking for ambulances.
Patient Registration
Allows registering a patient to access a Personal Health Record provided by this person or his family/caretaker.
Electronic Medical Record
Complete management of Electronic Medical Record of patients, as well as retrieve and update a patient's complete Electronic Health Record.
Emergency Care Module
Simplify & fasten the process of registration and admission during pre-hospital treatment, such as in emergency rooms.
Notification
Regular updates notifying patients about appointments, medication times, and discharge recommendations, provided by a separate web or mobile app.
Call us today for a FREE no-obligation quote.
Benefits of Hospital Management Software
Increase efficiency by avoiding human errors

Minimises chances of error

Data security and data retrieval

Access to patient data/ history

Improved patient care

Monitoring of inventory supplies

Reduce the work of documentation

Audit controls and policy compliance.
Related Post: Top Medical Apps for Patients
Conclusion:
How Do Hidden Brains UK Help You Get Started With Hospital Management System?
Hidden Brains UK is a leading software development company that can help you build a comprehensive hospital management system that meets your unique business needs. Our team of experts has extensive experience in developing healthcare software solutions that streamline administrative tasks, enhance patient care, and improve operational efficiency.
With Hidden Brains UK, you can leverage our cutting-edge technology and deep industry knowledge to build a customized hospital management system that delivers a seamless user experience. Our solution includes features such as patient management, appointment scheduling, electronic health records, billing and invoicing, inventory management, and more.
Partnering with Hidden Brains UK ensures that your hospital management system is secure, scalable, and adaptable to changing business needs. We take a collaborative approach to development, working closely with you to ensure that the solution meets your specific requirements and delivers measurable results.
If you're looking for a trusted partner to help you build a hospital management system, look no further than Hidden Brains UK. Contact us today to learn more about how we can help your business succeed.
FAQs
Can a hospital management system be customized to meet my business needs?
Yes, a hospital management system can be customized to meet your specific business needs. The Hidden Brains, a leading software development company in the UK should work closely with you to understand your requirements and develop a solution that meets those needs.
How secure is a hospital management system?
A hospital management system should be built with security in mind. It should use industry-standard security protocols to protect patient data and other sensitive information. It's important to choose a software development company with a strong track record of building secure solutions.
Can a hospital management system be integrated with other systems?
Yes, a hospital management system can be integrated with other systems such as electronic health records, accounting software, and inventory management systems. Integration can help improve data accuracy, reduce manual data entry, and improve overall system efficiency.
How scalable is a hospital management system?
A hospital management system should be built with scalability in mind. It should be able to grow and adapt to changing business needs without requiring significant modifications. It's important to choose a software development company with experience building scalable solutions.
What programming languages and technologies are used to build hospital management systems?
Hospital management systems can be built using a variety of programming languages and technologies, including Java, .NET, PHP, Python, and Ruby on Rails. The choice of technology depends on the specific requirements of the project and the expertise of the development team.
How Much Does It Cost To Build a Hospital Management Solution?
The average cost to build a hospital management solution is usually ranging from $10,000 to $20,000 for the basic level and may jump to $50,000+ for advanced solutions. 
For more details, you can get in touch with Hidden Brains UK for real-estimations.
Do Not Forget To Visit Our Robust and Secure Services:
Mobile App Development Services in The UK | iOS App Development Services In the UK | Android App Development Services in the UK | Web Application Development Services in the UK | PHP Development Services in the UK | ASP.NET Development Services in the UK | Hire Developers in the UK | Hire Best iPhone App Developers in the UK | Hire Android App Developers | Hire Web Developer in the UK | Hire PHP Developers In The UK | Hire ASP.NET Developers in the UK