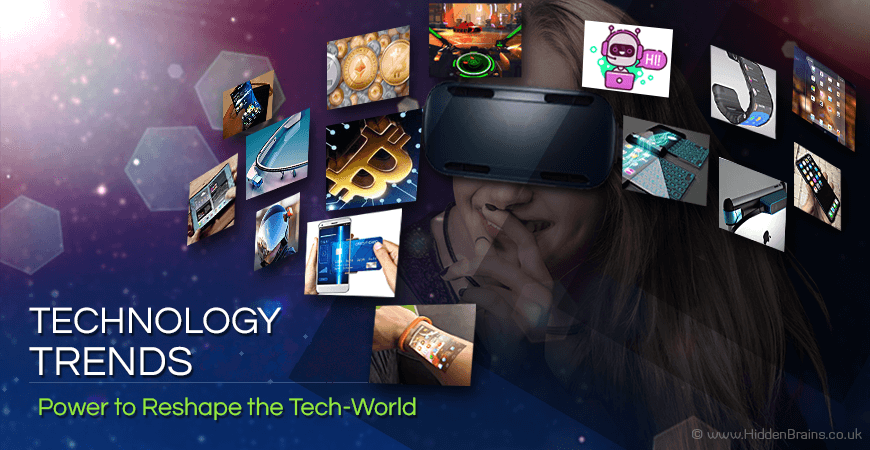 This  century is the truly a remarkable that witnessed proliferation in adoption of new technologies, experts predict that coming years would be much beyond expectations in terms of technology trends. Hints of this mega revolution were seen in the last quarter of previous year with a sudden rise in mobile wallets, cryptocurrency, automation and chatbots.
Many new technologies come to forefront and make way for new beginnings. Some technological innovations that were in incubation stage will grow to evolve further while some new debuts would arrive as a result of continuous research by technology scientists. Mobile app development is one field that has grown by leaps and bounds in the year To know more on how the future look likes, let's learn about top technology trends.
Let's take a look at technology trends that behold the power to reshape the technology-oriented world:
Blockchain
To establish a sense of authenticity, businesses would adopt blockchain technology. It is nearly impossible to manipulate digital transactions or scam customers in a system using blockchain. This added transparency would work in the favor of improving trust with customers.
Being one of the underlying technologies for the most talked about bitcoin, Blockchain establishes a digital ledger that is nearly impossible to hack by creating a digital record across hundreds or thousands of computers.
BIoT (Combination of IoT & Blockchain)
Combining two most disruptive Technologies of IoT and Blockchain gives rise to a new power – BIoT. Such a convergence of technologies ushers in a host of opportunities for automation with complete security. The concept of smart cities is possible with BIoT where everything is automated right from street lights to traffic lights for managing rush hours.
BIoT makes it easier to fetch information from sensors, thus benefitting logistics and supply chain industry to a great extent. Moreover, manufacturers, transportation companies and retailers are getting secured real time access to data. This enhances co-ordination between all stakeholders involved in manufacturing to supply chain cycle and provides valuable insights.
Make Payments through Biometric
Payment system is about to go a drastic revolution in 2020. As social and mobile payments now contribute majority of financial markets, it would become more secure. In 2020, you can expect to make payments using biometrics such as facial recognition, voice ID and fingerprints for secure and quicker checkout.
Biometrics has always been thought of as the easiest way to verify the identity of buyer and making secure payment. Frauds and scams would reduce to a great extent with a shift towards biometric payment system. Some experts even predict a sudden rise in cryptocurrency with retailers issuing their own secure currency for trade. It is expected that biometrics for onboarding will become the norm.
How Biometric is helpful for the users?
Easy to Use
Users can easily use the biometric process, they don't require any specific skill or have to do any particular course. However, they are enabled to use the easily used platforms without any major hurdles.
Excludes reliance on Sensitive data
With biometric, the process gets transparent and accurate. However, this process excludes the dependency on the sensitive data. Users don't need to remember multiple PINs and passwords. They can simply scan their fingers and easily pay their bills.
Supports Global Payment
Biometric payment allows users to pay from across the globe. However, this process leads to the contactless payment model and several biometric secure payments have been introduced by the tech giants such as Apple Pay. Users can easily download the app on their smartphones and authenticate with biometric easily with only a few single clicks.
Smart Home
Smart home, or say eHome or smart living, define a house with a number of home appliances that are interconnected with other. Living in these homes redefines the lifestyle by offering an ultimately luxurious experience. These home automation devices are programmed to perform in a smart way and help inhabitants to save time, money and energy.
Smart living Solutions
The Tech industry has introduced several smart living solutions for the people which helps to connect physical devices with smartphones.
With mobile applications, users can easily operate the physical devices with only a single app and instruct devices to work accordingly. It helps you to provide all comfort and leverage the benefits of the advanced technology.
Apart from this, an E-Smart solution helps to enhance your lifestyle and increases productivity of humans. Smart living based solutions are considered as the next emerging technologies across the globe.
Tech experts have introduced several concepts to turn the process easier and faster. In the real world, there are several opportunities available for the users to turn their lives easy and faster.
Smart based solutions are proved as the next necessities for the future world and will help the business efficiencies.
However, advanced devices are designed in such a way that they can be automated by the sensors which help to operate physical devices. It opens up several opportunities for the business perspectives and helps them to grow their businesses.
Several home automation products from tech-giants AT&T, Cox Communications and Samsung Electronics are motivating this concept to make it easier for people to adapt to them.
A recent survey on the growth of home automation concept reveals that the overall global revenue of the smart home automation market is forecast to reach 20.8 billion U.S. dollars by 2020.
Progressive Web Apps (PWA)
Do not go by the name, these are not apps. PWAs are basically business websites with interface and UI/UX design to render an experience of using mobile app. When opened in mobile browser, these websites take the form of apps for easy navigation and smooth browsing experience of visitors.
"A Progressive Web App uses modern web capabilities to deliver an app-like user experience." – Progressive Web Apps. This platform has considered the future of the industries, it is supportive for all sectors from start ups, mid to large entities. In the market, it is known as an advanced web app, which allows users to work offline and leverage the functionalities. Progressive Web App are based on faster, personalised, and easy to use attributes. This platform has turned into the most powerful platform the users.
"A Progressive Web App uses modern web capabilities to deliver an app-like user experience." – Progressive Web Apps
Android Instant Apps
Android instant apps enable users to take advantage of all portions and features of the app, without having the need to download it. The twist is, though the app is not installed in phone, users are entitled to use its basic features and functionalities. This concept will go far off to eliminate the space constraints in mobile phones that restrict users to keep limited number of apps in their devices. This type of app is similar to the real app in terms of speed and features but users don't have to download them. 
However, users don't have to download the app from Googleplay, they can directly use it from the platform. It is a topnotch trend in 2020, attracting a huge number of developers towards it.
Location-Based Mobile Apps
The demand for location-based services (LBS) is on rise, which eventually gives boost to mobile apps powered by GPS. The easy availability of Global Positioning System (GPS) in digital devices such as mobile phones and tablets has encouraged the use of location-based apps.
Entertainment game of Pokémon Go that uses current location of player became a favorite among audience. This increased demand for similar types of games that connect real world locations to a virtual gaming environment.
Uber, Ola, and Careem are trending at high range, it is helping users to find a cab at any time and from anywhere. Drivers and customers are able to track the locations of each other. In this world, every second person is utilizing this service and in all smart phones, you will easily be able to find the location based app.
Augmented Reality & Virtual Reality
Augmented Reality (AR) technology has the power to enhance the reality of the present world using computer generated sounds, sights and mixed data. This concept has successfully helped users in experiencing a virtually real world driven by AR headsets.
Having made significant strides in 2016, Virtual Reality (VR) concept is expected to grow further this year. VR headsets like Oculus Rift and HTC Vive were increasingly adopted by the audience, which means the sales of hardware powered by VR have immense scope of expansion in the market.
Following graph forecasts the future on the basis of current usage and behavioral patterns of consumers: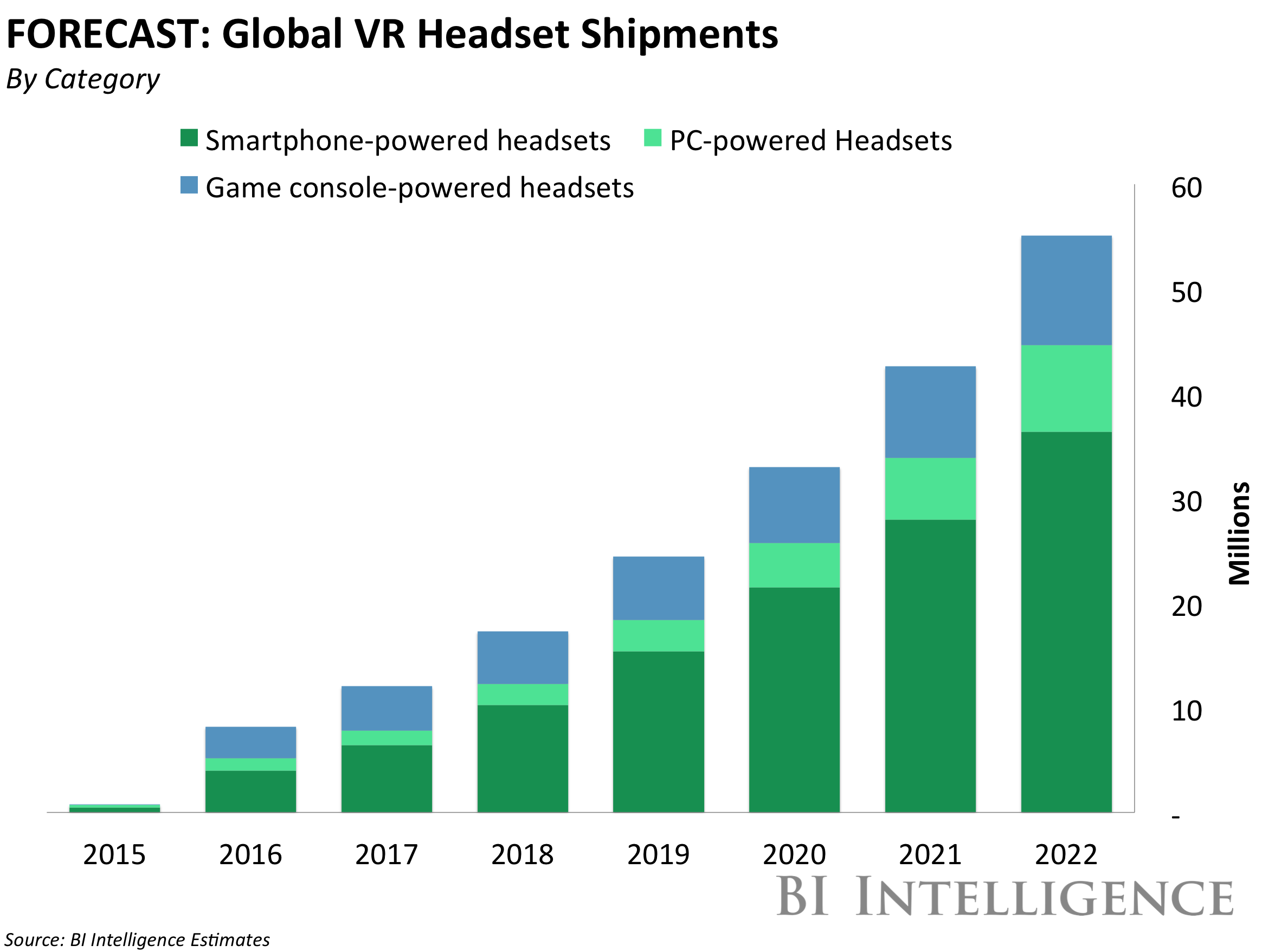 Wearables
Wearables have deeply entered in the lives of people, entrenching a habit of using it quite frequently. These devices are feature-rich to make anyone using it to develop an addiction for it. The market for these smart wearable devices is exploding and finding new niches.
Apple Watch series 2, Fitbit Charge 2 and Huawei Watch are some wearables that became famous in 2016. Apart from that, there is huge market demand for glasses and fitness trackers too. The graph shown below shows the People & Culture
2020 Trending Wearables are
Smartwatches
Smart rings
Fitness Trackers
Medical wearables
Wearable Technology Market Growing at a CAGR of 15.5% and Expected to Reach $51.6 billion by 2022: Report by MarketsandMarkets™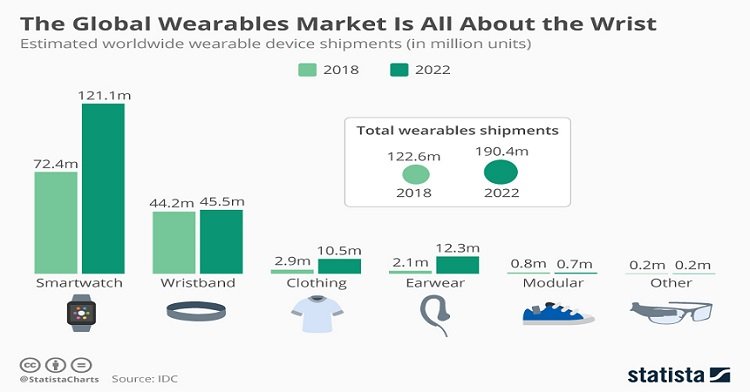 Related Post: Future Proof Mobile App
Autonomous 
Processings
Now with advanced technologies, the processings have turned more easier and faster. Along with this, humans are replaced by autonomous things, such as drones, robots, autonomous vehicles, and appliances. Undoubtedly, advanced technologies help to enhance the power of the machines and deliver advanced user experience. It helps to reduce the risk of lives and streamline the processes in an accurate manner.
In enterprises, autonomous processings has turned into major benefits as it helps in several ways which involves autonomous testing basic functionalities and reduces defects, which results in streamline the processes. It also helps to increase the efficiency, productivity, and overall safety of the processings. According to the sources, "Not surprisingly, the mining automation market is expected to grow from USD 2.22 Billion in 2017 to USD 3.29 Billion by 2023 according to a distinguished market research company."
Autonomous processings helps to monitor monitor, control and/or operate the different functionalities It helps to increase the efficiency without human intervention Robots are the best example of the autonomous processings
Cloud
Cloud is shifting towards the new advancements, and delivering advanced experiences to the users. Earlier cloud was only able to manage the operations but now cloud can be helpful for the public operations and will provide the new experiences and turn the data management more easier.
"The hybrid cloud market will grow from $44.6 billion in 2018 to $97.6 billion by 2023, at a CAGR of 17 per cent. The firm believes that hybrid cloud provides economies of scale while simultaneously delivering security to the sensitive information of businesses."
"A report by research firm, Marketsand, found that the demand for hybrid cloud is expected to be driven by several factors, such as cost efficiency, scalability, agility and security. The firm predicts that the hybrid cloud market will grow from $44.6 billion in 2018 to $97.6 billion by 2023, at a CAGR of 17 per cent."
It is expected that in 2020, cloud technology will become the predominant technology of the market. Along with this emerging technologies such as AI, Blockchain, and the Internet of Things will turn into an imperative part of it.
This year enterprises will experience the advanced functionalities of this technology.
On a Concluding Note
Technology advancements are on a constant rise considering large scale adoption by people and emerging tech trends. Coming years would be a wonderful year to experience a curve in major industry verticals including retail, ecommerce, banking & finance. Businesses need to keep pace with technology for surviving in this highly competitive cut-throat market.
Hidden Brains provides technology and business consulting services for those who are looking forward to optimize their operations and workflow.