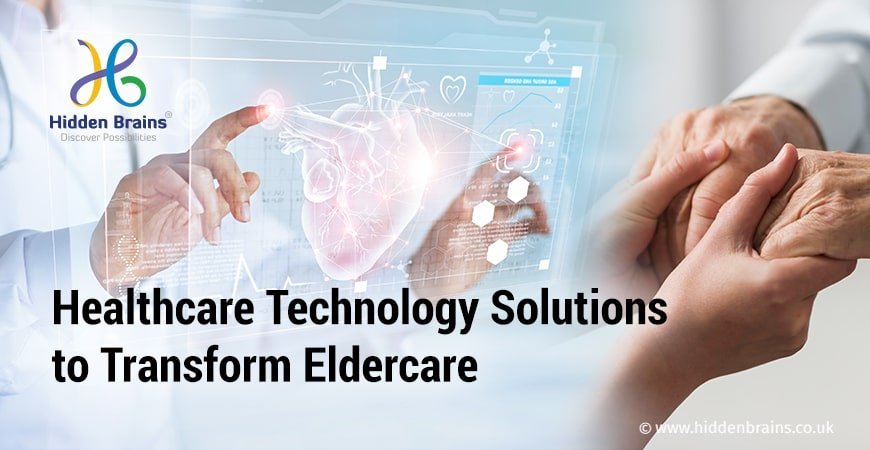 The ageing population is increasing at an alarming rate across the globe. Healthcare systems are grappling to provide quality healthcare solutions to the elderly. The goal is to ensure that quality health and social care lead to healthier, active, and independent lives. There are several digital healthcare technology solutions to improve care for the elderly. In this blog, we will review healthcare technology solutions that are transforming healthcare for the elderly in the UK.
Healthcare Industry in the UK
Health care expenditure in the United Kingdom (UK) in the 2019/2020 financial year, shows that at the end of March 2020, England had the highest expenditure on health, amounting to approximately 136 billion British pounds.
Statistics show "One of the biggest opportunities for both traditional healthcare companies and new technology companies lies in the fitness and wellness market. In 2020, the estimated revenue of the industry was £16.1 billion." 
Looking for Gen-Next Healthcare Technology Solution?
Quick round-up of Elder Care Technology Solutions for the Elderly & Seniors
Healthcare Mobile Solutions  for Elder Care Technology
Healthcare app development for iOS and Android are turning to be one of the biggest boons for the elderly. With a highly intuitive and minimalist interface, healthcare applications are helping seniors. Seniors can monitor health vitals such as heart rate and more. The information can be sent to doctors; apps also allow family members to track the health vital of seniors and know the location at all times.
Use Case Scenarios for Healthcare App Development 
Chronic disease management

Medication Reminder & Refill

Location and safety tracking

Doctors, patients, and caregivers communications

Remote patient monitors

Mobile alert systems

Dashboard

 
Mobile App Solutions
Alerts for reminders about medication and safety alerts via text, email, or smartphone application

Safety and location tracking systems

Personal health records

Web applications to monitor nutrition, activity, and quality of life web-based monitoring systems
Benefits of Healthcare Applications
Reduced hospitalizations

Increased patient satisfaction

Improved health and wellness

Increased quality of life

Decreased caregiver burden
The convergence of 5G and AI will foster a remote monitoring environment for the doctor-patient community to virtually resolve ailments as far as possible. With trackers built into wearables, even the patients could track health changes to schedule virtual consultations with doctors.
Healthcare Mobile Apps for Patients
The patient-oriented mobile app market includes two main categories: medical and wellness. Below, we highlight every type of app from both of these groups, their examples, and essential features. 
Virtual waiting room with waiting time tracking 

Two-way video connection

Built-in messaging

EHR

Search for medication, prescriptions, and other features
2. Fitness apps
Diet tracking with recommendations on calorie consumption based on the user's age, weight, sex

Share success stories about losing weight

Calorie counter
3. Diet and nutrition apps
Barcode scanner for product nutrients 

Upload images of food taken on a mobile device

Meal planning to customize the user's eating
4. Meditation apps
Meditations for different purposes

Mediations of different lengths

Podcasts

Relaxing music
 5. Medical Alerts with wearable
Research indicates that millions of aged live on their own with any support system. The best technology involves sharing alerts in the form of smartphone apps, wearable devices, and voice assistant.  
Healthcare app development services for elderly with virtual monitoring software integrated with wearables allow to gather, register data, analyze patient activity, and notify virtual caretakers in case an unfortunate event occurs.
Impact of IoT in the Healthcare
1. Internet of (Medical) Things (IoMT)
The Internet of (Medical) Things is about connecting different devices for the sharing of data. This applies in the medical world, creating the Internet of Medical Things (IoMT). The medical world refers to connected ecosystems of patients, payers, caregivers, and providers to facilitate remote monitoring. 
The medical world has started to use this type of information sharing to help seniors with their medication schedules, vital signs, and implants to assist with their health.
2. Virtual/Robot Assistants
The use of virtual assistants is gaining traction among seniors & the elderly.
Virtual Robots provide reminders to seniors about tasks such as taking prescriptions and following diet plans and more.
Robots or voice assistants that seniors have to remind them to take medications, browse digital content, connect with family, and music more. There are apps for touch-enabled tablets with automated voices to allow seniors to feel cared.
Related Post: How AR technology is transforming the Healthcare industry?
Finally
There are several healthcare applications aimed at different users. If you are planning to develop a healthcare app, it is essential to consider the target audience, demographics, user persona, number of features, and regulations.