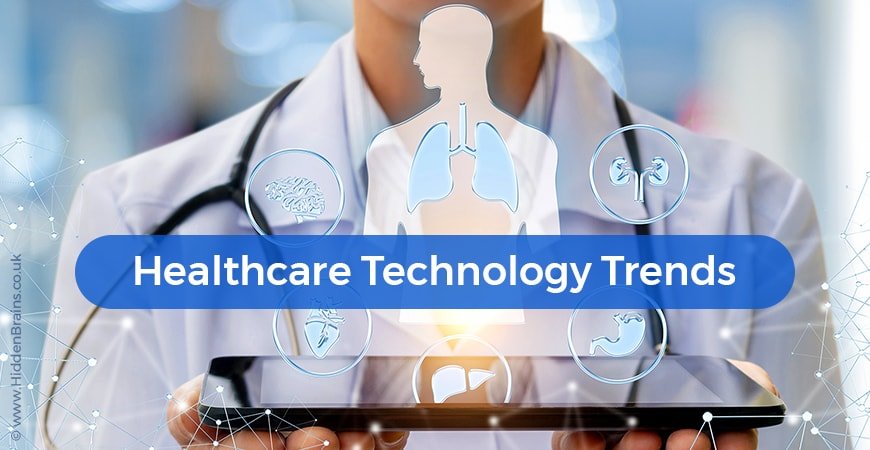 Digital health applications are now going mainstream and digital transformation in the healthcare industry is an opportunity. For healthcare mobile applications that aim to create digital engagement and experiences for patients, there is an unprecedented opportunity. The new wave of digitally empowered experiences will put consumers at the centre of the experience, drive competition, increase engagement rates, and improve the quality of health care outcomes. Here we are explaining Healthcare Technology Trends in details.
However, challenges continue to persist. There are numerous challenges regarding data security, and patient privacy, as well as data interoperability which dramatically reduce adoption rates for health applications.  Equally challenging is building business cases for deploying healthcare apps with a focus on the simplicity of use and elimination of the burdens on physicians or healthcare organizations. 
Healthcare Software Solutions and Applications Innovation Landscape
Many base health care services are available on healthcare mobile applications – a perfect example would be care visits or routine consultations. According to one report, more than 300,000 health apps are available for download in the Apple and Android stores. However, very few have reached out to masses indicating changing consumer preferences for virtual care.
Different data sources such as genomics and wearables are driving a whole new way of managing patient populations. With the help of list of emerging technologies such as Artificial intelligence combined with unstructured data, there is a goldmine of information.
Breakthrough technologies are likely to transform health care, along with an explosion in smart sensors and wearables. Other technologies, such as augmented reality (AR) and virtual reality (VR) are in very early stages but show enormous potential in transforming the way health care is delivered in future.
Related Post: Top Tech Trends for Business 
Top Healthcare Technology Trends 2019
AI in Healthcare
Healthcare industry is a conservative space. The focus of healthcare software solutions is now towards aggregating and organizing voluminous data from a wide range of clinical and non-clinical sources. There is a need for advanced technology that will protect privacy and security. AI applications significantly improve diagnosis level and speed. This lets doctors be accurate with diagnoses and to see more patients. AI tools help to analyze data more quickly and efficiently, allowing doctors to be more accurate with diagnoses. In particular, AI-based image recognition diagnostic devices are used to diagnose several deviations and diseases including diabetes which cause appearance changes.
The process of research and development of new drugs could be an excruciatingly long and painstaking process starting from financial terms to handling legal and ethical issues. Today, AI is used to safely explore in the drug discovery process.
Virtual and Augmented Reality
Virtual and augmented reality solutions in healthcare offer significant advancement for all aspects right from diagnosis to medical education and are used in treatment for different types of illness. When it comes to virtual reality, it is about creating an artificial surrounding. On the other hand, augmented reality generates images that can be layered on real-world objects. In both scenarios, the user can see the imagery or text with VR/AR glasses.
VR/AR technology in healthcare today allow emergency responders to find the necessary information in a timely fashion while giving the first aid and record critical information about the patients before arriving at the hospital. The most significant impact of VR is in the area of 3D reconstructions of organs which is useful when the surgeon needs to work under complicated conditions.
IoMT
The Internet of Things (IoT) refers to devices connected via the Internet has witnessed significant growth. In the healthcare industry, the IoT is used for remote monitoring of the patient's or the client's health through wearables, smart sensors, and mobile apps. It is now the era of IoMT (Internet of Medical Things) helps clinicians to monitor patients at home any corner of the world. Connected devices help monitor patients to ensure they take medication, measure glucose level and blood pressure and set reminders and alerts.
"By 2020, it is expected that up to 30 billion IoMT devices will be deployed worldwide."
One of the newly introduced devices Apple Watch can monitor heart rate, detect falls, count calories and so on depending on the apps installed. Devices such as health and fitness trackers correspond to smartphones apps.
Related Post: How Mobile Apps are Changing Healthcare Industry
Digital Health Transformation
The premise of digital transformation in healthcare is triggering a wave of new digitally-enabled experiences that will put consumers at the centre of the experience, drive competition, increase engagement rates, and improve the quality of health care outcomes.
Digital health apps with a multitude of devices and systems provide a more comprehensive and real-time experience. This naturally leads to interoperability question, as well as how smart devices can share data in real-time, a fundamental requirement for transforming health care delivery.