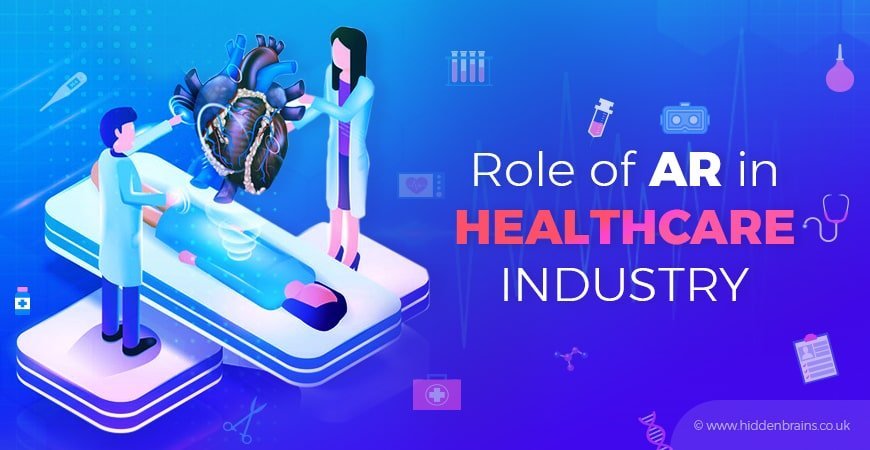 Tech giants are continuously introducing new innovations and technologies to enhance multiple industries. Top Emerging technologies such as Big Data, Augmented Reality, and Virtual Reality has reshaped and transformed various industry services.
The most trending AR technology is dominating various industries. In particular, AR has transformed the healthcare industry exponentially. This technology offers new opportunities to both hospitals and patients with features such as real-time diagnostics, 3D virtual scans, and remote surgeries. 
Digital Transformation in Healthcare
Latest technology in healthcare plays a vital role in the digital era addressing critical parameters of business transformation with highly differentiated services and solutions, high patient experience level, and greater operational efficiency.
Growth of Augmented Reality in Healthcare Industry 
"Augmented reality (AR) and virtual reality (VR) are emerging technologies in the healthcare industry. AR and VR could be used in a variety of settings including physician training, patient treatments, and hospital management. As of 2018, the North American healthcare AR and VR industry was valued at 477 million U.S. dollars. By 2028, that is expected to increase dramatically to 4.64 billion U.S. dollars."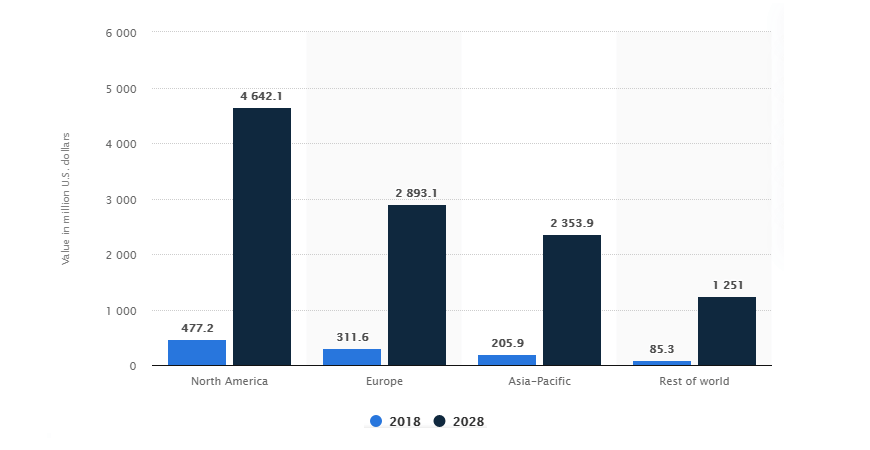 "The health care segment of the AR and VR market is expected to be worth over 5 billion dollars by the year 2025." 
Hence, Augmented reality in healthcare has created a profound impact on the healthcare industry with advanced AR devices to diagnose strokes, eye disease, heart disease, skin cancer, and other conditions treatment. It is expected that in the coming years augmented reality technology will turn as a must-have technology in the healthcare app development. 
Related Post: Top Healthcare Technology Trends 
In this article, let's know-how Augmented reality in Healthcare has transformed the healthcare sector.
Know how Augmented Reality in Healthcare transforming this Vital Sector
Augmented Surgery
"AR is a technology

capable of revolutionizing the efficiency and cost optimization aspects of surgery while improving the error rates owing to the high degree of precision offered in terms of surgical navigation and locating targets within the patient's body."

In the healthcare sector, surgery of patients is considered a risky part, and the best impact of  Augmented Reality has been felt in the surgery sectors only. With AR technology, now surgeries are turned into low-risk treatment.
Augmented reality technology helps surgeons in many ways it helps to provide real-time information, saves time, and improves decisions for surgeries.
Before surgeries, for surgeons, it is imperative to have real-time information. With CT scans, surgeons can have the information but they are not that much accurate.
With AR headsets and MRI data, before putting any cut surgeons can eye witness the real-time status of the particular body part. By previewing it virtually before surgery, surgeons can take a better decision and plan the surgery accordingly to it. They can discuss the case with field experts or their seniors.
In spite of all this, it helps to save time and the complex process turns into simpler. During surgery to know the patient healthcare records including previous treatment, condition, and the reaction of medicines on the patient rather than previewing the reports again and again surgeons can preview them on AR screen and the information available in front of them in seconds.
Even AR technology assists surgeons in the surgeries also. Before AR technology surgeons had to use a handheld scanner to point out the major blood cells near the wound but now AR displays it with three dimensional virtual images. It helps easy to understand the surgery and its process.
AR in Healthcare and Medical Education
Now medical institutions and universities have also introduced Augmented Reality to their system. Hand to hand experience helps to understand the concept for medical students.

With AR technology professors can easily explain the mistakes to the medical students which they can't explain so well in the labs and clinics.

Even professions can provide feedback in real-time practice also. Now, medical students are not only confined till the labs they can train themselves and visualize live training from anywhere and at any time.

Even in hospitals, they can have a live training session, meanwhile, when doctors are performing their training at that time they can have a live session in the hospitals. 

Now with the help of AR, now medical students can have previewed the full live session along with theory parts, which are easier to understand the concept and brings transparency. Medical students can be trained better by engaging them in the visualization part. Students can preview the images with 3D dimensions.
Patient Education
In this smart world, now patients also prefer to know about the procedure of their surgeries and their outcomes. With AR now doctors can easily explain the process to their patients and they can visualize the entire process which helps them to know about the risk factors and outcomes.

Even now patients family members can also preview the live surgeries of the patient. 

Also by visualizing the process, with time, they can also see the effect of treatment and see the witness the cure of the treatment.

It turns effective communication between doctors and patients and leads to safer surgeries even patients also know the actual condition practically. This also helps patients to select the best treatment for them from the best hospital. 
Augmented Diagnosis
According to Forbes, "Augmented reality helps provide another layer of support for healthcare practitioners and aided physicians during brain surgery and reconnecting blood vessels." 
Augmented Reality app development helps to diagnose patients in a better and relevant way. With headsets, doctors can have the right information, many times patients are not able to explain the symptoms and actual condition but with AR headsets they can know the real symptoms.

Along with this, a blood test is important in every treatment, many times hospital authorities are not able to find the veins and they have to try again and again as well as it is a time-consuming process but with AR startup AccuVein (handheld scanner)  helps to determine the blood veins easily of the patients.
Related Post: Importance of Personalization in Healthcare Technology Solutions
Conclusion 
AR app development services have transformed the medical industry and introduce advanced treatments. Now treatments are not that much risky, experts belives in the coming few years AR will rule the market as it is only the starting but with time experts are going to redefine more and this technology will be able to sort out the major concerns of the healthcare industry.