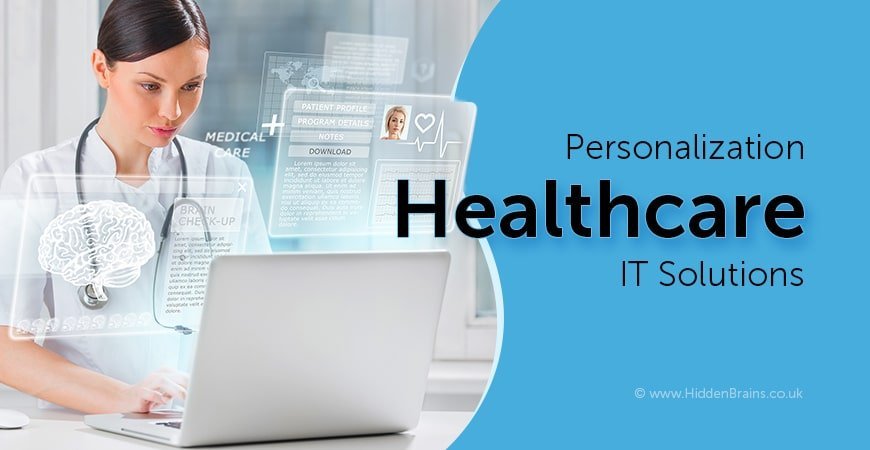 Healthcare cost continues to rise. With ageing infrastructure and increased demand for healthcare services are compelling healthcare organizations to reconsider how to effectively integrate digital technologies into traditional healthcare technology solutions to truly create a health system that the barriers of walls. The complexity of the healthcare system as well as the increasing demand for services and staffing shortages have created a void that only technology and automation can fill. 
The situation is changing to a great extent for the health insurance side of the industry as organizations are starting to embrace robust healthcare app development solutions and new automation technology to reduce cost and improve member and employee experiences. What makes a difference is collaborating with the right web application development company. 
Use Cases for Healthcare Technology Solutions
1. Digital Patient Experience
Digital and artificial intelligence (AI) technologies can empower on-demand interaction and seamless processes to improve the overall patient experience. 
2. Enhanced Talent Development
Robotic process automation (RPA) and AI can allow caregivers to spend more time providing care and less time documenting it. 
3. Improving Operational Efficiencies through Technology
Digital supply chains, automation, and seamless interoperability can drive operations management and back-office efficiencies. 
4. Healing and well-being designs
Improving the well-being of patients and staff members—with continuous focus on the importance of environment and experience in healing. These factors will likely be important in future hospital designs.
Changing Regulatory Pressure 
The rapidly growing healthcare leads to more regulatory complexity and increases the requirement for heightened stakeholder risk management. While healthcare providers worldwide are feeling the burgeoning need of meeting health policy and regulatory goals in order to enhance healthcare and patient safety, reduce fraud, and minimize threats such as the invasion of privacy across different countries. 
When it comes to the United Kingdom—the tax-funded NHS operates in a highly regulated environment. The UK has a national financial (NHS Improvement) and quality (Care Quality Commission) to provide ongoing evaluation of performance against agreed-upon criteria. There are professional group regulators looking to comply with financial and data protection regulations. In such a scenario, it is important for health care stakeholders to overcome regulatory pressure.
Related Post: Hospital Management System
Healthcare Technology Solutions to Take Personalization to the Next Level 
Technology will likely underline the most important aspect of future hospital care. But care delivery—especially for critically ill patients or patients requiring complex procedures—may still require hands-on human expertise. But if there's one area where healthcare has the potential for innovation when compared to other industries, it is in the use of information technology that physicians use every day in treating patients.  
The healthcare delivery in future may appear quite different than the hospital of today. Rapidly changing and evolving technologies, along with demographic and economic changes are expected to alter the face of hospitals worldwide. A growing number of inpatient healthcare services are already being pushed to home and outpatient ambulatory facilities. However, many complex and terminally ill patients will continue to need acute inpatient services. Many of these concepts are already in use and it is important to integrate technology into newly-built facilities and modernize legacy software.
Doctor on Demand Offers Personalized Telemedicine Care
Visiting a doctor's clinic for consultation could be expensive and time-consuming. In order to overcome barriers, healthcare technology solutions provide personalized live video doctor visits to assess health symptoms and diagnose conditions. Patients can get personalized care that addresses unique medical history while still having the convenience of staying at home.
Related Post: Telemedicine App Development With Important Features

AI to Create Personalized Health Recommendations
NHS is aiming to become the first national health system in the world to digitise its outpatient's system:
In order to take personalization to the next level, it is important to provide intelligent healthcare technology solutions. The virtual assistant app uses AI algorithms to research and navigates medical research which covers various medical conditions. Patients can chat with the bot regarding symptoms to get personalized responses. Bots can also identify the best physicians in the area based on the patient's potential condition. The personalized, data-driven care ensures all users get the help they need.
Innovative technology plays a crucial role of shifting control in favor of patients. The AI-powered chatbot provides answers whenever patients need them. Furthermore, chatbot can also remind users to take medication and track healthy habits.
Cloud-Based Systems for Data Access
Cloud-based data management systems eliminate the needs of maintaining different charts and systems for each department and patient. These systems combine patient data into a comprehensive single system that can be accessed from anywhere. Instead of navigating through multiple systems, healthcare providers can get essential information about a patient and easily share it with other members. 
Blockchain in Healthcare 
Principles of Blockchain has changed the dynamics of the financial world. Blockchains are distributed systems that log transaction records on linked blocks and store on an encrypted digital ledger. 
It offers security benefits because records are spread across a network of replicated databases that are always in sync and users can only update the block with access to updates get replicated across the network. All entries are time and date stamped. With the influx of data in the healthcare industry such as clinical trials, patient medical records and research, adoption and implementation of Blockchains will be a turning point. In future, we will witness Blockchain applications will be adopted to determine collaboration and governance issues. 
Centralizing the results of clinical trials and patient outcomes for new treatment protocols can dramatically improve care and patient outcomes. Currently, with all diverse and disconnected systems in play, there is no way for a human to process all the data that is generated and recorded in disparate systems for future treatment possibilities. Blockchains could provide the access to make medical innovation quicker.
Related Post: Healthcare Technology Trends
Conclusion
The revolution in healthcare opens up business opportunities for wearables, mobile apps, web applications and health data aggregators to promote consumer-centric insurance programs aimed at incentivizing individuals to adhere to healthy habits and lifestyles. 
Having the right strategic partner that can support end-to-end capabilities across your business can make the difference in achieving success now and into the future.