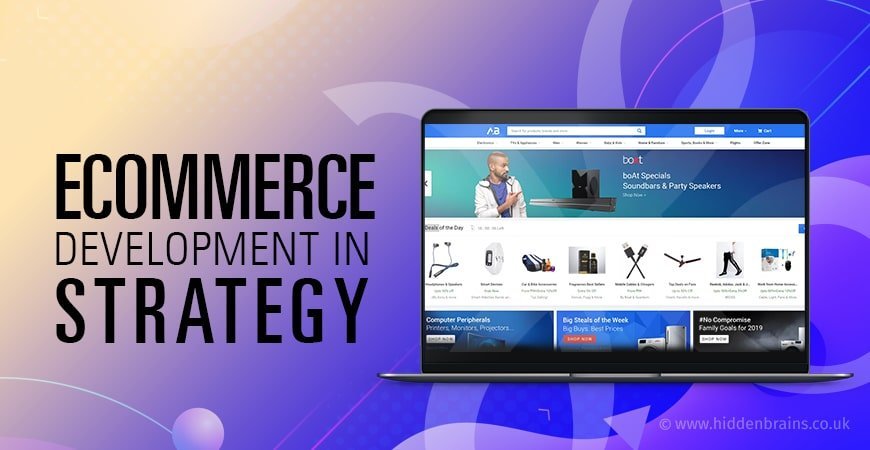 How to Start an eCommerce Business is a challenging nowadays as the eCommerce industry is rapidly growing and offering new opportunities in the business world to continue their services. However, with the digitalization and the impact of the COVID 19 pandemic, now traditional stores have launched E-stores, and the demand for online shopping has increased more than ever before.
There are several reasons, due to which the demand for an eCommerce store is at a high level. But among them, the primary reason that people have opted for E-commerce-based solutions is to follow the World Health Organisation Guidelines. According to WHO, to prevent this Covid-19 virus, people should maintain social distancing and prefer contactless methods while buying essential items. eCommerce sector has grown exponentially.
How to Start an eCommerce Business?
In this blog, we are providing the full guide. In order to leverage all the benefits of E-commerce development, partner with the eCommerce development company and starting an eCommerce business now.
Benefits of E-commerce Platform 
1. Target International Audience
The primary benefit of the best E-commerce platform is that entities can target their customers on the global level. They don't have to be dependent on the geographical regions or local region only. However, it opens wide opportunities for companies and targets huge audiences.
2. Hassle-Free Service 
E-commerce websites and mobile applications offer hassle-free services to their customers. Users can simply register themselves with their essential details and have an ultimate shopping experience. They don't have to visit several stores physically and put effort into bargaining. With online stores, users can quickly check out their preferred products.
3. New Customers 
With an E-commerce platform, organizations can target new customers daily. With a Search engine optimization strategy, they can target new customers and attract them with their services.
4. Connect with Clients 
Digitalization offers you an opportunity to connect with your customers daily. It helps you to make a relationship for the long run with your customers. With several offers and deals, you can attract your customers towards you. 
These were the different reasons, which influence enterprises to mark their online presence. However, they can launch the store on several platforms. 
Different versions of your online store 
Website 
Mobile application
Related Post: Best WordPress Ecommerce Plugins to Build Secure Online Store
Now, if you have decided to launch your online store in the market, before processing you should have a roadmap to you. Here is a proper guide for you. 
Full Guide to Launch Your Online Store 
1. Business Market Research 
This is the foremost step, is to have an idea of the market. It is essential to know the actual condition of the market. By researching the market, you will be able to understand the current status and demand of the products. It will help you to target the right audience and attract them easily with the products, which are less available in a particular region
2. Make your business plan 
After knowing the market in a proper plan, you should make an appropriate plan of business from the start-up to the last step. To be successful in the market, it is important to have your strategic plan with useful strategies. However, you should also know your challenges and plan to overcome roadblocks. It is vital to have the solutions for you. 
* Select your product

 
The foremost step is to find your niche. It is important that developers should know about their products and in which niche they have to pursue. To stay ahead of the competition it is important to have a particular product.
* Product Research
After selecting a product, it is important to know the detailed information about the same. Research the market properly and know about competitors and other things. It is important to have all the information about the product, and how your competitors are dealing with it.  
* Make a Strategy for your product
Only product research is not important, it is essential to have a proper strategy. After having full information and ideas of the market, have an effective marketing strategy on the paper to boost up the market and turn your unique presence. Hence, knowing about the product and researching the market, the next step is to plan how to execute it.  
3. Execute your Plan 
After deciding your plan, properly, execute it accurately. To implement your plan, here are several stages, which will help you to reach your goal.         
* Decide the name of your brand
To execute your plan, the foremost step is to decide the name of the brand. It is the foremost step to decide the name of your business. Make sure your business identity should be attractive and customers can easily remember the name. Finalize the name of your company and try to make it short and unique. It is one of the best ways to attract your target market and be in your customer's mind.
* Design your logo 
Creating a logo is the next major priority of businesses. It helps entities to create the core value. Apart from this, it also marks a strong presence with effective visualization. The logo is the identity of your company. This is part of the identification and aesthetically pleasing element. A well-designed logo opens the opportunity of the businesses and opens the mind of the audience. The logo can be easily placed on the business cards, landing pages, and letterheads. The logo helps in remarkable and memorable presence as well as also attracts the attention of the customers.
* Company registration
After finalizing the basic and important concerns, the next step is to register your business officially. Get the legal permission to start your business with the mentioned laws and regulations.
4. Build your online store
Now, after deciding the several stages, it is the best time to work on your online portal. To launch your advanced eCommerce solution in the market, it is essential to meet with some tech points such as selecting the right platform, 
In the market, there are several platforms that help you Start an eCommerce Business. Some of them are very popular which are as under.
1. Shopify
Shopify Inc. is a Canadian multinational e-commerce company headquartered in Ottawa, Ontario. It is also the name of its proprietary e-commerce platform for online stores and retail point-of-sale systems. The company reported that it had more than 1,000,000 businesses in approximately 175 countries using its platform as of June 2019. The total gross merchandise volume exceeded US$61 billion for calendar 2019.
It offers an easier way to manage the Shopify stores effectively without any hassle. This platform has been considered as the foremost choice of the owners to launch the E-stores. 
Easy to use 

Supports drag and drop

Responsive and customizable

Offers beautiful themes and owners doesn't require any specific skills

Secure Checkout and shipping process 

Highly personalized
2. BigCommerce
BigCommerce was founded in 2009 and helps to launch your online store effectively. It helps you to grow your business without any investment or transaction fees. This platform helps to sort out the complex challenges of the online shopping experience. Major reasons that attract owners towards it are 
Offers enrich designing tools 

Helps to boost SEO strategies with effective URL's 

Allow integration with Amazon, Facebook, and eBay 

Plug-in POS integrations 

Convert more sales and help you to increase your revenue 

Streamline the checkout process 

Doesn't require any coding skills

Support optimized images 

Personalized site audits and support of the huge community 
3. Magento
Magento is the most popular and one of the most preferred E-commerce platforms to launch your online store. It is open-source and written in PHP. Apart from this, have strong support of frameworks such as Laminas and Symfony. According to Wikipedia, Magento source code is distributed under Open Software License v3.0. Magento was acquired by Adobe Inc in May 2018 for USD 1.68 Billion.
This platform also supports several other PHP frameworks 

Written in PHP 

It has been downloaded by users more than 2.5 million times. 

Supports OSL v3, AFL v3

Magento 2 introduced the Model-View-ViewModel pattern to its front-end code using the JavaScript library Knockout.js.

Supports open-source 

The latest version of the Magento 2 helps to improve the functionalities and sort out several major security issues easily. 
4. Open Cart
OpenCart is known as an Open Source Shopping Cart Solution. It is a PHP-based E-commerce solution that offers advanced functionalities and hassles free shopping experience to your customers. It is freely available under the GNU General Public License. 
Easy to start 

Offers powerful functionalities 

Easy to manage products and orders

Offers several extensions and themes 

Dedicated commercial Support 

 13000+ modules and themes

Highly customizable and offers dedicated support
List of Best Free eCommerce Platforms they all have different functionalities and offer different experiences. In order to meet with your requirements, it is important to choose the right platform as per your business plan. 
Apart from this, there are several other attributes which you can't miss out as it helps you to be successful in the market competition. You should consider some other factors also such as domain name, it should be easy to search, store design, which should be based on the user-friendly characteristics. 
Other factors that you should consider – 
Advanced Shopping Cart 

Order Management 

Live Chat 

Secure payment Gateway

Mobile compatibility 

Content Management System

Advanced analytics 

Call to action

Add a review and feedback section 
 5.
Marketing Strategies
 Pre Marketing Strategies
Create the buzz on social media platforms including Facebook, Instagram, and Twitter

Offline promotions on radio and newspaper to alert people 

Email Marketing
Post Marketing Strategies 
Know your customer choice

Have an eye on the analytics and have a real-time action record of your customers. 

Continue your Email marketing 

Get the review and feedback to improve your services
Top E-commerce companies
Amazon UK – www.amazon.co.uk.
Argos –www.argos.co.uk.
Play.com –www.play.com.
Apple –www.apple.com.
Amazon.com –www.amazon.com.
Tesco – www.tesco.com.
Marks & Spencer –www.marksandspencer.com.
John Lewis – www.johnlewis.com.
Related Post: Magento Tools for Building the Best eCommerce Websites
Tips for Ecommerce Store
1. Keep the store simple 
The store should be easy to use along with this, your customers should not face any hassle to use the functionalities. To utilize the features of your online store, keep it on a user-friendly basis. 
2. Focus on UI and UX attributes 
Designing plays an important role but presently designing is not only confined to the fonts, colors, and other attributes. Presently, designers have to focus on both UI and UX. Online stores should be attractive as well as should have the power to engage users interactively.
3. Multiple social media platforms
Social media has created a high buzz in the market, it helps to attract customers towards it and also increase the customers reach. Your online store should integrate or support different social media platforms such as Facebook, Instagram, and many more. It will help you to grow your business and increase revenue.
Conclusion 
This is the guide to how to start an eCommerce business in the market. Here is the step by step strategy that you should follow to bring your online platform to deliver the next-generation experience to your customers. These all functionalities you should decide properly. If you skip any of the features, it will fail your platform. Apart from this, there are many more things that play a vital role, but these are significant points on which every entrepreneur should highly focus.