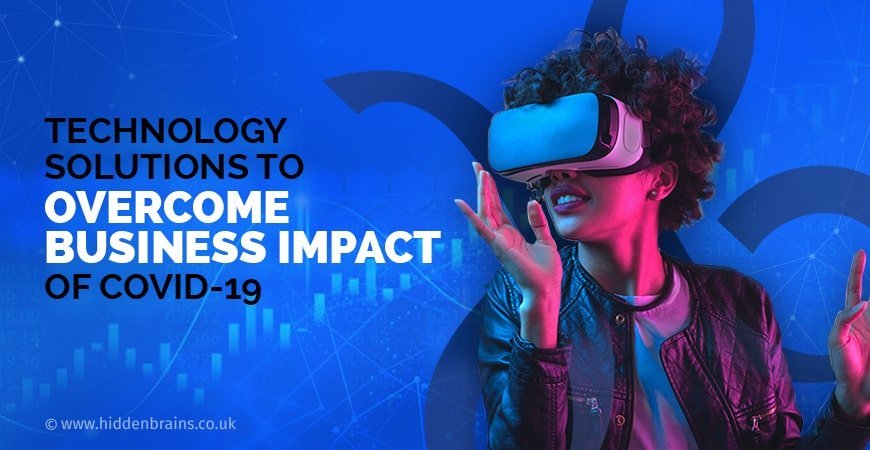 Coronavirus has disrupted our daily lives, human beings are forced to follow the lockdown procedure. In this situation, the technology sector has been proved as a boon to society. However, several solutions are dominating the world and offering high standard services, which helps in many ways such as opting for the preventive measures that are important to follow. Along with this, online apps are helping in business continuity.  
In this outbreak to stay safe, we are all confined to stay in our house but with the help of the advanced innovation-based solution, the tech world is offering us a way to get connected virtually from anywhere at any time. 
Let us know, in this COVID-19, how technologies are helping us and how we can leverage the benefits of the solutions in order to ensure business continuity with different approaches. 
Role of Mobile Technologies in COVID-19 Situation 
On-Demand App
Presently, On-Demand Apps are in trend, as in this situation, no one has time to wait to develop the app from scratch. In a lockdown, business owners are forced to launch their business online as there is no other option left to connect with their customers. 
There is a high demand for On-Demand apps, as these apps refer to the readymade apps. Customers can get readymade apps from app development companies with minor and major alterations. They can easily launch the app on Google or Apple stores in a short duration of time. 
The On-Demand app is similar to ordinary mobile apps and has the same features and functionalities with advanced and modern security techniques that are required for the particular app. In the On-Demand apps, the features can be added – edit – delete as per the customer's preferences. 
Delivery App
Delivery apps have become the next major requirement in COVID 19 situation. It is important for people to stay home and stay safe. In these circumstances, if retailers opt for the home delivery option, then they can boost sales and revenue. 
To prevent the virus, everyone prefers to stay at home and by stepping out of the homes, people don't prefer to opt for any kind of risk. Retailers can boost their sales by offering services to their customers to deliver products at their doorsteps. It helps you to increase your revenue also. 
Related Post:Online Booking App Cost
Features of Delivery App – Turns the process easier and faster 
Inventory Management

Easy Product listing 
Secure and robust Mobile wallet 
Smart Search 
GPS real-time tracking
Delivery scheduler
Available or recommended products 

Repeat orders
Make sure that you should work with no contact delivery service. In any case, take the orders online with digital payments via E-wallets. Drops the parcel at the doorstep. In any case, don't have contact with your customers. Without coming in contact with delivery apps, retailers can offer them high standard and hassle-free delivery service. 
Related Post: Food Delivery App Development Cost
Time & Attendance Software
To streamline the business process, companies have opted for Work from home modules. In this model, they have started working from home only and every particular employee is responsible to complete their task. 
But to increase productivity and offer professional structure, entities can opt for the time and attendance software similar to HB connect App. It allows them to track the attendance and time of the employees, which helps to track, increase productivity and get a proper process to work professionally from home also. 
Benefits of  Time & Attendance Software
The better the attendance tracking process 

Accurate scheduling 

Boost in productivity

Increase accuracy and efficiency

Keep employees informed on a daily basis 

Less paperwork

Less time consuming on payroll procedure 
TeleMedicine / Medical Consultation
During the COVID-19 situation, stepping out for any reason can turn out to be a major risk. Besides coronavirus, there can be many other medical issues but visiting the hospitals is the biggest risk for the people and they should avoid visiting hospitals as there are high chances to be infected with this virus. 
In this case, hospitals and clinics should launch their own TeleMedicine mobile app for Android and iOS platforms. 
With the telemedicine and medical consultation app, patients can easily connect with the doctors or have the best advice from experts remotely or virtually for their medical consultation. 
Benefits of TeleMedicine / Medical Consultation apps
Easy Accessibility with doctors 

24*7 support services

Reduces risk of any kind of errors 

Saves time

In remote areas, patients get better healthcare facilities 

Connect with top experts across the globe

Improves patient engagement and satisfaction

Real-time consultation 
Related Post: Telemedicine Challenges and Opportunities
Instant Messaging App
Instant Messaging App improves an instant communication process in your business, opt for a WhatsApp clone for your business. Introduce a chatting app to your employees, which will help to enhance the communication process among the team. Team members can make different groups for a particular project with the required staff member. It is the best way to get connected, along with instant messages, with the WhatsApp app, users can connect via calls and video calls on the app. They can send images and videos to each other. 
Advantages of WhatsApp like app 
Improves interaction 

Engaging conversation 

Instant communication

Easy to install 

Calling and video feature turns it more reliable 

User-Friendly app 

High secure communication with end-to-end encryption feature

Supports cross-platform – Android, iOS, and web 
School Management App
School management app helps teachers, students, and parents to connect with each other on one platform. Android and iOS apps help to streamline the management process in an effective and efficient manner. Online School management app allows recording the attendance of both students and teachers on a daily basis. Parents can pay their student fees without any hassle with few fingertips. 
This readymade powerful school management app offers three portals including parents, teachers, and students. All these three features act differently for the users as per their registration process. 
Features of School Management App
With the push notification feature, it sends reminders and important messages to the users as per their requirements. 

Manages the fees process of all the students on a monthly and yearly basis. 

Teachers and students can manage their time table schedule with the app 

With a live chat and video feature, parents can connect with teachers
Virtual Classroom
In the lockdown period, the education sector can continue its classes by launching virtual classrooms. Students and teachers can connect virtually with each other and deliver their ideas and share their knowledge. They can opt for Online Tuition-Direct and Online Classes-video modules. 
Features of online education apps 
Live Video Tutorials

Interactive text content 

Live chat 

Social media integration 

Support for offline mode

Send reminders to teachers and students for live sessions 

Access to offline mode 
Online Tuition-Direct
With online tuition mobile apps, teachers can connect with their students live. They can create live sessions and send invitations to a huge number of students to join the session. Students can have virtual sessions and learn new concepts. Online Tuition-Direct helps you to continue your classes online mode. 
Online Classes-video
Now, sharing knowledge is really easier, with online classes software, teachers can upload their videos.  Students can watch videos and improve their skills as well as increase their knowledge. They can view the videos, any time and from anywhere, with this module both teachers and students don't rely on each other. 
Conclusion 
Technology is playing an important role in the COVID 19 situation and helping entities to continue their business delivering services. These solutions help different entities to serve their services securely and add value to society in this pandemic outbreak.