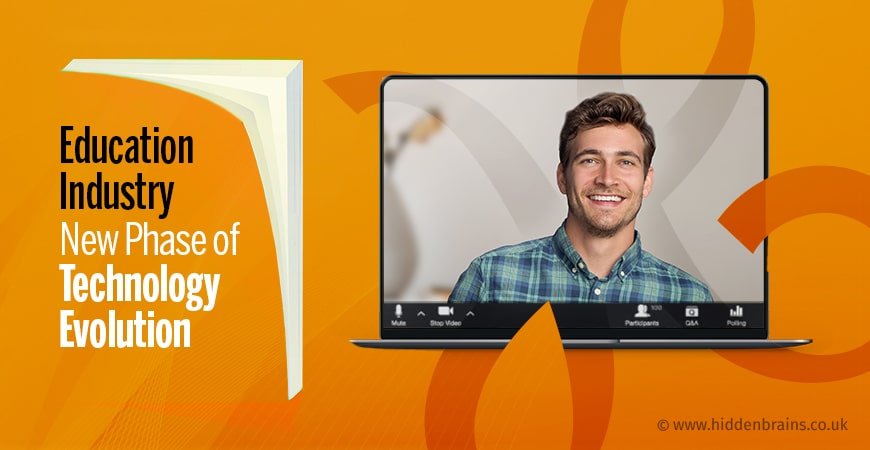 The world has changed into the modern era, where high tech-based innovative solutions are ruling human lives. The same has been observed in the education sector. However, now instead of notebooks, pens, and classrooms, tablets and phones have turned as a learning key for the students to acquire knowledge. lest discuss How Has Technology Changed Education?
The advent of technology has revolved around the education sector, now the E-learning development process and gaining knowledge has turned easier than ever before. Several innovative solutions help to overcome the traditional challenge as distance learning can be possible with virtual classrooms and E-books decreasing the dependencies on the books and notes.
Related Post: Learning Management System UK
In this blog, let's know-how technologies have transformed the educational sector
Benefits of Technologies in The Education sector
1. Virtual Classrooms
Virtual classrooms help to acquire the learning process easier and faster. Now, distance learning has not been a major challenge for students. There are several online collaboration tools, with which an online community can be formed and have several live sessions. Students can easily register them for virtual sessions.
However, Virtual classrooms allow students to join with the sessions virtually from anywhere in the world. With only a few simple clicks, they can become a part of the sessions. It excludes the geographical or region barrier for the students.
Even now, virtual sessions have turned into a trend in the educational sector. In order to streamline the learning process, teachers can also assign real-time assignments to the students to make the sessions effective and clear. Undoubtedly, virtual sessions have also reduced the communication gap.
2. Engaging and Interactive Session
Now, learning is not confined only to books, students can have a better understanding of real-time interactive videos. Only through books text, students might not be able to understand the concept. However, digital simulations and advanced models help in a better understanding of concepts.
With technologies, students don't have to be occupied with the boundaries of the physical classrooms. Teachers are able to explain the lessons in a more creative and interactive manner. They can have high tech strategy and prepare lessons in an advanced way by including AR – VR based subject video and different interesting activity models.
Related Post: Growth of Video Streaming App Market

3. Advanced Research
Undoubtedly, in the digital era, now learning is not limitless. With the connectivity of the Internet, students can research and gain more knowledge. They don't have to be dependent on their syllabus or course books. They can research and have wide learning experiences. It helps to gain knowledge and progress faster.
In simple words, those days are gone, when they have to depend on the books only or some references from the libraries. However, now they have wider sources on different search engines, from where they can increase their knowledge at their fingertips. It is the most effective way to learn or be advanced in your particular subject. Worldwide, it is considered the best and interactive way to know about things.
4. Save Resources and cost
E-Books help to save both resources and cost. Now teachers don't need a bulk papers to distribute the curriculum to the students. As now they have phones and tablets, through which they can easily access the information virtually on their emails and mobile applications. The same phenomena go with the E-books, students don't require books and it leads the studies towards paperless, which helps to save both resources and cost. It turns the studies affordable for the students.
5. Support of Online and Huge Community
Students can discuss their opinions and ideas in groups with several other students, who are even interested in the same topic. However, it decreases the dependency of the discussion on the sessions in the physical classrooms. Students don't have to gather together for the discussions.
However, the digital world offers virtual group studies to the educational sector. Where they can discuss the ideas by sharing images, videos, and texting. Apart from this for clear and hassle-free conversations, they can have video conferencing regarding the project. Students are also able to record the video conferencing sessions related to the assignment.
6. Online Degree
Now, students can also complete their degree online. There are several reasons due to which they can't attend physical sessions. So, for them, online sessions are a boon, as by attending the virtual sessions or virtually they can get the certification of their degrees and courses from their preferred universities or colleges. This has turned the process more effective and easier, as per the timings students can join the regular sessions and virtually get their assignment and discuss the projects with their teachers.
7. Open Education
Digital platforms offer an opportunity to access the information as never before. There are several sources of information that are available on a freemium and premium basis. Even on the search engines, there is extensive information available on the platform, in multiple creative forms such as blogs and videos. This turns the learning process easier and affordable. For advanced studies, several microlearning courses are also available by experts, prestigious universities, and colleges.
This information can also be accessed offline even students can download the matter and study offline. Whereas on an online platform, there are several online communities, where they discuss queries and particular topics with community members.
8. Effective data storage
Storing educational data and records are not a major challenge for the students and universities. With cloud computing, now to maintain records and different E-books is easier as compared to traditional ways. Now, data can even store securely and effectively.
Related Post:  Education IT Solutions for Interactive Learning
Conclusion
The Tech industry has offered powerful E-learning software solutions to the education industry. These solutions are beneficial for both teachers and students. It helps to streamline the process and offers new learning opportunities at affordable prices. Hidden Brains virtual classroom empowers digital learning, helping tutors, trainers, institutes and organizations to deliver online classes. Get custom virtual learning solutions for iOS, Android and web, let's discuss.
Do Not Forget To Visit Our Robust and Secure Services:
Mobile App Development Company in The UK | iOS App Development Company In the UK | Android App Development Company in the UK | Web Application Development Agency in the UK | PHP Development Company in the UK | ASP.NET Development Company in the UK | Hire Developers in the UK | Hire Best iPhone App Developers in the UK | Hire Android App Developers | Hire Web Developer in the UK | Hire PHP Developers In The UK | Hire ASP.NET Developers in the UK