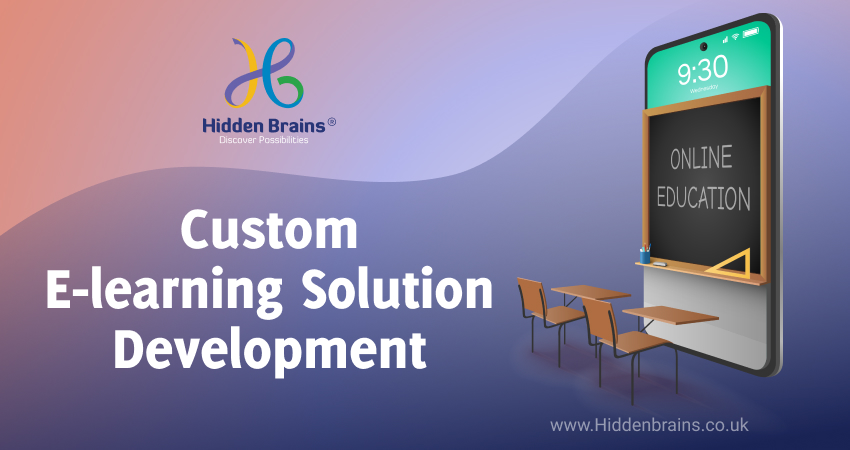 The COVID-19 outbreak has forced schools around the world to close. More than 1.2 billion students have been kept out of school. The result is that education has undergone a dramatic change, featuring the rise of e-learning, in which classes are taught remotely and via digital platforms. According to research, education sector during the pandemic, increases retention of information and takes less time, so the effects of the Coronavirus might last for a long time.
Education Sector During The Pandemic
With the advancements in communication technology, there are several applications for affordable and accessible education. Thus, students and educators can access new tools, gadgets, and iOS App Development Services in their pedagogical experience.
With digital technologies, many opportunities have opened up for teaching and learning. With the rapid growth of the internet, advances in phone technology, and the development of smartphones and tablets that are compact and compatible, "education" has become the iOS app development service of choice. Through easy and fast communication of concepts and contents, educational apps can reduce learners' cognitive load by allowing them to access information more quickly and efficiently.
What has the education sector done in response to COVID-19?
The demand for custom eLearning solutions is growing, leading many platforms to offer the services for free.
Online Movement
A quarter of a billion students have been studying in Tencent's classroom since the Chinese government ordered them back to school in February. A major online movement resulted in the most significant online movement in education, with more than 730,000 students enrolling in classes through Tencent K-12 Online School in the world.
Another company is expanding its custom eLearning solutions to offer teachers and students a one-stop shop. ByteDance, a Singapore-based company that first developed Lark as a tool for internal growth, now gives teachers and students unlimited video conferencing time, auto-translation capabilities, co-editing capabilities, and smart calendar scheduling. The company's global server infrastructure and engineering capabilities were stepped up in a crisis to ensure reliable connectivity.
The current era is characterized by technology and its applications.
As we gain a better understanding of how technology and apps are playing a vital role in the education sector, let us consider the following factors:
1. Facilitates interaction
Learning apps have boomed during pandemics and they facilitate Parent-child interaction. Children become more engaged and talk about careers.
2. Improved communication between parents and teachers
Various schools are implementing learning technologies these days. Teachers can also teach from home with this technology and discuss student progress with their parents. The teachers can respond to the parents' questions and make informed decisions regarding their child's growth.
3. Online resources are available
In addition to accessing a library of books, test papers, pdfs, and other learning materials online, students can explore many other resources. Students can use these resources to obtain content relevant to their studies as learning apps have boomed during pandemics.
4. Providing entertainment
Educational technology apps are found to promote entertainment, according to studies. Apps have changed learning into an active endeavor. Transforming lessons into games could revolutionize education. With gamification in learning, children are now more engaged with innovative and enjoyable learning methods that increase their interest.
5. Encourages distance learning
Flexible study times and locations are among the advantages of online learning. Resources and study materials are always available to students. Students can also learn at their own pace because resources and study materials are always available.
6. Provides personalization
Among the many benefits of E-learning, personalization is one of the best. Students are provided with a personalized way of learning and teaching solely based on their requirements through e-learning platforms. The courses they select remain engaging.
7. Cost-effectiveness
Compared to other modes of education, e-learning is significantly more cost-efficient. All students across the country have access to e-learning tools at a low cost, regardless of their economic background, and can receive quality education through these tools. Printing is also reduced, which reduces the environmental impact.
How effective is online learning?
Educational technology apps are more effective for those who have access to the right technology. Online learning tends to improve retention by anywhere from 25-60%, per some research, compared with classroom learning, which averages 8-10%. E-Learning allows students to learn at their own pace, re-reading, skipping, and accelerating concepts as needed; typically, e-learning takes 40-60% less time than in a traditional classroom setting because students can learn at their own pace.
However, online learning is more effective for some age groups than others. A structured environment is generally recommended for children, especially younger ones since they are more likely to get distracted.
For online learning to be successful, there needs to be a concerted effort to develop such a structured approach and go beyond simply providing video capabilities. Instead, innovative collaboration tools should be used, and engaging methods should be employed that promote inclusion, individualization, and intelligence.
Is the technology available for students to plan their credentials?
To ensure they attain their desired credentials as quickly as possible, students must develop, monitor, and adjust their academic plans; this often entails managing credits at multiple universities. Given the disruption and uncertainty caused by the pandemic, these needs maybe even more pressing. Many institutions offer a core set of educational planners and credit management programs that students can use, even across institutions. Fewer than half of institutions have technology that recommends courses or degree programs based on academic history or other factors.
Conclusion
Students can face academic or personal challenges even in stable times. Many students are likely to require additional assistance in the wake of the COVID-19 pandemic. In the past decade, it has become increasingly helpful and widely used to identify and support students at risk. These technologies are significant and extremely helpful for students who have already used them.
Related Article : An Overview of E-Learning Development Process