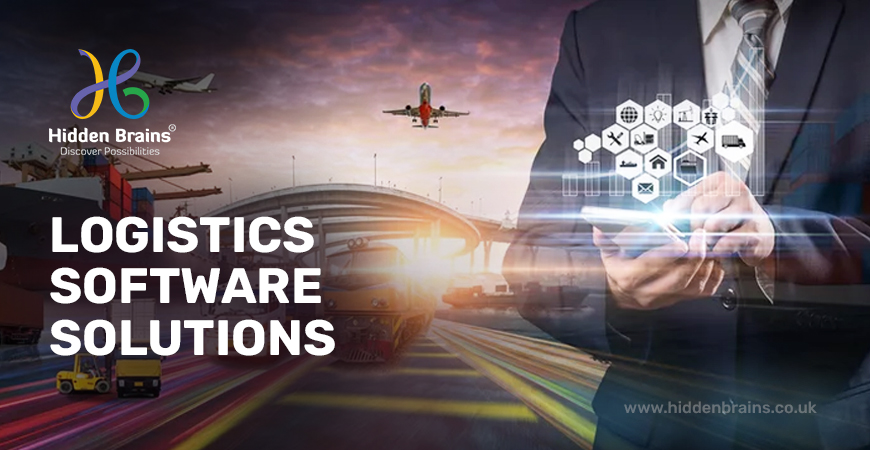 With all the different software available in the market, it becomes very difficult to select one which suits your business needs perfectly. If you are also in search of the best logistics software then this article will surely help you to make the right decision by giving you a brief knowledge about top logistics software solutions that can be beneficial for any type of business.
What is logistics?
The word logistics, when we apply it to business is simply all of those activities that are not a part of an organization's core function but that still need to be handled in order for them to run effectively. Specifically, it refers to how organizations get their supplies and how they move products or raw materials in addition to how they handle customer service issues, including complaints and concerns. Managing these tasks can be pretty tricky and also rather expensive if you do it yourself so many businesses opt for outsourcing by turning to professional software development services instead.
The importance of having a solid supply chain
It doesn't matter whether you are a small business or a giant corporation, if your supply chain isn't optimized, it can make all of your processes more difficult and you could even lose revenue. A supply chain software solution ensures that your internal operations run smoothly by helping with the management of all of your logistics; from inventory to shipping, transport to warehousing, and everything in between. It is important to choose a solution that is easy to use, functional, and will integrate seamlessly with any existing software systems you may already have in place.
The cost of having a poor supply chain
To develop a great supply chain strategy, first you need to understand how important logistics is in your business. A poor logistics system can prevent you from achieving your objectives, while having a better one could help you build products faster and more affordably. Delays are not only costly but also demoralizing. Even if they're not entirely avoidable—they're often inherent in doing business on a global scale—stock-outs are painful. The trick is to make sure that such events become exceptions rather than norms. The biggest challenge with logistics software: Getting it to work as seamlessly with existing IT systems as possible.
How to choose the top logistics software solutions
When it comes to selecting logistics software, there are two main questions you need to ask yourself: What kind of system do I need? And which supplier is right for me? There are a lot of solutions out there, and your choice will depend on your budget and other business needs. The best way to choose a provider is by taking time to investigate what they have on offer, including pricing details.
Once you've decided which system meets your needs, speak with others who have used it—this can help you gauge whether or not it's right for you. Also, remember that finding a supplier you trust is just as important as finding one that has great software; a trustworthy partner can make all the difference when navigating challenges along your journey.
Which solution suits your needs?
With so many software solutions out there, it can be difficult to find exactly what you need. If you're looking for a logistics software solution, it's important to know exactly what you want to accomplish with your solution, who your target customers are, and how you plan on making money. Once you've figured out these important elements of your business model, you should have a good idea of which logistics software will work best for your company. There are several types of solutions available; here are some of the most popular
Best Software for Logistics
Managing logistics and supply chain management has traditionally been challenging, requiring numerous software solutions that can sometimes be costly. But advances in technology have made it easier to find a comprehensive solution that works for your needs. In some cases, there are low-cost or free applications available; in others, you may need to invest a bit more. Take your time when choosing which logistic & supply chain software to implement. This investment is an important one as no matter how small or large your business is it requires smooth running of its internal operations to survive in today's marketplace.
Here we will discuss top logistics solutions for small and medium-sized businesses (SMBs). The first thing to consider when choosing any kind of software is whether it's compatible with your existing infrastructure. It should also be easy to use so that you don't spend precious time learning how to use it instead of focusing on other tasks at hand.
A lot depends on what type of business you run:
Are you manufacturing products?
Or do you import goods from overseas?
Are there regulatory requirements?
Do you ship goods across state lines?
These questions should help narrow down your options when looking at supply chain management software packages. The top ten logistics solutions for SMBs are listed below, in no particular order.
1) SupplyChainBrain – SupplyChainBrain is a cloud-based warehouse management system that includes features such as pick and pack, shipping and receiving, inventory control, EDI and barcode scanning, reporting capabilities and more. This solution offers one-stop shopping for all of your logistics needs.
2) Taulia – Taulia provides an end-to-end supply chain solution for businesses involved in trading goods internationally or domestically. It offers a comprehensive suite of services, including EDI and advanced shipping solutions, customs management, global trade compliance and more.
3) Zoho Inventory – Zoho Inventory is a cloud-based inventory management system that allows you to track sales and manage your inventory from anywhere at any time. This software includes features such as product listings, purchase orders, accounting integration and barcode scanning.
4) TradeGecko – TradeGecko is a cloud-based platform that manages your entire order fulfillment process from start to finish. It helps you save time by automating manual tasks such as data entry and email notifications while also providing visibility into your inventory levels so you can avoid overstocking or running out of stock unexpectedly.
5) ShipStation – ShipStation provides an all-inclusive solution for managing all aspects of your shipping operations, including rates, labels, automation, tracking, and more. You can even connect it with popular ecommerce platforms like Shopify and BigCommerce for seamless integration between sales channels.
6) Freightos – Freightos offers real-time pricing from multiple carriers in one place. This means that you don't have to spend hours searching for competitive quotes—Freightos does it for you in just seconds!
7) Omniata– Omniata has been helping businesses around the world manage their supply chains since 2003.
Features to look out for in logistic management software
Do you have a good idea of what logistics software is? If yes, then it's time to get into finer details. There are some specific features you should look out for when choosing your logistic management software. You need to make sure that your logistic management software has all these features or else it will cost you in terms of business efficiency and effectiveness.
Here are advanced features:
1) Advanced Workflow & Automation: When in a business, automating your workflow with ease and speed becomes an important factor to increase productivity and effectiveness as far as possible. So, when choosing logistic management software, always check if they have advanced workflow & automation systems built-in to save time from manually repeating tasks many times over.
2) Customization & Scalability: It's not just about getting a logistic management software that works well for now but also one which can be customized easily according to your needs. Most importantly, it should be scalable enough so that it can grow along with your business without any major hiccups.
3) Cloud Based Logistics Management Software: Cloud-based logistics management software offers various benefits like easy accessibility anytime anywhere, no additional hardware needed, no maintenance costs and more.
4) Security: While security is not something new in today's world where we see data breaches almost every day on newspapers and TV channels but still security plays an important role while choosing any kind of technology solution whether its IT related or otherwise.
Considerations when choosing warehouse management software
When selecting a warehouse management system, it's important to consider certain factors and weigh your options. A key factor to keep in mind is how scalable you'd like your WMS to be in order to support future growth or modifications. Think about what makes sense for your organization now, as well as down the road. If you're not sure where to start, these tips will help you choose a solution that meets all of your requirements without breaking the bank.
Choosing between a hosted and on-premises solution: There are two main types of solutions: hosted solutions, which are cloud-based software accessed through an internet connection; and on-premises solutions, which require software to be installed on local servers. Both have their advantages—but deciding which one works best for your business can often come down to preference.
One might fit more seamlessly into your existing technology stack while another may offer more advanced features at a lower cost per user. Whatever you decide, make sure it's easy to integrate with other business applications so you can gain insights from all aspects of your operation—not just logistics.
Conclusion
As you can see, the software can be a powerful ally in your supply chain organization. Rather than reinventing your wheel by crafting your own systems and protocols, let software companies take on that role so you have more time to focus on improving efficiencies throughout your business. Picking logistics software for your business requires careful analysis of which areas need improvement and what types of systems will be most effective in meeting those needs.
By being proactive and choosing from a list of common solutions, you'll ensure that you're able to build a sustainable, capable program that supports growth while making day-to-day processes easier to manage.
Related Article : What's the Role of IoT in Logistics & Transportation Industry