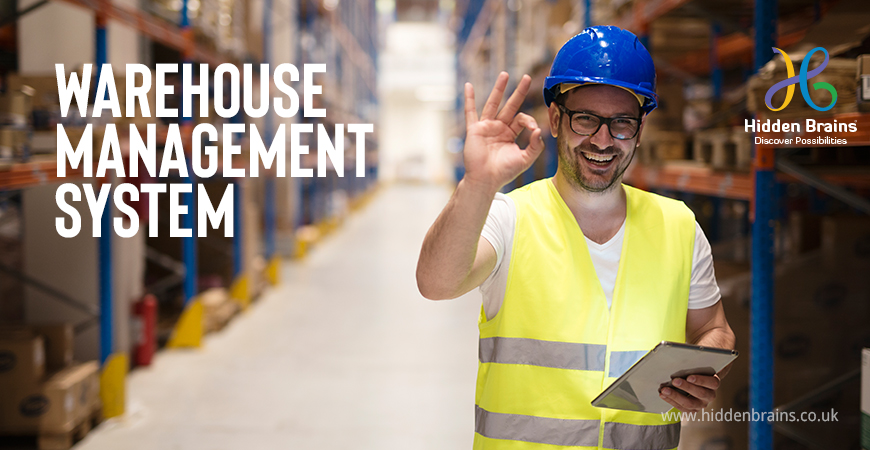 Nowadays, implementing Warehouse Management Software is highly crucial for the logistics department of any business organization. It certainly brings numerous benefits to the business such as a reduction in cost and errors, better service to customers, etc.
Its popularity is growing globally which is evident from this report by Grand View Research that the market size of warehouse management systems globally was USD 2.94 billion in 2021 which is expected to grow at a compound annual growth rate of 16.1% from 2022 to 2030.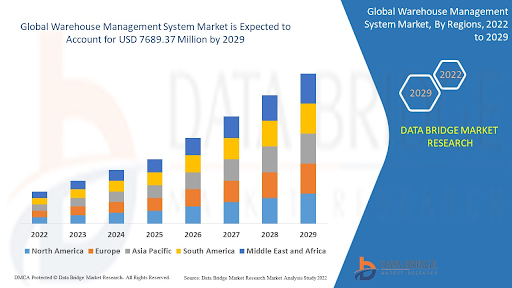 The whole supply chain depends on the warehouse processes. Hence, a warehouse management system is quite prominent for efficient supply chain management too. It helps by managing the order fulfillment processes, right from receiving raw materials to delivering the finished goods.
What is Warehouse Management System and what are its functions?
There is a sequence of processes and a lot of moving parts in every business, whether it's online or offline. Hence, keeping a track of every product is very important. Here comes the warehouse management system in the picture.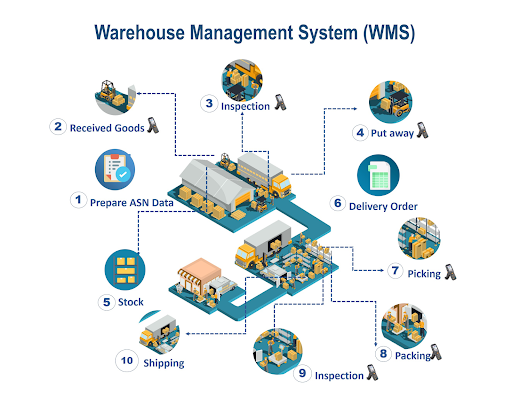 WMS is a set of policies and processes used to control and monitor warehouse operations. It manages inventory right from its arrival in the warehouse, during its storage, and continues by the time it is dispatched and delivered to the customer. It makes this tracking the prominent and core function but there is a sequence of processes and functions.
Call us today for the best Warehouse Management System.
Check the below list of processes and functions:
1. Tracking of inventory
As aforementioned, inventory tracking is the primary function or responsibility of the warehouse management system. With WMS, the warehouse managers get clear visibility of the stock availability and leveling of stock as per the requirement.
This system allows warehouse managers to keep an eye on the demand and supply of their products so that the appropriate quantity can be ordered at the appropriate time.
2. Managing labour
For ensuring the proper processing of warehouse operations, it is critical to know the performance and efficiency of the employees. Hence managers need to have real-time data on the same.
The organizations set numerous indicators to evaluate the employees' performances which are very well examined by WMS. It also helps in developing incentive systems for staff and thereby, enhancing their productivity.
3. Proper planning of the layout
Doesn't matter what the size of the organization is, it is always difficult to create and maintain a proper layout of the warehouse. A warehouse management system helps in designing the layout of the warehouse very precisely.
The logical and systematic arrangement in a particular warehouse lets the placement of the inventory highly effective. All the variables like weight, demand and accessibility are to be considered while developing the layout.
4. Providing insights
Analytics is very critical for the process of decision-making in any business and this warehouse management software does the job of providing such insights very accurately which are executable and data-driven.
This way, the warehouse manager can have deep, prompt, and accurate insights into all the relevant warehouse activities, track the inventory, and thereby take further steps accordingly. The information provided by WMS is real-time which can very well be used for the prosperity of the business.
5. Enhancing productivity
The best part of applying WMS is that an audit trail is maintained that links all the transactions to the employees. This brings a sense of sincerity, responsibility, and accountability to them. If the individual goals are not met, measures can be taken to improve their performance.
The whole process is simple and quite logical. The key performance indicators and various requirements are also established by WMS which improves the productivity, efficiency, and accuracy of the team as a whole.
6. Certain miscellaneous yet important functions
The business organization consists of various functions like order processing, documentation, customer service, etc. WMS leads to near-perfect shipment and stocking, thereby reducing the overall warehousing cost.
As far as the documentation is concerned, it is all centralized, providing full accessibility to all the warehouse workers. This altogether reduces the requirement for paper-based paperwork.
The major focus of any business organization remains satisfied customers. All its functions are focused on providing flawless experiences to its customers. WMS assures correct and timely delivery that adds to their authenticity.
Call us today for a FREE no-obligation quote.
Different levels of WMS-
There are numerous types and implementation methods of WMS, the chosen one depends on the nature and size of the organization. The system can be either standalone or a larger one. The complexity of the enterprise decides the level of complexity of WMS.
As per the research, WMS can be classified under 3 levels of complexities-
1. Basic WMS
It supports location control and inventory management. The kind of data to be produced here is generally 'throughput', which depicts the stock movement through the warehouse during a certain period. This is inherent in the basic Inventory Management System.
2. Advanced WMS
Apart from analyzing capacity and stock levels, it can also keep an eye on the time and labour spent on various activities. It can generate data to measure efficiency and also give suggestions wherever required. Most companies, except a few areas in the world, use this type of WMS today.
3. Controlled WMS
It is capable of exchanging data with other systems so that it can use information from outside the warehouse, say anything related to logistics, manufacturing, customer orders, etc. while planning anything. Similarly, it may also obtain feedback from IoT devices that consists of WMS. It can also try various strategies for improving operations.
Tips for better implementation of Warehouse Management System
Implementing this software is not easy at all. It requires proper preparation and full management support from the beginning. Since it would be something new to everyone, it is necessary to introduce it smoothly. Here are a few tips for hassle-free implementation of WMS-
1. Get a slow start
It is the main thing for introducing anything new to an organization. Start it slowly, introduce its basic setup, let the employees/workers get familiar with it, observe the outcomes, and change your course of action, if required.
2. Tailoring is important
Try to grab the software package that provides you with plenty of options to tailor as per your needs. Try to insert all the core requirements of your business in the software to get the best out of it as per your design, requirement, and intention.
3. Get the trial mode ON first
You must not run the whole business on something which was not tried and tested, as it may pose you and your business with a threat. Test all the connections with other software in an offline environment so that if anything goes wrong in the beginning, you have the time to take some new steps.
4. Focus only on key business objectives
It won't be a wise decision if you try to address all your requirements in one go, simply because doing not only slows down the implementation process and decision-making but also hinders your success. Your primary focus must be on reducing time and gaining more flexibility to fulfill customer requirements. It eventually leads to reduced costs and enhanced revenue.
5. Prepare your staff
This is also very important while implementing anything new in any organization. The management needs to discuss it with staff and others to make them understand their objectives and gain their confidence. Try to get their unanimous consent in favor of this implementation. Also, track the progress of each team member and train those who need it.
Call us today for a comprehensive WMS.
Attributes of a good Warehouse Management System
Before implementing WMS, one must know its features of the same so that all those things can be considered well in advance.
1. Design
If the warehouse is jam-packed and remains unsystematic and unorganized, it would take hours to find something. Hence, the design of any warehouse is very crucial for any organization to get an organized and customized workflow.
2. Tracking of Inventory
The WMS uses barcode readers and radio frequency identification (RFID) tags which help in tracking inventory data. Then, the software is updated instantly, giving the information to all the authorized ones. Hence, it ensures the movement of goods whenever required.
3. Pick-and-Pack
Picking at various levels like zone picking, wave picking, and batch picking can be very well optimized if WMS is implemented. Workers can also be guided efficiently in their tasks with such Logistics Software Solutions.
4. Receiving and Put-away
Two types of technology can be used for rapid inventory receiving and put-away, viz., pick-to-voice (PTV) or pick-to-light (PTL) technology. As the name suggests, the former has a computerized voice whereas the latter has light displays at the requisite places that direct the picker.
5. Shipping
Advancement is done at the shipping level too. Things such as bills of lading, packing lists, invoices, shipment notifications, etc. are sent well in advance to the recipients.
6. Managing workers
Labour management is very important in any organization. People at the managerial level need to look at the employees who need training and who deserve a promotion. Key performance indicators are used by the software to monitor individual performance.
7. Managing Yard and Dock
When it comes to larger operations, WMS can also help truck drivers by instructing them on the proper loading. Certain features of inbound and outbound logistics can also be considered as the business grows.
8. Reporting
Automatic reports are also created by WMS that are of big help to managers. These help them in analyzing the performances of everything including employees and operations and hence, help in anticipating any problem that may arise and trying to figure it out.
Examples of some Warehouse Management Systems
There are a few types of WMS but it all depends on the organization, its size, and the final goal as to which system is to be adopted.
1. Standalone system
It is the most basic form, has very limited features and is best for smaller organizations. Processes like picking, packing, receiving, returns, shipping, data management, barcode scanning, cycle counts, and inventory tracking can be performed under this system. MS-DOS, Windows 95, Windows 2000 Professional, and Mac OS are some examples of such systems.
2. ERP module
It is special software that is built to take care of daily business operations for administrative purposes like accounting, risk management, project management, supply chain operations, purchasing, and customer service.
3. Cloud-based platform
This is more advanced technology than the aforementioned ones. It includes a server and system that leads to faster integration, more convenience, and higher security. This one is user-friendly, highly flexible, scalable, and consolidated.
4. Supply chain module
This one covers all those aspects which are ignored by the others like, vendor management, material handling, user interface, customer service, transportation management, customer relationship management, and inventory control.
Call us today for a FREE no-obligation quote.
Benefits of adopting Warehouse Management System (WMS)
This kind of Logistics Software solution has brought a wide array of benefits to the organization, some of which are mentioned below-
1. Hassle-free warehouse procedures
This software is real-time and authorized persons can have an access to it. It reduces the time and effort to do any function like order tracking, shipping procedures, customer feedback, etc. This centralized system leads to transparency and hence, doesn't give any scope for miscommunication.
2. Greater accuracy
WMS is also good as Cargo Management System as it allows the tracking of goods and inventory automatically. The count frequency is maintained simply by pressing a key or scanning a barcode. Hence, it leads to more accurate Inventory tracking and counts.
3. Highly scalable
One always wants a business to grow and hence, using such software that grows with them is a sensible decision. WMS includes all the features which may be useful for you, need not initially but later on. This would ease the process of growing.
4. Safe and secured
WMS creates timely automatic reports to make sure that everything is well-maintained and in place. This helps in identifying potential threats to the inventory which could be vulnerable like medicines, food, or expensive items like jewelry.
5. Reduced processing and operating costs
Normally more staff is required for the operations and that leads to higher overhead costs. After implementing WMS, only one person is required to monitor the process and hence, eventually reduces the processing cost. The speed of fulfilling orders is also enhanced, which also reduces processing costs.
6. Reduced errors
The human element is reduced to a minimum while using this WMS. It accompanies the barcoded inventory that reduces the risk of error to the least. Scanning is done at every moment right from picking to packing and then shipping. Any wrong item scanned would be informed to other teams as well in real-time.
7. Improved customer service
Things are automated and processes get streamlined after implementing WMS. Products can be tracked at every place and so is their availability. Knowing this, the exact delivery dates can be confirmed with the customers. This would reduce their complaints and hence, improve overall customer service.
Conclusion
So these were a few things you should know about WMS before implementing it in the warehouse organization. Technology at this end as well is a boon for businesses and they need to consider their requirements before going forward.
Do Not Forget To Visit Our Robust and Secure Services:
Mobile App Development Company in The UK | iOS App Development Company In the UK | Android App Development Company in the UK | Web Application Development Agency in the UK | PHP Development Company in the UK | ASP.NET Development Company in the UK | Hire Developers in the UK | Hire Best iPhone App Developers in the UK | Hire Android App Developers | Hire Web Developer in the UK | Hire PHP Developers In The UK | Hire ASP.NET Developers in the UK