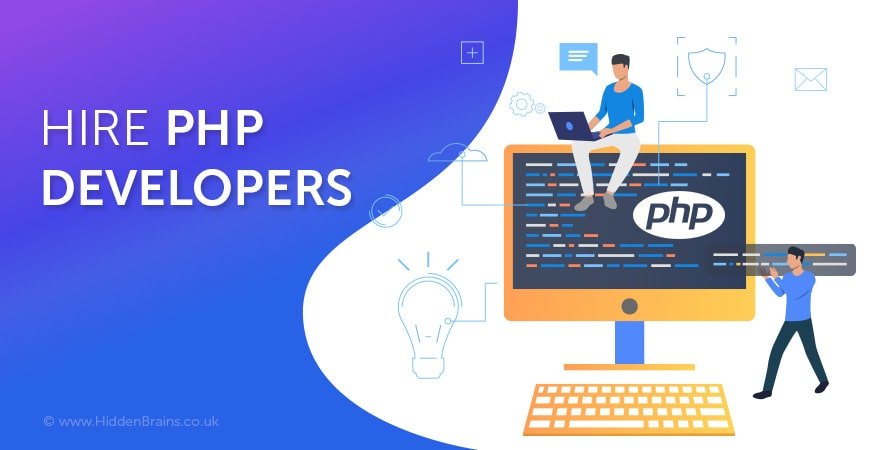 PHP is one of the most popular programming languages on the web providing a ubiquitous presence. It's been around awhile, and will continue to dominate the world. If your site is powered on Linux or WordPress, you might be already looking to hire PHP expert for your project. On the other hand, if you're planning to launch your website from scratch and considering the LAMP stack, this back-end language will be at the top of your list. With 80% of sites around the web using PHP, it goes without saying that PHP has one of the largest developer pools. The entire process of  how to hire web developer requires careful thought and consideration.
Developers now play a crucial role for entrepreneurs and business owners. There are several specialists in the market and identifying the right one isn't hard these days. However, the problem is to find the right fit for your business needs. 
So if you are looking to hire a PHP developer for your web application development project? This blog is for you. In this article, we'll provide pointers before you hire PHP programmer and steps to be taken before hiring a PHP expert.
Related Post: Web Development Best Practices
Understand your project needs & identify scope
Before you start a project, it is important to understand the intricacies and requirements of your project. Whether you have an existing web application or are looking to enhance application with new features require back-end support. Both scenarios need different approach and level of expertise. If you need a PHP software developer for an extended project, it all boils down to your business goals, the experience required, and how quickly you need it done.
This will help to identify and decide whether developers have good skills and experience and are a good match. An experienced PHP software developer can help to estimate a budget and decide project milestones, as long as you provide meticulous detail. Developers bidding on your project can get a better idea of what needs to be done and estimate far more accurately.
Analyze Past Projects & Portfolio  
Whether it is a PHP development company or an expert PHP developer, it is crucial to take a holistic view of worked on projects. Ask the candidate for a description about the project that he/she has worked on and how instrumental his/her role was.
Sometimes, hiring a portfolio, case studies and client testimonials evaluate their real strengths and experience in working for a project similar to yours. This will save you the hassle of dealing with issues related to quality of the projects that may surface later in the development cycle.  
Evaluate Knowledge Base and Learning Curve
Given the speed at which technology is changing, it is necessary to invest in a resource that is not just competent to deliver your projects, but is also capable of staying up-to-date with the latest trends and picking up new skills along the way. You should keep with the developer as to what all things he does to keep himself updated on the technology and trends. 
Evaluate Communication skills

 
When hiring a PHP programmer, it is important not to overlook communication skills. Obviously, a PHP software developer may not be required to be as fluent in communication, but keeping communication skills lower in the priority list will never help.
Whether it is one-on-one meeting with clients, manage budget requirements or justify changes in project milestones, developer needs to ensure transparency in communication at all times throughout the project development lifecycle. Unclear communication can cause a major setback for entire team.    
In case you partner with a web development company, besides the level of communication skills, it is necessary to identify whether your team is can use latest communication/project management tools, as well as identify the level of communication access with the developers who will be exclusively working on your project.  
Attitude Counts
You may find someone who is exceptionally good at PHP development but if the developer lacks in soft skills such as interpersonal skills, having an upbeat personality or having a learning attitude; it can get quite difficult to work together. You may discover somebody who is outstandingly great at PHP development Company. But what if the developer lacks the attitude or demonstrates lack of learning curve? It can turn out to be a daunting task. Amid the whole procedure, recollect that it is ideal to simplify ALL points that you have at the forefront of your thoughts, paying little respect to its significance at this stage. In the event that you've decided hire a PHP specialist or an outsourcing firm, make sure to draft an agreement and incorporate details of milestones, for example, cost-structure breakdown, and so on. All terms and conditions must be made obvious and clear to keep away to avoid any form of discomfort in future.
Related Post: PHP Development Tools
Technical Expertise
Basic Back-end PHP
Back-end fundamentals (RESTful APIs and Lambda functions).

Databases like MySQL. Content Management Systems like WordPress.

Technology stack like LAMP (Linux, Apache, MySQL, PHP).
Intermediate – Advanced
Beyond fundamentals with specialization in a back-end server environment like AWS (Amazon Web Services)

Skillset in chosen PHP frameworks like Laravel, Symfony, or Cake.
Full Stack Developer
Mix of front-end and back-end technology expertise.
Conclusion
It is easy to find and hire different app developer for different industry domains. Equally important is the need to clearly outline important that you should have a clear business vision of what you want, technical expertise, and complexity of application that you are planning to build. Once you have all the details choose a mobile app developer who can help you build your web application.
Do Not Forget To Visit Our Robust and Secure Services:
Mobile App Development Company in The UK | iOS App Development Company In the UK | Android App Development Company in the UK | Web Application Development Agency in the UK | PHP Development Company in the UK | ASP.NET Development Company in the UK | Hire Developers in the UK | Hire Best iPhone App Developers in the UK | Hire Android App Developers | Hire Web Developer in the UK | Hire PHP Developers In The UK | Hire ASP.NET Developers in the UK