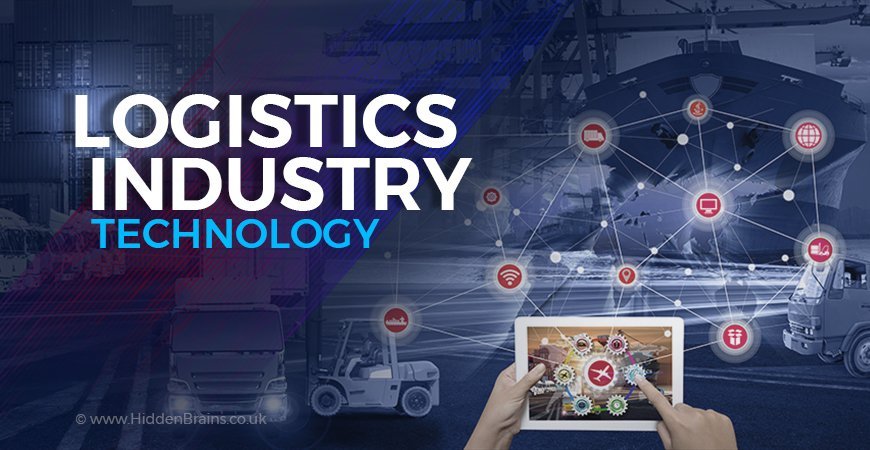 Mobile Apps for Transportation and Logistics Industry Benefits, Features & Pricing
Logistics companies are facing an era of unprecedented change as logistics software solutions takes hold and customer expectations evolve. New technologies are empowering greater efficiency and giving rise to collaborative operating models; they're transforming the marketplace in ways that were previously unimaginable.
The shift to digital technologies such as mobile app development services, cloud, analytics has occurred with astonishing speed, giving rise to entirely new business models and re-writing the rules of how businesses are built.  
New entrants, whether its start-ups or the industry's own customers and suppliers are shaking up the sector.  The success of on-demand ridesharing services such as Uber and Lyft has inspired the mobile application development services for the logistics industry – as a solution to several challenges.
Logistics companies also need to bring costs down and increase efficiency. They also need to automate mundane tasks and ensure resources are directed for the key areas – such as digitisation, asset productivity, and innovation – and invest more to support the company's key capabilities and value propositions.
Finally, as an era of technological disruption waits, companies need to anticipate and improvise their capabilities on the path of evolution with mobile app development services.
68% of transport & logistics CEOs surveyed expect that changes in core technologies of production or service provision will be disruptive to their business *PwC CEO Survey 2018 
65% transport & logistics CEOs surveyed expect changes in distribution channels impacting their business*PwC CEO Survey 2018 
This statistic shows the biggest challenges faced by supply chain executives in 2017 and 2018. During the 2018 survey, 19.7 percent of respondents reported that their biggest challenge in 2018 was fluctuating consumer demand.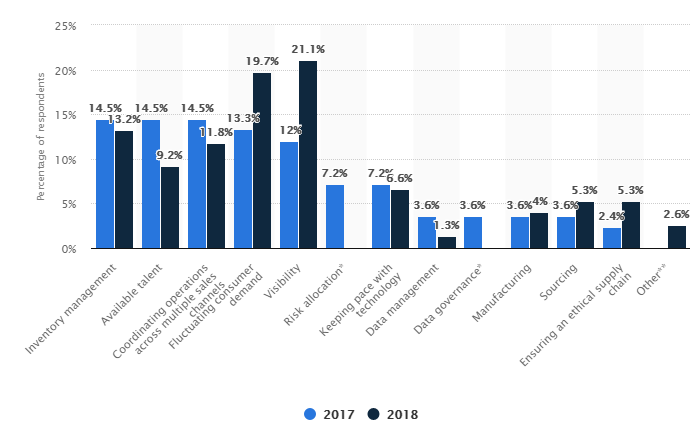 Type of Mobile Apps for Transportation and Logistics Transportation Industry
Fleet Management Apps: Fleet management apps allows companies to minimize the risks typically related to vehicle investment, improving overall efficiency, productivity and reducing overall transportation and staff costs. It all records, manages and maintains all your fleet related data and vehicle information. Hence assign the vehicle as per the requirements and manage drivers with a single click using a mobile application.  
Logistics On-demand Apps: Similar, to ride-hailing apps, on-demand logistics software Solutions requires two different identities users as well as drivers. In this particular case, drivers are carry package and users are looking to deliver their packages. The fare or pricing mechanism is based on factors such as relative size and weight of the container or package. It helps your clientele to avail the services in a way they like and helps you to keep connected.
Apps for Warehouse Solutions: Warehouse apps are designed and developed for real-time routing of workers, provide alerts and notification systems. Mobile apps for warehouse solutions integrate seamlessly with RFID, serial number identification, barcodes, and QR code scanners. Custom mobile apps for warehouse offers real-time tracking and visibility from desktops, mobile devices, and wearable technologies that contains expiry dating, lot tracking, and serial numbering capabilities.
Forwarding and Tracking apps: Identify and track fleet and driver locations at your fingertips with simple clicks. With our tracking apps, fetch the real time updates about the routes takes and the goods deliveries.
Related Post: Impact of Emerging Technologies on Logistics software solutions

Advantages of Logistics Mobile App Development Services & Solutions  
Logistics mobile apps help gain visibility at each and every phase of shipment life cycle from quoting and selling to billing. This invariably facilitates better decision making. Whether it is business process automation, real-time updates to reducing claims, logistics apps development can play a vital role in through forecasting and systematic planning using analytics.
1.  Reduce Time on Administrative Tasks
Mobile apps can reduce or significantly eliminate time spent on freight payment and billing as they automate manual procedures associated with freight bill payment and audit. Further, mobile applications cover different aspects such as surcharges and discounts. The focus is to manage different aspects such as surcharges and discounts.
2. Get Real-Time Updates
The geolocation functionality allows logistics companies to track the vehicle and get real-time updates about the location of vehicle. The features add elements of reliability to entire operations providing real-time notifications and updates. Also, you can track the vehicle through GPS technology and send get alerts in case of emergency.
The app can give you and your customers the real-time information about various important activities, which plays an imperative role in the growth of your business. Custom logistics app brings automation in the business, making it very easy to take care of employees and customers. It can save your business from any costly errors.
3. Manage your Fleet 
Effective fleet management is the key to drive your business forward. Also, the efficient fleet management can ultimately improve the productivity. The app gathers and stores data of all your vehicles and their routes. You can accurately track location of the drivers and manage the efficiently schedule of the vehicles.
4. Facilitate Online Booking
Businesses are witnessing a paradigm shift from laptops and desktops to mobile apps. As business operations on the move is the new mantra, you can assist users by allowing them to book parcel and cargo with a dedicated logistics mobile app.
5. Eliminate Hassles of Paperwork
The traditional business model for transportation and logistics involves voluminous paperwork. Thanks to a customized logistics app, you can completely eliminate paperwork and manage everything with ease by a few clicks.
6. Enhanced Sales and Customer Service
Logistics companies can offer higher level of sales and customer service with automated and self-service tools that support pricing, booking, routing and documentation processes. A customized and feature-rich app can improve the customer services through establishing a 24/7 connection with the customers.
7. Inventory Tracking
This is the most important feature of mInventory, wherein you can scan bar codes, RFIDs and QR codes of various assets to get started with the asset inventory reconciliation process. In short, these advance features can get the complete details of an asset to process a series of inventory transactions such as posting a goods receipt, verifying the availability of stock, updating the stock details at plant/warehouse/bin, performing cycle counting and much more to mobilize and streamline your SCM process.
Related Post: Industrial Digital Transformation
Finally
Mobile app development technologies with the combination of technologies such as blockchain, advanced analytics, and artificial intelligence can create differentiated freight marketplaces.