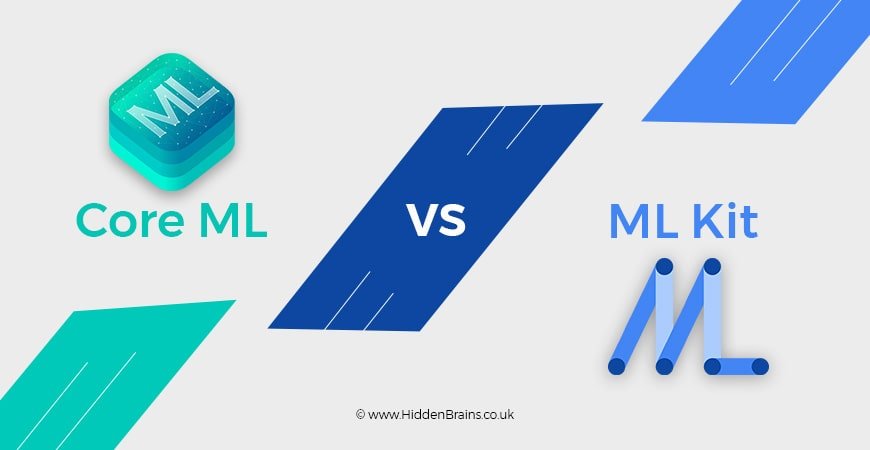 There were very few libraries to incorporate machine learning on mobile platforms. But these days we're seeing loads of libraries being released. Last year, Apple released Core ML at WWDC, and it was considered a big step in the field of mobile ML. Following the trend, Firebase — which is owned by Google — released ML Kit. Here is an infographic comparing Core ML and ML Kit for mobile application development. This will allow you to decide whether to partner with iPhone Application Development Company or Android app development. Let's watch core ML vs Google's ML.
Call us today for a FREE no-obligation quote.
Apple's Core ML
Core ML is Apple's Machine Learning framework offering developers a robust way to integrate powerful and smart machine learning capabilities into apps. With support for Vision (image analysis); Natural language (NLP); GameplayKit, Core ML provides the foundation for domain-specific frameworks and functionality. At WWDC 2018, Apple released Core ML 2.0- the next version of Core ML with a focus on streamlining the process by improving performance and giving iPhone App Developers the ability to customize their own Core ML models. If you are looking to implement machine learning, it is important to hire iPhone app developers with expertise in implementing Core ML.
Core ML is optimized for on-device performance, which minimizes memory footprint and power consumption. Running strictly on the device ensures the privacy of user data and guarantees that your app remains functional and responsive when a network connection is unavailable.
Also Read: Advantages of Building iOS Application for your Business
Google's ML Kit
Announced at Google I/O 2018, ML Kit enables developers to utilize machine learning in mobile apps. ML Kit beta brings Google's machine learning expertise to mobile developers in an easy-to-use package. It aims to make your iOS and Android apps more engaging, personalized, and helpful with solutions that are optimized to run on the device.
ML Kit offers six base APIs that are ready to use for developers, with the models already provided: Image Labeling, Text Recognition (OCR), Landmark Detection, Face Detection, Barcode Scanning, and Smart Reply (to be introduced soon).
CoreML vs ML Kit: Which works for you?
Both Apple's Core ML and Google ML Kit enable developers to leverage the power of machine learning to take apps to the next era of intelligence. This may finally make these features accessible to the masses. When compared to Core ML, ML Kit has a few advantages. ML Kit supports both iOS and Android allowing developers to use the same APIs for both operating systems.
ML Kit has six base APIs that are easy to implement and do not require any particular expertise in machine learning. Another advantage of the ML Kit is that it offers both on-device and cloud-based APIs. On-device APIs in ML Kit is designed to work fast and will be able to provide results even in the absence of an internet connection.
The cloud-based APIs utilize the Google Cloud ML platform and provide an increased level of accuracy. The disadvantage with the ML Kit is that you might need to upgrade your Firebase plan based on requirements.
Call us today for a FREE no-obligation quote.

Conclusion
If you are only interested in developing for iOS, then Core ML in combination with Create ML might come across as a feasible option. Apple's tools allow you to both train and implement machine learning models in your app using fewer lines of code.
Related Post: WWDC 2019: Major Announcements By Apple
Do Not Forget To Visit Our Robust and Secure Services:
Mobile App Development Company in The UK | iOS App Development Company In the UK | Android App Development Company in the UK | Web Application Development Agency in the UK | PHP Development Company in the UK | ASP.NET Development Company in the UK | Hire Developers in the UK | Hire Best iPhone App Developers in the UK | Hire Android App Developers | Hire Web Developer in the UK | Hire PHP Developers In The UK | Hire ASP.NET Developers in the UK