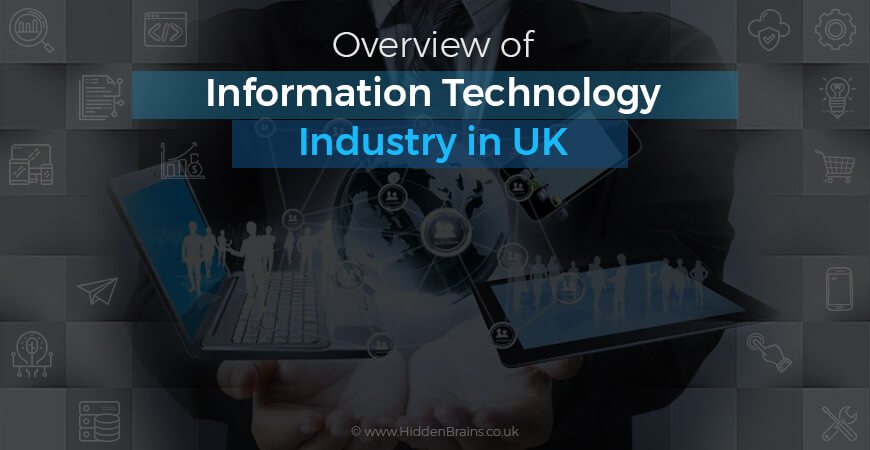 In a research, top CEOs belonging to Information Technology industry were surveyed to ask their viewpoints on shifting business landscape. IT companies in UK is expanding at unprecedented rate with talent and investment pouring into the sector like never before. Theresa May thinks of technology industry as a 'great British success story' as it becomes a major contributor to UK economy.
Since 2011, UK has attracted £28bn in technology investment, compared to £11bn in France and £9.3bn in Germany. These UK IT industry statistics stand as a justification for above mentioned statement of Theresa May. As per the recent report, the digital economy is growing at twice the rate of the overall economy. IT services UK accounts for £97 bn in a year, up 30pc in five years, according to the recent report. 
Continuous Growth of IT companies in UK 
"Whatever happens in the coming months, the UK must continue to be an attractive place for investors to want to put their money, prioritising support and infrastructure for the start-up economy."

— Wendy Tan White, General Partner at Entrepreneur First
Information Technology has expanded in the last few years to address the challenges and explore new opportunities in this age of digital transformation. IT has deeply penetrated into major industry verticals such that it could be said that 'every business is now technology enabled'.
Technological solutions and services have helped companies to establish its presence, compete in the market and grow enormously. Leveraging the potential of emerging technologies in this ever changing Information Technology landscape, businesses gain a competitive edge and lead the market.
As and when the usability of new technologies comes to light, IT companies are triggered to enable businesses take advantage of changing behavior pattern and economic conditions. These companies offer following types of services: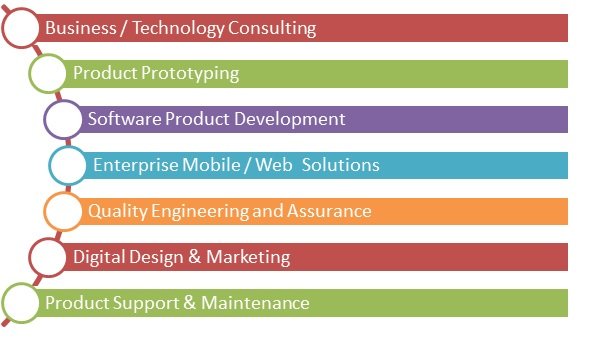 Business Consulting / Technology Consulting:
Transformation has become the new norm in the business world where it is impossible to survive without the element of 'innovation'. While driving on the path of reinvention, the need of having a strategic partner cum consultant is strongly felt.
Product Prototyping
Technology and digitization have stepped up to a decently high level. As a result, client requirements and expectations from projects are leveling to a mark that cannot be merely visualized. Wireframe technique eliminates the guesswork and provides a transparent look of the project to the client.
Software Product Development
The business world overpowered by advancements of technology requires you to partner with someone that can help you reach the next level of performance. Building software that meets your business requirements as well as current market trends requires high-level expertise.
Related Post: Software Development Methodologies
Enterprise Mobility
'Mobility' is one disruptive technology that has revolutionized the working methodology of enterprises. By untethering business from a fixed physical location, this new concept has completely changed the way companies do business.  
Enterprise Web Content Management
Digital presence on multiple channels is the key to survival in highly competitive enterprise market. Missing out on any content management platform is not affordable in the digital era we live in today. Seamless web interactions and perfect blending of technology, business logic and creativity is required to secure a powerful position in the digital space.
Quality Engineering and Assurance
Any IT services or products developed needs to be up to the mark to fulfil the business purpose. Quality Engineering and Assurance service ensures that you get the most optimized version that perfectly suits your business requirements and meets market standards.
Digital Design & Marketing
Designing perfect UI/UX for website, web application or mobile app is an integral part of digital strategy. The look of website or app is the first impression on visitors and this makes it significant with respect to attracting end user's attention. Digital Design and marketing service ensure that your design matches with nature of business and behaviour of end users.
Product Support & Maintenance
Providing continuous support and making necessary changes to website or app is essential to stay at par with latest technological updates. Product maintenance and support service providers take required actions based on end user's reviews, feedback, suggestion and in-depth analysis from backend.
From Expert's Desk: IT Services London Overview 
The significance of digital services and solutions is increasing day-by-day with more focus on online reputation of companies. No matter which industry or domain your company belong to, you have to stay at par with digital practices for survival in this technology oriented world.
With the fever of digitization spreading widely all over the world, 83% of UK respondents consider digital skills as most important to their business. Among these respondents, 63% people have already taken necessary steps, i.e. procured digital marketing services.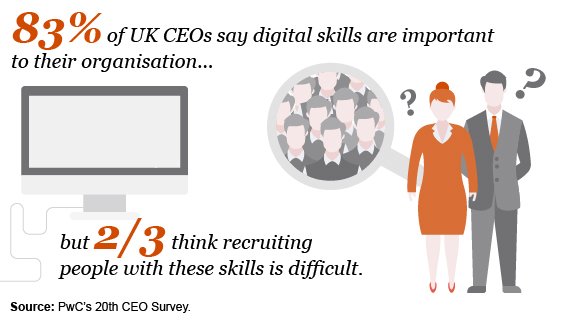 The rise in digitization has opened up an array of opportunities in information technology arena. Hear from Theresa May on tech job opportunities,
"The number of digital tech jobs across the UK has grown at more than twice the rate of non-digital tech sectors."
Rise in the number of opportunities in Information Technology sector comes as a result of increasing interest of entrepreneurs in updating their business as per latest technological trends. This ensures continuous inflow of projects from clients to information technology service providers. To meet the growing demands of clients, companies are employing more resources.
"From analysts to web developers to software architects, these pioneers of our digital economy are at the forefront of a great British success story."

– Theresa May
Though requirements for innovation in terms of technology and implementation are never ceasing, finding appropriate resources still remains a challenge to IT sector UK. As per PWC's 20th CEO survey, 83% of UK CEOs were of the view that their organization is in need of resources with digital skills, but two third of them find it difficult to come across reliable resources with such capabilities.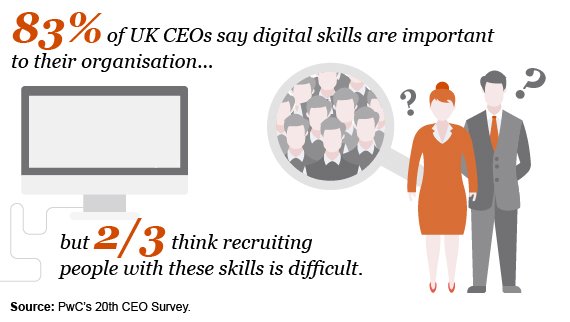 Scope of Growth in IT Services
Technology is driving efficiency in several industry verticals including but not limited to real estate, retail, education, manufacturing, logistics, banking and finance. Automation technology has improved work processes at operational level and sees a good future ahead. IT based technologies will continue to evolve at the same speed or even more, with no signs of slowing down.
One can expect mobile app, enterprise mobility, chatbots and artificial intelligence technology to rule in next few years. There would be more tools to control automated devices for an intelligent and smart living.
"We will expand the scope of our digital tech industries, funding artificial intelligence, robotics, 5G Technology , smart energy and more."

–Ms. May
Urbanisation is strongly influenced by advancements in technology with IoT being used at major cinemas, shopping malls and offices to offer an integrated experience to all visitors. Businesses are constantly in search of IT solutions that can help in improving overall efficiency and productivity.
Hidden Brains is a leading Information Technology Solution Provider that specializes in offering business technology consulting, product prototyping, software product development, enterprise mobile solutions, enterprise web solutions, quality engineering and assurance, digital design & marketing, product support & maintenance services. and we would be more than happy to serve you in the best possible manner.