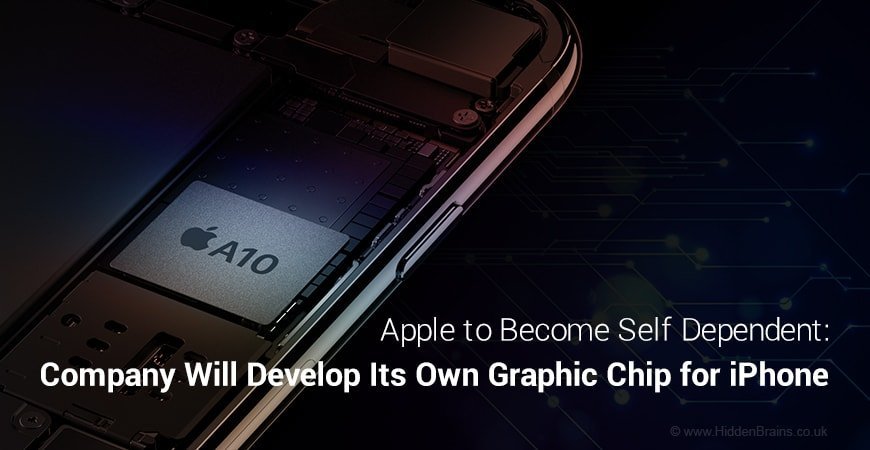 Apple to Become Self Dependent: Company Will Develop Its Own Graphic Chip for iPhone
News channels and tech reporters are always in search of news from Apple Inc. How can they not bang on such an important and controversial subject? Yes, you read the title right! Apple Inc. is about to manufacture its own graphic chip. This may bring in a twist in the offerings of iPhone Application Development Services providers to offer support for different level of graphics.
Present Scenario
Apple's decade long license agreement with UK agency named 'Imagination Technologies' will end with company to become self dependent for manufacturing of chips. This move is oriented at Apple eliminating its reliability on any third agency for controlling its hardware devices of iPhone, iPad and Apple Watches.
The Bold Move
Apple will probably stop using Imagination Technologies' chip of PowerVR line of GPUs. Though the move would not come to effect immediately, the company may cease using this product in 15 months to 2 years from now. As per the company's assertion, "it's working on a separate, independent graphics design in order to control its products and will be reducing its future reliance on Imagination's technology."
Loss for Imagination Technologies
This development may be a major loss for Imagination Technologies. Manufacturing for Apple accounts for half of its revenue generated, which means Apple's decision to become independent may be a major setback for this UK based firm. Though, Apple still owns 8% stake of Imagination Technologies.
Rising Controversy
Such decisions by Apple hint the direction of cutting all strings that make iPhone devices dependent on other components. However, the twist here is that Imagination Technologies' predict that Apple is not ready to handle this big work yet.
Company claims that it would not be easy for Apple to design GPU architecture from scratch that too without violating Imagination Technologies intellectual property rights. This means every component of new GPU will be put to strict scrutiny and examination to check for such violations.
This vision is clear from a statement from Imagination Technologies that says, "any evidence to substantiate its assertion that it will no longer require Imagination's technology, without violating Imagination's patents, intellectual property and confidential information."
The company also said that they are thinking on the lines of deriving commercial alternative that could work for mutual benefits. Let's wait for official announcement of Apple related to this topic.