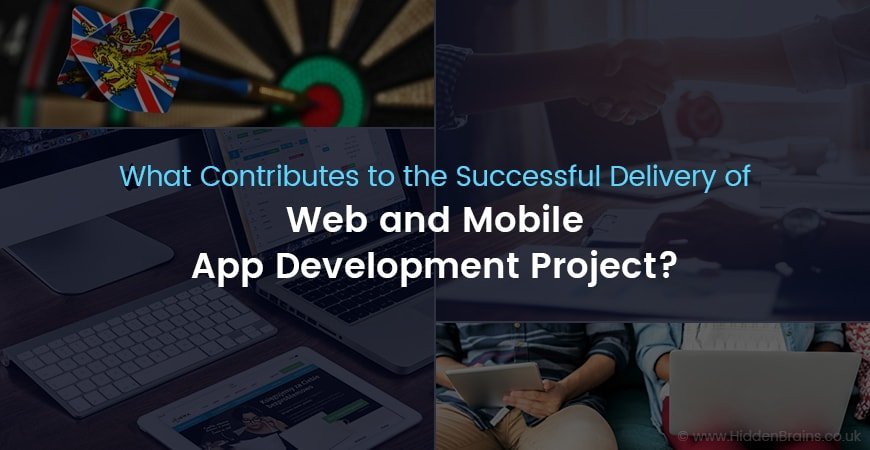 Building a reputation in the market takes a lot of years and maintaining the fame earned is a forever process. Any mistake in handling client's project can lead to defamation. As a result, project managers are always vigilant in dealing with web and mobile app development projects.
Role of Project Managers
Sales executive wins the trust of client and gets business for company. However, the responsibility of successful delivery of this project is on the shoulders of project manager. Based on their experience and expertise, they define specific protocols to avoid falling into unwanted situations in the future. Proper planning and defining strategy to accomplish the task in particular timeframe is the secret behind a successful and established web and mobile application development company.
Factors Contributing to Successful Project Delivery
Let's dig deeper into what contributes to the successful delivery of client projects
Success of a project largely depends on how well one manages the risk, dynamic challenges and stakeholders expectations.
Client or project manager has high expectations from project and envision getting greater ROI from it.
To cope up with these demands and expectations of clients, project managers have to outline the entire project development phase from ideation to final implementation.
Lack of transparency, visibility and clear communication can lead to disasters. Communication mode and channel should be defined right at the start of project.
All the people involved in the project should be synchronized with the work process and schedule.
What Matters the Most?
Above mentioned pointers surely guarantee on time delivery of project. But the quality of work delivered by the company is not included in this protocol. So the first and foremost factor that decides the fate of client project is which company is handling it.
In-depth Research
Detail research on top web and mobile app development companies that have experience in handling project similar to yours is a must. On wrong selection can lead to disastrous effects in the future. Only the right and reliable company can work in accordance to client's expectations and render him with unique project on time.
Clear and Transparent Communication with Client
Project managers at such firms have capabilities to gauge the interest of client and understand his mindset. They develop healthy relationship with clients and clearly communicate his requirements.
Hidden Brains: Delivering App Development Projects Since 2003
Hidden Brains is a leading web and mobile app development company that is known in the IT industry for delivering excellence. The resources employed for working on clients' projects are experienced and highly talented. With a commitment to deliver high-quality results, Hidden Brains has earned good reputation in the industry.
Along with successful deliveries of projects, Hidden Brains has gone out of its way to built new long-lasting relationship with clients by meeting all their expectations at run time. They would be more than happy to hear your requirements and offer satisfying solutions that could result in mutually beneficial relationship.