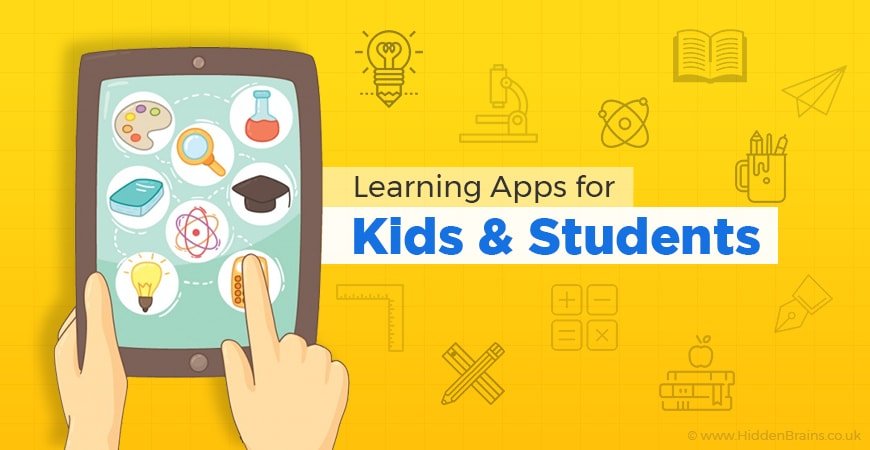 How many kids do you know that love playing on mobile phones and tablets? Many, isn't it? This shouldn't come as a surprise as these kids are born in the digital generation. Looking back to your childhood days, what did you enjoy the most? Playing games such as Ludo, Snakes and Ladder and cards was the favourite pastime of kids till the 1990s.
Though these games have retained their popularity, the form in which they are played is completely changed. All dice board games are now available in form of mobile apps to match up with changing preferences of players.
This inclination towards mobile culture is not unnoticed by educational institutes that are now resorting to this platform to encourage interactive learning. Smart learning mobile app and virtual classroom solutions aim to help students, schools, colleges, Learning centres and universities apply New edge digital technology to improve access to learning materials.
Related Post: E-Learning Development Process
What's the Need for Mobile Learning Apps for Kids?
Image Source: skoolbeep.com
Schools are already empowered with digital classrooms where they use presentations and videos to impart education. But what about self-learning outside the physical boundaries of school?
Children are usually found giving excuses for not completing their homework. Lack of interest is the main reason for incomplete homework. How to develop interest among children such that they enjoy doing their homework?
Learning should be imparted to children in an interactive form. One of the most preferred means of learning is through mobile apps. Why not impart knowledge to students and kids in their favourite way?
Related Post: Learning Management System UK
Leveraging the Potential of Mobile Platform for Education Industry
Utilizing trending platforms and technology to the benefit of students has given positive outcomes so far:
Interactive and Immersive Learning Experience
Studying from textbooks is what we have been following for decades until mobile learning came into existence. Though the textbook explains the theory using descriptive content and reference image, it is a static medium.
Mobile apps account for the dynamic learning experience as every topic is backed with proper backlinks from which students can get elaborate information. In addition to that, through mobile learning, kids and students can refer to videos of classroom training.
Videos, images and reference links altogether provide an immersive and interactive learning experience, which enable students to grasp knowledge much faster.
Studies Combined with Fun
Did you know that the learning experience can be combined with fun? Several difficult topics that are explained using theory and videos can further be presented as games to students. Learning through games is done by setting rules of games as facts of a theory. This way, students explore the topic to its depth and deeply imbibe the rules in their minds.
Categories of Learning Apps for Kids and Students
Image Source: https://piogroup.net/
Students can improve their learning skills through the following types of apps:
Basic Counting for Kids and Advanced Mathematics for Students
English Vocabulary
Spelling Tests
Physics, Chemistry & Biology Apps
These are the most popular categories in mobile apps that make learning quite easy and simple.
How helpful are Mobile Apps in Education Industry?
Following are the benefits of using mobile apps for education:
24/7 Availability
With educational apps installed on a mobile phone, students can access their study materials and learn without any restrictions of time and place. This enables students to study at their own convenience, thereby motivating the concept of relaxed learning over time-bound learning.
As mobile phones are quite handy, they can be carried everywhere. Textbooks, on the other hand, are difficult to carry and handle outside school and home. If learning through a mobile app, the student can utilize travelling time and study as per his/her mood and interest.
Integrated Learning Platform
Several educational institutions have introduced their mobile app to roll out important updates among students. This mobile app acts as an integrated platform that seamlessly connects teachers and students.
Students can form communities and join groups based on their common interest. Further, they can help each other to overcome their weak areas mutually. Student can also contact teachers in case of queries to get expert guidance on the topic.
Learning through mobile apps is the best way to stay connected with teachers outside the premises of the school.
Learning through Means of Entertainment
Kids and teenagers have mostly used a mobile phone for playing games, watching movies and listening to music. In short, until its utility for learning was explored, it was merely used as a means of entertainment.
What can be better than transforming such means of entertainment into an interactive learning platform? Learning through mobile, if used wisely, can work wonders. Whenever a student has doubt regarding some terminology used while reading through a mobile app, he can immediately browse the internet to get detailed information on the same. One device provides a complete learning experience with media of text, images, audio (podcast) and videos.
Must Have Features to Create a Mobile App For Online Learning
Creating a mobile app for online learning requires careful consideration of the features that will make it both useful and user-friendly. Here are some must-have features to include in a mobile app for online learning:
User Authentication: Users must be able to create accounts and log in securely. This ensures that the content is only available to authorized users.
Course Catalog: A course catalog provides users with a list of available courses. This feature should include course descriptions, pricing information, and ratings.
Course Material: Users should have access to course material such as videos, PDFs, and other multimedia content that can be easily accessed and viewed on a mobile device.
Discussion Forum: A discussion forum where users can ask questions and discuss topics related to the course with other learners can help create an interactive learning experience.
Progress Tracking: A progress tracking feature enables users to track their progress through the course, including completed lessons and assessments.
Notifications: The app should be able to send notifications to users about upcoming deadlines, new course releases, and other important updates.
Offline Access: Providing offline access to course material enables users to continue learning even when they don't have access to the internet.
Assessment and Quizzes: Online assessments and quizzes are essential to evaluate learners' understanding of the course material.
Feedback and Ratings: Feedback and ratings provide valuable insights for both learners and course creators to improve the learning experience.
Mobile Payment Integration: To enable learners to pay for courses through the app, integrating mobile payment options such as Google Pay or Apple Pay is necessary.
By incorporating these features, a mobile app for online learning can be a powerful tool to provide learners with a convenient and accessible way to learn on-the-go.
Mobile Apps for Children with Learning Disabilities
Children suffering from learning disabilities often find it difficult to grasp knowledge during classroom training, unlike their fellow classmates. These students belong to a special category and need to study in a different way to cope with their learning disability.
There are apps in the Android App Store as well as iTunes, namely Voice4U and Learning Ally, which help children suffering from learning disabilities.
How Does Hidden Brains UK Help You Build an App For Virtual Classroom?
Hidden Brains UK is a trusted technology partner that can help you build a mobile app for your virtual classroom. With years of experience in developing cutting-edge mobile applications, our team of experts can provide end-to-end solutions, including app development, design, testing, and deployment.
We use the latest technologies and best practices to create a mobile app that meets your specific requirements, including custom features such as live video streaming, real-time chat, whiteboard, and online assessments.
Our goal is to provide you with a user-friendly and robust app that delivers an engaging learning experience to your students. To learn more about our app development services and how we can help you build a mobile app for your virtual classroom, contact us today for a consultation.
FAQs
What technologies are used to build an online learning mobile app?
There are several technologies used to build online learning mobile apps, including native app development (using languages such as Swift or Kotlin), hybrid app development (using frameworks such as React Native or Flutter), and web-based app development (using HTML, CSS, and JavaScript). The choice of technology depends on the app's features, target audience, and business goals.
How can I ensure that my online learning mobile app is secure?
To ensure that your online learning mobile app is secure, you should implement various security measures, such as encrypting user data, using secure authentication methods, implementing SSL/TLS protocols, and regularly updating the app's security features. You should also conduct regular security audits to identify and address any vulnerabilities in the app's code.
How can I optimize my online learning mobile app for performance?
To optimize your online learning mobile app for performance, you should implement various techniques, such as minimizing the app's file size, optimizing images and videos, reducing HTTP requests, and using caching mechanisms. You should also conduct regular performance testing to identify and address any issues that may affect the app's speed and responsiveness.
How can I integrate my online learning mobile app with my existing learning management system (LMS)?
To integrate your online learning mobile app with your existing LMS, you should use API (Application Programming Interface) integration methods that allow the app to communicate with the LMS's backend system. You should also ensure that the app's user interface is consistent with the LMS's interface and that user data is synced between the app and the LMS.
How can I analyze and measure the success of my online learning mobile app?
To analyze and measure the success of your online learning mobile app, you should use various analytics tools such as Google Analytics, Firebase Analytics, or Mixpanel. These tools can help you track user behavior, engagement, and retention rates. You should also conduct regular user surveys to collect feedback and identify areas for improvement in the app's features and functionality.
Do Not Forget To Visit Our Robust and Secure Services:
Mobile App Development Company in The UK | iOS App Development Company In the UK | Android App Development Company in the UK | Web Application Development Agency in the UK | PHP Development Company in the UK | ASP.NET Development Company in the UK | Hire Developers in the UK | Hire Best iPhone App Developers in the UK | Hire Android App Developers | Hire Web Developer in the UK | Hire PHP Developers In The UK | Hire ASP.NET Developers in the UK