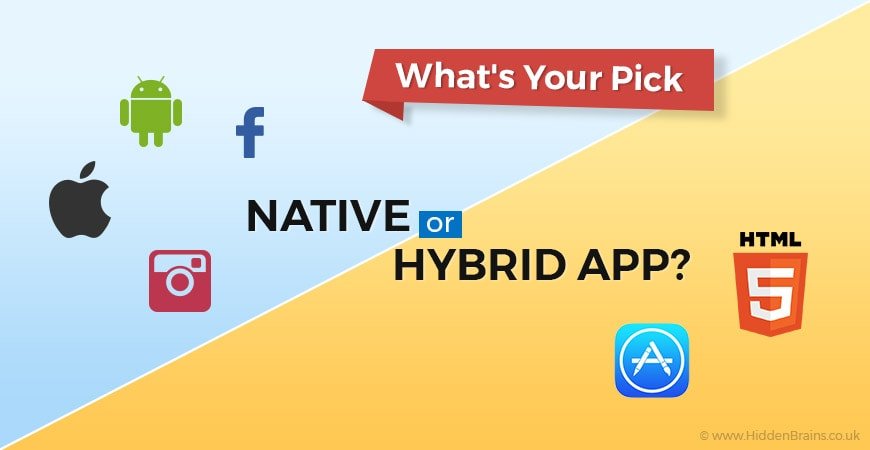 Sales executives or client relationship managers often stumble upon entrepreneurs who are trying to figure out the best option among native or hybrid app development. While they expect a clear winning choice, it's impossible to judge that without considering specific business needs and preferences.
Let's dive into the deep waters of native and hybrid app development to understand different use case scenarios. This guide will then help you analyze which option is best suitable for your business:
Simplest Definition of Native Apps & Hybrid Apps
Native apps are those that are dedicated to a single platform. To explain with a simple example, native app built for Android cannot run on iOS and vice versa. These apps are developed in a way to function only on a specific operating system, not multiple of them.
Hybrid apps perform consistently on all operating system. In short, they do not have any restriction of running only on dedicated or single OS. Hybrid app developed for iOS runs successfully even on Android and Windows operating system.
Let's move on to understand unique features and functionalities of hybrid and native apps that are the key differentiating factors:
Complexity of App
Native apps are built as per the dedicated operating system utilizing all native features of the framework on which it is developed. This enables developers to create the most complex apps as per client's requirements. Using native features such as camera, map, contacts and SMS is not a matter of concern in case of native apps.
Though it is not impossible to put to use these features of phone while building hybrid apps, it requires pulling of native components externally.
User Experience
Debate over the matter of native versus hybrid mobile app is never ending. But when it comes to making a conclusion based on the element of 'user experience', native app emerges as a clear winner. The obvious reason for this is that developers can customize the outlook, navigation, look and feel of the app as per the OS used by end user.
Hybrid apps also offer decent user experience, but there is upper-hand of native apps with respect to this element. These apps are simple in design and navigation to account for consistent user experience across multiple devices running on different OS.
Cost of Development
Hybrid apps are cost effective as it works on the simple principle of 'one code runs for all OS'. Developer charges are reduced as they need to write code just once. This is the best option for entrepreneurs who plan to target wide audience (using iOS, Android as well as Windows) in low budget.
Native apps require writing different code as per the operating system on which the app is planned to launch. This raises the cost of development as developers need to spend more number of hours for building the app specific to individual OS. Entrepreneurs focused on building high-end business mobile app can opt for this option.
Time to Market
Native apps take longer time for development when compared to hybrid apps. One time coding significantly reduces development time. Hybrid apps are preferred for businesses that look forward to launch their app into the market soon.
Those that are not in hurry of launching the app and are ready to spend little extra on development cost should definitely go with native apps.
Performance
The performance of native apps is superior to hybrid apps. This is because hybrid apps cannot match the speed of native as they have to pass through an extra layer for execution of commands. Integrated tools of native apps account for its faster performance.
Further, it is simpler to find bug in native app's code than hybrid one as the later requires searching in hybrid library for specific native plugins. Debugging with native app is an easy task!
To conclude…
Compiling above pointers, here's what we can derive from our discussion on native and hybrid apps.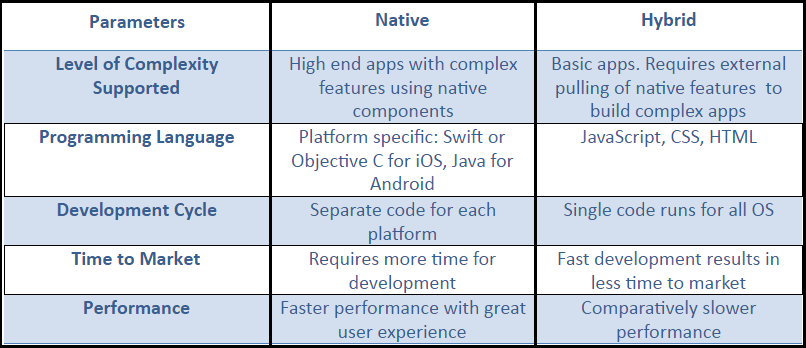 This gives a clear picture of uniqueness of each category if app, which helps in making an informed decision about which one to choose: hybrid or native app development.