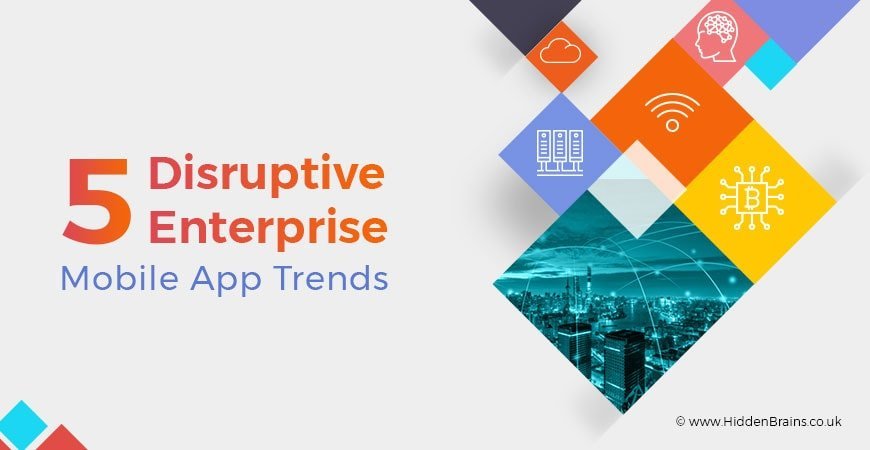 Are you using the latest technologies to optimize the workflow at your enterprise? How updated are your enterprise operations? If you cannot answer these questions confidently, it is high time for enterprises to let go the legacy systems and take shelter under technology for unlimited advantages.
The rising current and future technology enterprise mobile app trends is currently driven by emerging technologies and Top 5 trends, as mentioned below:
Internet of Things

Blockchain

Cloud

Machine Learning & Artificial Intelligence

Big Data
Current Top 5 Enterprise Mobile App Trends
1. Impact of IoT
The Internet of Things (IoT) is a revolutionary technology that connects different types of smart devices to establish an ecosystem where devices communicate wirelessly with each other. Off recently, the usage and adoption of IoT devices is increasing rapidly at an exponential rate as enterprises rely on it for their internal operations.
Enterprise mobility management with the Internet of Things and Managed Mobile services is gaining traction considering the amount of workload that can be reduced with the introduction of automation.
2. Blockchain
The major roadblock that enterprises face while implementing the concept of Bring Your Own Device (BYOD) is that of security. This is where Blockchain technology comes to help. With the use of Blockchain, it is possible to create highly secured connection wherein all transactions are protected through decentralization of information.
3. Cloud Technology
Cloud technology has gained importance in enterprises by helping employees to get access to information from enterprise app at any time and from anywhere. Enterprise apps based on cloud keep the data synchronized and updated.
There is no discrepancy in data as all employees use the same updated information from cloud. Easy availability, reliability and affordability have popularized the use of cloud technology in enterprises. Big Data when combined with cloud technology drives more meaningful insights for strategic decision making in enterprises.
4. Artificial Intelligence and Machine Learning
Enterprise apps based on Machine Learning algorithms have the capability to analyze user's behavior and learn from it. When machine starts understanding human behavior, it becomes easier to deal with it. Off recently, there is a rise in demand for AI-based enterprise apps that send automated response and communicate with users just like a human being. Oracle CEO Mark Hurd is betting that more than half of enterprise data will now be managed autonomously by 2020 and most of this would include a heavy dose of artificial intelligence.
5. Big Data
As enterprise is a house to large number of employees, there are chances of gathering voluminous information about their working pattern and common challenges. However, all these valuable information is in unstructured format, which is difficult to organize manually. This is where Big Data solutions come into the picture.
Using enterprise solutions leveraging Big Data helps in structuring and categorizing relevant information together. This helps in getting hold of right information quickly whenever needed. Furthermore, Big Data analytics can also be used to derive insights from voluminous data for taking the business-critical decisions.
Related Post: Next Generation of Mobile Apps

On a Concluding Note…
There are many more technologies that have disrupted enterprises in the recent years. The coming years are going to be more challenging and enterprises need to buckle seat belts and be prepared for the vast change. Hidden Brains is a reputed mobile app development company helping enterprises to adapt with emerging technologies, revamp their old working methodologies and help in leveraging the latest technologies to their advantage.
If you are in search of an IT consulting and software development service provider, get in touch with Hidden Brains. Our experienced professionals guide you on how can you transform your business through the use of technology. We also explore different possibilities and identify areas of improvement in your enterprise, which help in the overall growth of your organization.  Discuss your business specific requirements and preferences with us to know about the broad technological scope for the required boost in your business.