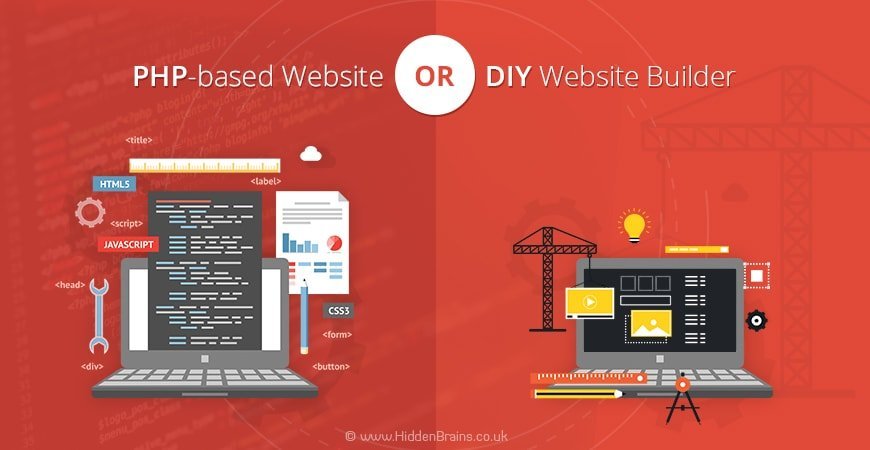 Business websites have gained an increased momentum off lately with the rise of digital markets. Living in this world powered by digitization, how do you plan to improvise your business? Enhancing and nurturing business website is the first step in this overall improvement process. If building a new website or revamping an existing one, the first decision you have to take is whether to handover the work to professional PHP development company or DIY.
DIY Website: Is It Possible?
DIY was never an option earlier, when developing a business website was purely handled by a pro PHP development company UK. Users got spoilt for choice only with the invention of website builder tools such as Weebly, Wix and Squarespace.
While DIY method is less expensive, it isn't as reliable and customizable as that of PHP framework. Composed of visual page editors, these tools make it simple to edit elements of website with drag-and-drop options. These website builder tools make it possible for a layman to build a website on his own. But do you want to build a basic website or a professional one?
Why Should You Choose PHP Web Development Company?
Business websites should not be tried and tested using website builder tools as it offers limited customizations and functionalities. These restrictions would confine you from exposing services and products in an innovative way. Website development using PHP technology does not have any such boundaries.
No matter how much time and efforts you invest in building a website by your own, it would be nowhere when compared with the work of PHP experts. Being pro at their jobs, these professionals know the basics and advanced tactics of PHP website development inside out. Thus, it is a wise decision for entrepreneur to invest in PHP-based websites. PHP has many features and benefits that boost your business growth. You can also take a look at CakePHP development open source. That will help you to get best custom website development solutions.
PHP Features and Advantages
It is possible to build a dynamic website effortlessly using PHP technology. This is the major reason why PHP technology is used by enterprise as well as startups for the creation of their business website.
1. Easy to implement, simple to control
This server-side scripting language is easy to learn and implement. Coding in PHP language is far simpler when compared to others, which is why developers find it convenient to develop website using this code. It is quite easy to control the coding of PHP as it requires minimal code. Say goodbye to lengthy coding by adopting PHP technology for website development.
2. Easy Customization
PHP being an open source technology, it is extremely scalable. His means it is open to future changes in the website without much effort. Build the website exactly as you need it as PHP does not limit the amount of customization required.
3. Support for all platforms and servers
Website developed using PHP technology is supported by majority platforms such as Windows, Linux, MacOS and UNIX. Hosting is also not much of a problem with PHP website as it has an extended support for Apache, Microsoft IIS and even Netscape server.
4. Secured website development
Websites developed on PHP framework are secured as it has an additional layer to protect against threat and viruses. That's the reason why major business websites are built on PHP technology. The capabilities of PHP website have been tried and tested for over 2 decades now and it has emerged as the first choice for website development.
Related Post: PHP vs Python

Conclusion
Just because it is possible to carry out the task of website building on your own does not mean you should do it. Analyze the level of professionalism, business requirements and utility of website. These metrics will tell you the need to handover website development task to a professional company.
For those who are concerned about budget, hire dedicated PHP developer on part-time or full time basis is a viable option. Procuring this service will entitle you to enjoy the benefits of professional PHP website development at a minimal cost. Invest in business website development to mark your footprints in the digital space, which will further render good ROI in future.