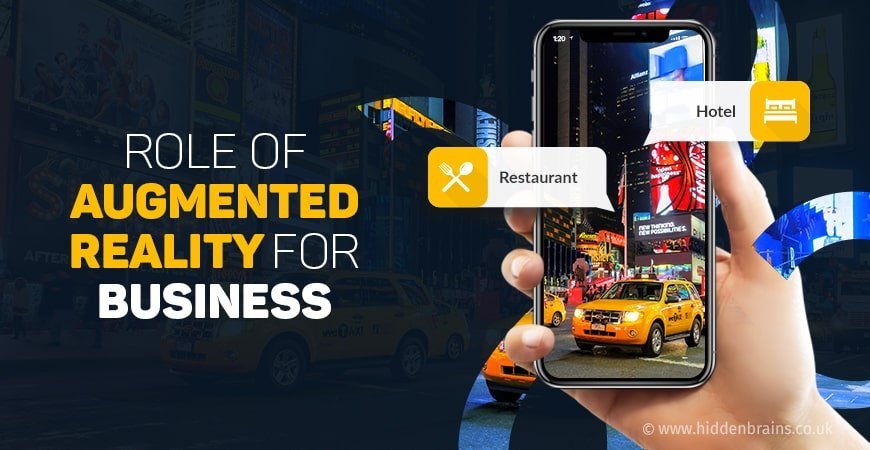 After the success of the AR-based gaming app, Pokemon Go, the Augmented reality industry has immensely grown across the world. 
According to Statista,consumer downloads of mobile augmented reality applications and augmented reality trends have increased worldwide since 2016. Total consumer downloads of augmented reality applications worldwide in 2022 is expected to reach at over 5.5 billion. 
Undoubtedly, Augmented Reality has turned as the rapidly growing technology. Future of augmented reality looks very bright in every industry you can see that will apply AR in their business process and customer engagement work. Multinational companies including Amazon, Microsoft, Apple, Facebook, and Google have opted for this revolutionary technique. Presently, AR has become a predominant way for several industries including Healthcare, Gaming, E-commerce, Manufacturing and many more. 
What is Augmented Reality? 
AR offers an interactive experience of a real-world environment. It helps to enhance the real-life objects with computer-generated perceptual information. 
However, the blend of interactive digital elements including 3D models, visual outlays, videos, and other sensory projections help to enhance the physical world. With AR, developers deliver the next generation experience to the users. 
In this blog, let us know the major trends and future of Augmented Reality app development.
Future of Augmented Reality
AR Mobile Application Development
AR helps to redefine the mobile app development process and offers advanced and unique experience to the users. It helps businesses from diverse industries to deliver next-generation experience and stay ahead in a competitive market. The latest innovative technology enhances customer engagement with modern development functionalities and smooth app development process such as highly advanced animations and advanced sensors. 
New Opportunities for Tourism Industry

 
AR is a powerful tool for the tourist industry, helping to enhance travel experiences by offering useful information in terms of navigation, guides, reviews and real-time images. With AR, developers can offer functionality such as a virtual tour to the users, it helps to improve decision making and by viewing the images, they can make the right decision according to their preferences. 
Apart from this, AR can help travelers in many ways by recommending the best hotels and restaurants. However, it also excludes language barriers. Augmented Reality app helps to plan a seamless and interactive journey. With this technology, it allows us to avail natural experiences with different filters, AR avails natural experiences with filters, 3D animations, and texts. 
Revamping the Automobile Industry
AR offers an automotive connectivity ecosystem. Car manufacturer Audi was one of the first brands to improve the physical showroom and created the world's first digital showroom–Audi City–using AR. This innovation helps to boost sales and now, it also contributed to the driver's safety. 
How does AR enhance the Automotive industry? 
AR-based solutions offer several benefits to the drivers by providing information about the surrounding environment and conditions including weather and traffic. 

It helps to provide the landmarks near the location including restaurants, hospitals, and petrol stations. 

Augmented reality offers advanced security features for drivers such as providing information about the place and route conditions. Apart from this, night driving assistance reduces road accidents and helps drivers to ride safely without distractions and getting alerts with the upcoming accidental conditions. 
Augmented Reality Reshaped Gaming Sector
Gaming is the foremost industry that was affected by this innovation technology. It helps to increase gaming experience and has attracted huge players towards it. AR in gaming provides immersive and high-quality gaming services to the players. This technology-based solution supports multiple devices such as tablets, smartphones, laptops, and portable gaming systems. 
AR helps to turn the virtual games engaging and interactive by bringing the glimpse and experiences of the real-world environment. It requires support of smart glasses, geolocation, and 3D tracking with high-quality visuals and sounds. 
AR-based UI/UX design has more potential to engage and players as compared to other platforms. 
Several Technologies Support AR Gaming 
Unity 5

ARPA

XCode 7

Wikitude

Vuforia
Apart from this, it offers advanced tools to the remote developers to bring engaging AR gaming solutions and experience for the users. Presently, it has turned into a predominant technology of the gaming industry. Furthermore, AR is known as the future technology of the gaming world. 
Bringing Revolution in Marketing
AR opens several opportunities to increase your brand awareness in the market. It helps you to visualize your product or service in a better and interactive manner. With this technology, companies can offer catalogs and 3D animated models to their customers. 
However, solutions based on AR such as AR mobile apps, product catalog, virtual touch, and image recognition helps to connect with the customers at a high level. The advanced highly resolution helps to deliver highly engaging content to the users in terms of image, video streaming app, and text.  With AR the visualisation elements get enhanced and drive value to the businesses.
Benefits of AR in Marketing 
Increases Brand recognition and user interaction

Helps to deliver E-store experience, it helps to bring personal and engaging interactions

With interactive media, this technology helps to boost profit and increase ROI 

Offers advanced marketing strategies and enhance campaigns 

It delivers you an idea to measure the scale of your growth 
Augmented reality based apps are not limited, it is available for all sizes of apps. Apart from this, it may vary in different business models. All features and functionalities can be integrated into the AR app, it doesn't affect any development part. 
Different types of AR-based app 
Business to Business

Business to Consumer

Consumer to Consumer

Consumer to Business

Business to Administrative

Consumer to Administrative
This is the foremost choice of the app developers, as well as business owners to launch enterprise-based mobile solutions. It helps companies to sort out the data major issues. With AR it helps you to deliver interactive digital elements such as sensory projections and visual overlay. It brings a real-world environment to the digital world. 
However, developers are able to deliver a rich functional app with fewer data and helps to increase user experience. 
Have other trends or AR,  AR App Type that you are watching ? Leave them in the the comments below.
Conclusion 
Augmented Reality has a huge impact on several industries and turned as a future of the multiple sectors. However, this helps to increase user experience with high-level innovations and next-generation technology.