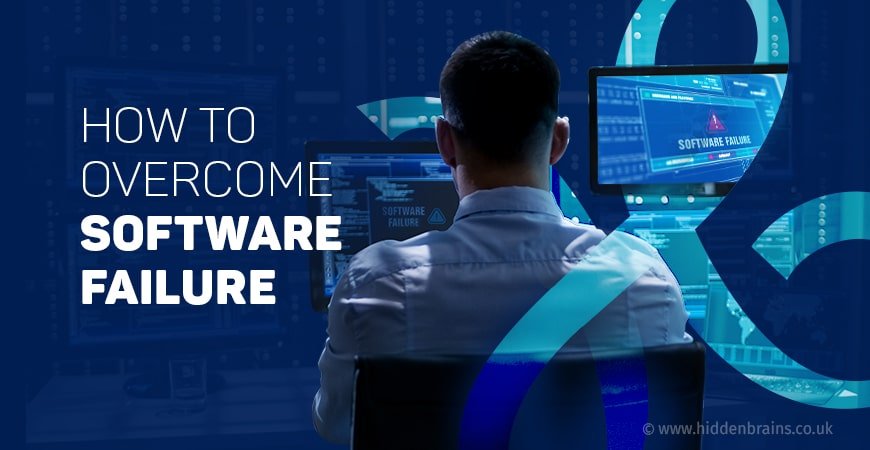 The software has become a key to success for businesses. They play a crucial role in streamlined business processes. Presently, the software development process has turned diverse and requires a proper and effective planning structure.
However, the main motive to design the software is to meet the business requirements and turned several processes into more accurate, reliable, and faster than ever before.
To leverage advanced technologies and acquire business goals, the developers need to have a proper planning strategy. Apart from this, despite planning, there are several other aspects such as lack of market research and effective communication that affect the software development process at a high level.
Let's know, the other factors of software development services that are responsible for the software project failure of building software. Along with this, we will also provide you with the proper plan to avoid software projects failure and grab the right way to deliver successful software.
Factors that lead to Software Development Failure
Lack of Research
Only creating the idea in your mind, is not accurate. Having an idea is good but it is essential to focus on other aspects also. Know more about the idea, challenges and benefits. Research market standards well, how others are proceeding it and what new you can find in it.
By researching the market, you will be able to get more innovative ideas and can get many more profits from the same software. Apart from this, you will be able to know the consequences and other parts of the software.
Unrealistic Approach
If you will not research well, then you won't be able to decide the proper goal. Don't proceed with the idea, which only fits in your imagination. If you don't have a realistic approach it might lead to the failure consequences. It is essential to have a realistic approach, and you should have an effective strategy and implementation to reach the goal.
Miscalculated Time and Budget Frames
This is the major reason of software failure in the market. In the market, clients don't have time to wait, they prefer to get the software as soon as possible. While meeting that desire, software developers are not able to get their creativity out or they are not able to perform out of functionality. It is essential to understand that productive things require time and budget both.
Some customers are confined to their budget. The higher the budget they will pay to the developers, the customer satisfaction level will increase accordingly.
Customers should give time to developers to build highly functional software and be able to work at high speed.
Lack of Communication and Transparency
Now, comes the most important thing: the lack of communication with the client or with other departments can also lead to failure to launch the successful software. This process is a daunting task and requires the support of several departments.
However, it is imperative to have seamless communication with clients as well as internal management, which should also be effective. The crucial key to success is healthy working environment, developers who are working on the same project should have good bonding. It will help them to share their opinions and ideas openly. This helps to take better and stronger decisions.
Lack of Testing Process
Most of the remote web developers skip this important step from the process or they used to complete this step in hassle. Developers should provide proper time to the testing process, as it helps them to detect the errors and fix them out before launching only. However, the testing process helps to enhance the functionalities, increase productivity and customer satisfaction.
Lack of knowledge of Software Tools
As the software development method improves, and in order to boost the process several tools also introduced in the market. Tools such as Zoho Creator and Linx are predominating the industry, by reducing the efforts of coding. Software developers should have the proper knowledge about the tools and their updated versions in the market. It helps them to speed up the development process and turns into cost-effective.
Related Post: Benefits of Agile Software Development
Effective plan to launch a successful Software
Decide your Target
To build effective software and gain productivity, the developers need to decide the goal. By deciding the target, a developer can design the software in such a way that it can fulfill all the targeted requirements. To leverage the benefits, developers will use the technologies, which help them to take the step towards their goal.
User Involvement
The software must have user involvement, it will help to maintain the craze of the software. Human resources should connect with the software and understand how it is proceeding. With software, a task should be simplified and it doesn't mean that user involvement should exclude in any manner
Proper Planning
The software development team should have proper planning from developing the project to launching. They should plan everything from technologies to integrate features into the software based on goals. Proper strategic planning helps to avoid the failure from the system and process in a proper way.
Skilled Resources
To bring successful software, it is imperative to have highly skilled software developers. They should have years of experience who can sort out the last-minute challenges with their skills. However, Their knowledge helps to bring advanced and polished software in a short duration of time. Skilled developers are already aware of the challenges as well as they have solutions regarding how to overcome them.
Conclusion
To build modern software is a daunting task as developers have to focus on many aspects. But with proper strategy, it will help to take their step towards success. If you are also planning to launch your high functional software and leverage all the benefits of advanced software, partner with a software development company. It will help them to meet with the steps of modern competitive requirements.