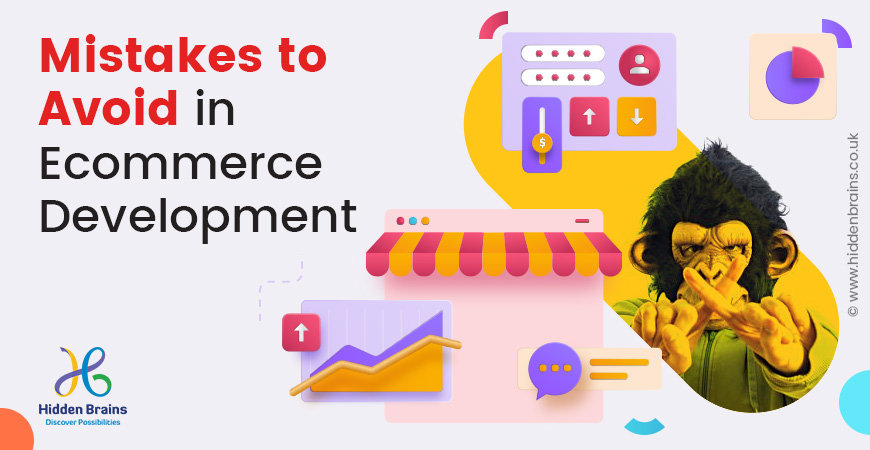 Are you looking forward to entering the eCommerce business? One of the first things that you'll need to do is developing your business website. A user-friendly, advanced functioning eCommerce website created by a professional eCommerce Website Development Company will allow you to deliver and sell your products anywhere in the world. Plus, it makes it easier to connect with potential customers. In a nutshell, it will power your growth boundlessly, given you come up with a fully-featured site.
Developing a website is a hefty task. First, you need to lay a secure foundation and apply the right tools and technology materials to ensure the longevity of your creation. Keyword research, domain name selection, search engine optimization, and good Web design are some of the vital ingredients of a potential website.
Do's – eCommerce Website Development
Ensure smart goals make sure the goals that you set are measurable. For example, you can expect increased conversion rates, reduced overhead, increased sales, improved brand awareness, and generate more leads only if you have a smartly designed site.
Are you looking to launch a secure ecommerce store?
Choose a catchy domain
A domain name mirrors the standard of your services to the world. It can either drive away from the prospective customers or tempt them to come and look inside your site. Hence, it is essential to pick a catchy, memorable, and inviting domain name for your site. Avoid the ones that are easy to misspell or confusing. Keyword-stuffed, long domains aren't good choices as well.
Build a planned website
Do not just start creating a web design without strategizing or planning anything. First, identify your audience and the aim of your site. You should also plan for the monetization of your site. Make sure you research the target keywords. Also, it's important to sketch out a rough draft of your websites so that you know how many pages you'll have to make and how to link one another. Give priority to the essential information. If you aren't clear about your site's goals and purpose, you will always remain unsure of your site's success.
The website should be user friendly
Visitors prefer hassle-free browsing. If the relevant information is buried under several web pages, it will probably frustrate the website visitors and send them away. You should aim at keeping your guests happy by developing an easy-to-navigate and user-friendly website. Use readable fonts, add a menu bar, present vital facts up and front to avoid busy backgrounds. Check the usability of your site. If a first-time visitor can't find info quickly, your website's navigation needs a change or improvement.
Create a mobile-friendly eCommerce site
Find out about the percentage of your prospective visitors that will use smartphones or tablets to access your website. Then, you can ask the eCommerce Website Development Company to either create a responsive website or consider developing an app or a separate mobile version of your website. Whatever option you choose, just be sure that the website works smoothly on smartphones.
Develop your content.
Content is one of the critical elements of any website. If you will be selling products on your website, get product descriptions and product photos ready. You will need descriptive content for each service if you will be selling services. Add quality and sensible content to your site.
Consider your marketing plans and budget
High online sales require a proper sales funnel and the use of online marketing forms complementing your business strategies and your advertising plans. For example, if you already sell your products through social media, it will be easy to set up your eCommerce store. You'll only need to add a few analytics features and take your budget a little higher for reaching an increased number of targeted audiences. And this requires surplus funds for catering to the marketing and website development needs.
Research about the demand for your Products
Whether you sell your products digitally or physically, it's essential to test them. Before concluding your business orientation, it is essential to identify your target market and check if your products are in good demand in the market.
An eCommerce website is a perfect solution for reaching a broader market and connecting with an increased number of people. However, the idea works successfully only when your products are in demand. So it's essential to identify the item your target audience likes and come up with a solution to meet their immediate requirements.
Related Post : Revolution in the eCommerce : Future eCommerce Trends
Don'ts – eCommerce Website Development
Don't feature any products that you don't sell
Most people list items on their eCommerce store, and when the customer reaches their site, they go to another website for ordering the product. Therefore, your online store should feature only those products that are available with you for sale. When the item featured on your site isn't ready to ship, your store's reliability and value will negatively impact the prospects.
Making visitors think.
If you add the content to your site unexpectedly and unevenly, there are increased chances of losing your potential visitors. Visitors want to reach a particular piece of information quickly. If the visitors cannot figure out what to do next to meet their purpose, it's high time you consider changing the drawing board.
Expecting visitors
Don't expect that your site will gain huge visitors all by itself. Simply building up the site will not bring in any visitors. You will need to employ extra efforts for achieving profit out of it.
Spending all the money without any planning
Don't spend your entire budget on building the website. You can quickly get a professional eCommerce Website Development Company, who can easily create a well-designed site for a few thousand dollars. Ecommerce company have better knowledge of web application development services, tools and methods. And make improvements as you find growth in your online business. Initially, it is far more essential to have some amount left over for online marketing business so that you can ensure a significant return on your investment.
Related Post : Tips on How to build an eCommerce Website
Winding Up
A professionally created eCommerce site will help you in growing your business performance and boundaries. A potential website is a blend of smartness and hard work of the web developer. Having knowledge isn't just enough. You should know how to use your expertise wisely as the implementation process determines the success of your venture.