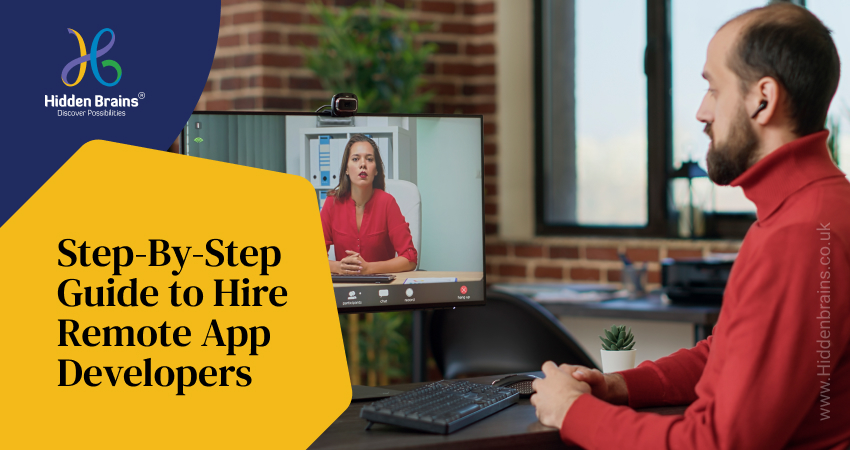 Remote work was something we never expected to see. When the Covid pandemic began, people were encouraged to stay at home when they weren't feeling well -which led us to discover something extraordinary: remote working! Start-ups and established businesses began adjusting their hiring policies in order to keep up with customer demand. By outsourcing teams or hire remote app developers who can work from anywhere, companies are able to tap into a huge talent pool while eliminating infrastructure costs.
Benefits Of Hiring a Remote App Developers Team
With access to an endless stream of global talent, find the perfect fit for your company. With a hire remote app developers program, your company has freedom to hire the best specialist in their field without limitation on location. And by saving money on infrastructure costs associated with physical offices, you'll end up saving money while investing more into your business.
Exclude Infrastructure Cost
By bringing remote app developers onto your team instead of waiting for them to move or uprooting themselves and starting fresh somewhere new, you can save a lot of money on expensive office space and all the costs that go along with it – rent, utilities etc., which ultimately adds up over time. Plus getting access to people who work during off-hours means they can come up with creative ideas at any hour while still being able to live a balanced life outside of work.
The hiring process for mobile app developers can be expensive, but it doesn't have to be. With the global workforce increasingly interconnected through technology, there are a number of ways businesses and individuals can save money when looking for software development resources. From offshore or nearshore programmers to freelancers available on sites like Upwork or Freelancer, hiring remotely has never been easier or cheaper.
One downside? Hiring these kinds of programmers is complicated! To make things easier for everyone involved, here's what you need to know about doing it right the first time around. Furthermore, let's discuss how to find the best app developers team.
How to Find a Remote Team of Developers?
Hiring these kinds of programmers is complicated! To make things easier for everyone involved, here's what you need to know about doing it right the first time around.
1. Consider Different Hiring Options
Before approaching the candidates, it is important to consider the different options and which model you want to opt for. Entities can opt for freelancers, app development companies, part-time developers, and much more.
Apart from this, on the initial stage, it is also important to list the requirements, future goals, and budgeting constraints.
2. Find Candidates
Once you choose the hiring model, now it's time to select candidates. Entities can source candidates from different ways such as –
A) Job Ads
If you are looking to hire remote app developers, there are many resources at your disposal. You can post jobs on search engines like Indeed and take it from there. If you already have a website, create an opening section and put the job postings there!
B) Freelance Marketplaces
You may need to find an app developer quickly for any specific purposes. If you are in a hurry, there are many freelancing sites where you can hire from, such as Upwork and Fiverr.
It is easy to see reviews and ratings about the developers on these sites before hiring them. This can make the selection process easier and more reliable.
C) Social Media
Social media has become such an intricate part of our lives that it has started to affect how we communicate professionally. With sites like Facebook, LinkedIn, and Twitter – business owners can easily access skilled and competent app developers who will design a system tailored just for them! But there are even more options out there!
For example, if you're looking for someone in your industry – chances are they're using one or two of these platforms. Don't worry about reaching out first – they'll come looking too!
3. Start Screening
To find the best developer for your company, you need to do a thorough screening process. First, you need to make a list of people who would be good hires. Next, filter through this list and cut off anyone who doesn't meet certain criteria or skillset that you're looking for. Finally, cross reference candidates' qualifications against websites like GitHub and Stack Overflow – which can help you prove if they are qualified enough for your position.
4. Technical Interviews
Clear up any technical points on the front end of an interview before diving into developer-specific questions. Because different developers know different technologies and know how to use them – it is necessary to know what each developer knows in order to decide which one will best fit your project's needs.
So, in the first phase only ask general questions and know the perspective and knowledge of developers.
5. Soft Skills
For any successful work process, soft skills play an important role. Hiring highly skilled developers will not sort your issues out. It is important to focus on the soft skills of the developers that help to work collaboratively and understand the requirements for best outcomes.
Developers should have the ability to work in a team, problem-solving skills, and flexibility/adaptability. It will help to launch the project successfully and sort the issues out.
Important Factors to Consider while Hiring the Developers Online
If you are looking to hire mobile app developers, there are some important factors that you should consider before you begin the process. If you take into account all of these factors, the process will be easier and you will be more likely to hire qualified professionals who can perform well on your project. The following factors are important to consider-
Security is the major concern of the developers. In the interview, make sure that developers should keep the information confidential and clear it on the initial stage that all the details share have to keep secure.
Try to sign an NDA contract or any other policies that keep your project information fully secure.
Discuss Project requirements
In the initial stage only, discuss all the project requirements. In the interview process only, clear your expectations and requirements of the project. It will help developers as well as you to make the best decisions.
Communication is perhaps one of the most important factors that you must consider in mobile app development services. The way we interact and talk with others says a lot about us, which means you must always check whether or not your new employee has good communication skills and can work effectively in a team. While it might be difficult to judge someone's writing style over email, it's fairly easy to observe how well a candidate works with their colleagues over Skype.
Time zone can be a huge issue for team members who live on opposite sides of Earth. Be sure your team members are available during your standard business hours and adjust their schedules to suit yours. With experience, you'll learn how best to balance time zones with other factors such as cost, skill, and development style. If you work primarily with one time zone, at least make sure everyone on your team is available during that time frame.
Usage of Tools and frameworks
If you plan on hiring developers, take a good look at their portfolios and see what they have created or contributed. It's important that you check out whether they have knowledge of the frameworks and tools that your project requires. It is also important to make sure that your developers can work remotely and can be easily coordinated without a lot of extra effort.
Before finalizing a candidate, you can test her programming skills by asking her to solve some basic questions in an aptitude test or coding test. This helps check how well she understands each language that she has listed on her resume. The questions can be based on basics such as data types, conditional statements, loops, and functions.
The Top 5 Tools for Managing Hire Remote App Developers
With the popularity of remote app development, it can be difficult to make sure your team of remote developers is working efficiently and effectively. This guide will give you the insight to create a streamlined process for managing your remote app developers so that you can ensure quality throughout every step of the process.
1) Time tracking
It's critical to track time spent on specific projects and tasks. Time tracking tools like Hubstaff make it easy to monitor how employees are spending their time. This leads to a better understanding of how long certain tasks should take, which makes planning much easier. Managers can also set up notifications if a task is taking too long, helping avoid any project delays or unnecessary costs
2) Project management
Most of your day-to-day interactions with remote developers will be over email. There are dozens of free and paid project management tools that help keep these conversations organized and allow you to get a big picture look at what's happening. like Trello, Asana, Basecamp, and Slack can take care of much of your needs. Consider which apps have integrations (like Zapier) with other services you already use; some may even be tied into time tracking software, making it easier to record hours as they work on different tasks.
3) Checklists
A checklist is a great way to keep track of all of your tasks—both small and large. By breaking everything down into easy-to-manage steps, you can reduce anxiety and ensure that every step gets completed. You can use checklists to manage your own daily routine (how many times have you left something out when packing for an important trip?), or as a tool to keep tabs on someone else's progress.
4) Communication
The biggest challenge when working with remote teams is communication. Communication is probably your biggest challenge when working with remote developers. With traditional offices, you could just drop by and say hi or ask a question, but that's harder to do when everyone's scattered around different states or countries. Instead, use tools like Google Hangouts and Skype to facilitate communication with remote teams.
Conclusion
Mobile app developers are in high demand. With the advent of different technologies, it is not important to hire developers in-house. Now app development companies can also hire remote developers from across the world and business owners can hire freelancers for the project. It offers a wide range of benefits to start-ups to large enterprises. In this blog, we have mentioned the full guide to hiring remote app developers.
Related Articles : "How to Identify The Best Mobile App Developer for Your Project?"