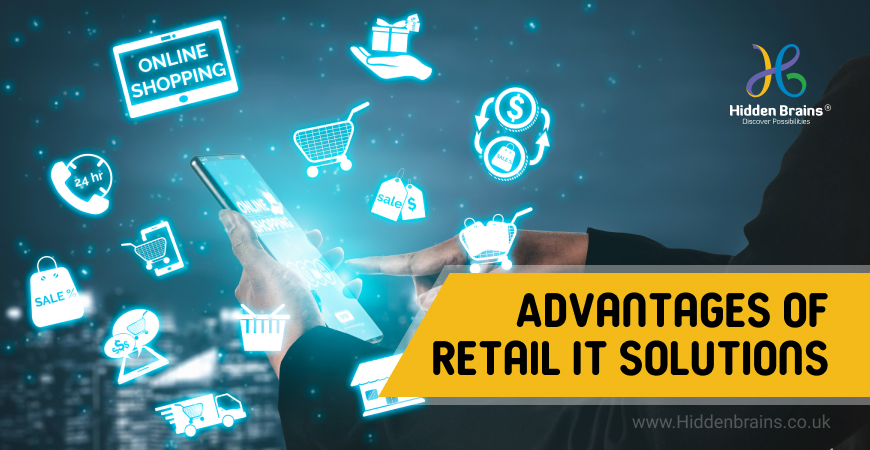 The introduction of IT in any industry automates and simplifies the processes right from production to marketing. Retail IT Solutions provide 'n' numbers of benefits to retail businesses, including higher efficiency, agility, pace, etc. If you are wondering whether to go to IT for your retail business, the go-ahead to take a glance at the benefits of IT for the same.
Benefits of Retail IT Solutions
1. Brings automation
Automation simply means performing repetitive tasks with minimum error. Automating any process not just reduces the workload and processing time but also enhances accuracy and efficiency. Automation in retail IT solutions eases the whole process and lets the employees focus on more crucial business operations. It also helps in quick decision making which ultimately opens the door of growth for the business. These benefits are enough to claim that 40% of large businesses automate at least one of their business processes completely.
2. Diminishes costs
Investment in retail IT solutions is quite huge. It undoubtedly costs in both the terms initially, time as well as money, but eventually, it leads to the reduced cost in various aspects. It's the long-term cost-efficiency that needs to be considered. There are various software programs and online systems that can automate business functions including marketing, accounting, and payroll, and improve supply chain processes. Wastage is also reduced by the introduction of IT in retail businesses that ultimately reducing costs to a great extent.
3. Quality customer service
The customer is the king. Any business can turn out to be profitable only when its customers are satisfied. Implementing retail IT solutions aids a lot in gaining and retaining customers. Mobile app development services are a great booster for retail businesses. An app connects with customers easily and exhibits the products and services better. Somehow it helps in customer retention, provides sales support, and increases loyalty. With the automation of processes, employees can focus more on individual customers. Waiting time of customers is also reduced cause of technology as the availability of any product can be checked instantly.
4. Slashes inventory costs
Mobile apps provide you with all the information at a single touch. You can check the availability of stockpiled up at various locations without even going there. Hence, mobile app development services let you know instantly the stock, orders in hand, items received and sold that avoid duplication of orders leading to lesser spoilage or expiry of products. Retail IT solutions help in filtering the products and make you view the products on various bases like cost, margin, price, code, receiving date, selling date, etc.
5. Facilitates inventory control
As aforementioned, IT helps you know the condition of inventory that helps reduce over-purchase or under-buying by showing you the optimum stock levels of each product inserted within the system. This level can vary monthly or after every season. It avoids blockage of investment to a great extent. It also leads you to know the most vulnerable stock, best-selling, and lesser-moving. Since every piece of information is stored in the system, chances of internal theft and pricing errors are reduced to the minimum level. If done mistakenly, it can easily be tracked.
6. Hassle-free marketing strategies
Mobile app development services are of immense use for retail IT solutions. Almost everyone owns smartphones these days. Hence, retailers have now jumped into mobile applications for better marketing and a wider reach to customers. This helps accumulate all the pieces of information about the products and services offered by the business. While ordering or just taking a glance at the products, customers know the status of stock availability pretty well. It improves the product visibility magnificently.
7. Helps in knowing the customers
All the pieces of information about the users are captured and analyzed by the apps these days, right from picking the product to the payment gateway and everything in between. The products and services are offered to customers based on their previous interests and shopping patterns. Some offer rewards for every purchase which can be used as a coupon code in future purchases. This kind of retail IT solution helps in making your customers loyal by making them stick to you in the future. Personal information like names and addresses is also saved in the apps for the customers' convenience.
8. Helps in unblocking their money
Retail IT Solutions lead to a just-in-time approach with the suppliers of these retailers. All due to technology, they have a centralized database in their systems that not only leads to inventory control but also marketing and sales departments. Mobile app development services greatly help in making their working capital available. The retailers can immediately order those products which are in huge demand and asked by their customers and all this is just a single call or click away.
9. Helps in evaluating their margin level and improving forecasting
When the data is put in the system with various filters it becomes easier to evaluate their requirements. Say, if they want to give some discount or any offer on a product, they can set various price levels to check separate profit margins and select the one that fits the best. The statistical data in the system also helps in more appropriate and well-calculated demand forecasts and which is further forwarded to every line manager.
10. Effective communication
Retail IT solutions lead to better communication between retailers and suppliers/employees. Important documents like purchase orders, stock details, sales information, etc. can be sent instantly whenever and wherever required. It is a hassle-free and cost-effective process. It undoubtedly reduces the lead time to a great extent. Whenever the system feels the requirement as per the information given within, it places an order electronically to the distribution center. The products are delivered the following day.
Conclusion
Adding IT in retail businesses is impeccable for the aforementioned reasons. Its prime benefit is the automated process that eventually leads to reduced costs, quick process, and better marketing. By inventory and internal controls, IT minimizes losses in great measure. Retail IT solution is the need of the hour and has revolutionized the lives of retailers and customers.
Relevant Articles for Benefits of Retail IT Solutions

How Retail IT Solutions can Improve Your Business?

Retail Technologies and Retail Trends that will Define the Future