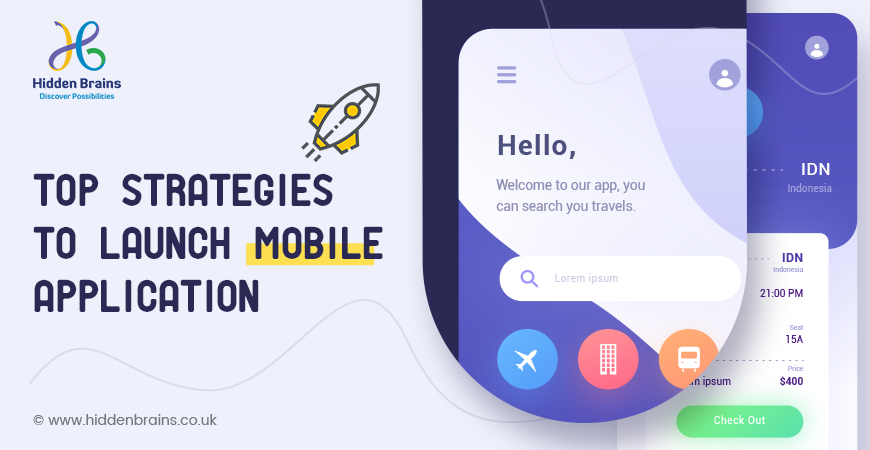 Mobile applications have become an inseparable part of our lives. With the advent of different technologies, mobile apps are helping people meet their daily lives requirements and allowing mid to large enterprises to grow their businesses as ever before.
After the pandemic, the demand for mobile app development services has increased rapidly; both entrepreneurs and customers are leveraging the benefits of the Android and iOS-based solutions.
According to Sources, "The mobile apps market is poised to grow by $ 653.91 billion during 2021-2025, progressing at a CAGR of almost 21% during the forecast period. "
Undoubtedly, applications have made lives easier and faster. Along with this, mobile apps help businesses to reach a wider audience, automate operational processes, and build long-term connections with customers.
By observing several factors and growth of mobile applications, if you have also decided to launch your enterprise-level application to your customers, you should know several important things and tips to launch successful online solutions before deployment.
Essential Things to Know Before Launching your Mobile Application
Before starting with the application development process, it is essential to know that they are different types of applications in the market that includes-
Web Apps
Hybrid Apps
Native Apps
Web Apps – Runs on web servers, not dependent on the specific operating system. The user accesses these web applications through a web browser with an active network connection.
Hybrid Apps – It supports cross-platform development. Hybrid apps refer to software that combines the elements of both native and web applications. Presently, most companies prefer to opt for hybrid applications as it helps save a considerable amount of time and effort for the developers. The hybrid applications allow programmers to write code for mobile applications to run the same on multiple platforms.
Native Apps – Native apps are specially designed for a particular operating system, including iOS and Android. This helps to opt for advanced and specific application features that include camera, GPS, device storage, and many more.
You May Be Interested In: "Mobile Development Trends to Watch Out"
How to Launch Your Mobile Application?
Market Research
The foremost step to launch your application is to have proper market research and know about your competitor and industry trends. Apart from this, in market research, you will also learn about your competitors and their strategies. This information provides insights to engage and connect with your project's audience.
Business Objectives
After researching the market well, it is crucial to list your business objectives. High-performance driven mobile applications can meet multiple enterprise-level goals. So, after examining the market, now it's time to decide your requirements that include increasing reach, brand awareness, or boosting sales. Moreover, it is essential to determine the actual business goals that you want to achieve with your mobile application.
Choose Between Web, Hybrid, and Native Applications
When you decide on your business objectives, it is vital to determine the platform you want to launch your application. There are multiple options available that include native, hybrid, and web, and choose one among them that you prefer for your business as per your requirements.
Focus on Functionalities
It is important to focus on different functionalities that you prefer to integrate into the solutions to launch successful and robust online solutions. Several trending features such as secure payment gateway, push notifications, and intelligent search dominate the market. Always narrow down on essential elements that you want to integrate into your application to help you stay connected with your customers.
Apart from this, other essential technical attributes should be considered, and you can't miss them. It is essential to focus on the loading speed and interactive and engaging user interface. Before launching your application in the market, make sure that your solution is driven by user-friendly attributes that are easy to operate. Users should not require any technical skills to use the applications. Ease and simplicity to use will help increase user engagement.
Claim your Social Media Accounts
Only launching the mobile application is not sufficient for businesses. To increase the user reach, it is important to have your different social media accounts on several platforms, including Facebook, Twitter, and many more. With high performance, business owners can reach wider social media applications and target the right audience.
Undoubtedly, social media platforms have become an essential part of our daily lives. You can reach the maximum number of users and attract them to your services with different promotional strategies. This step also offers you an opportunity to create your brand recognition in the market and spread information about your additional discounts and rewards.
Hire the Best Team for your Project
To launch the enterprise-level mobile application for your business and mark a unique presence in the market, it is crucial to hire mobile app developer. They have in-depth knowledge about the different trends and technologies. Apart from this, they have decades of experience that helps them to match your idea and sort the complex industry technical challenges.
You can hire the team on a freelance, part-time, and full-time basis or outsource the Project.
Conclusion
Mobile applications development is among the fastest-growing sectors; it has become a crucial part for different businesses to attract many users towards them. Undoubtedly, it has been considered the critical success factor of mid to large enterprises. We hope this guide to launch your mobile application in the market with essential strategies and tips will help you to streamline your app development process.
Also Check : Tips to Hire Expert Mobile App Developer for your Project