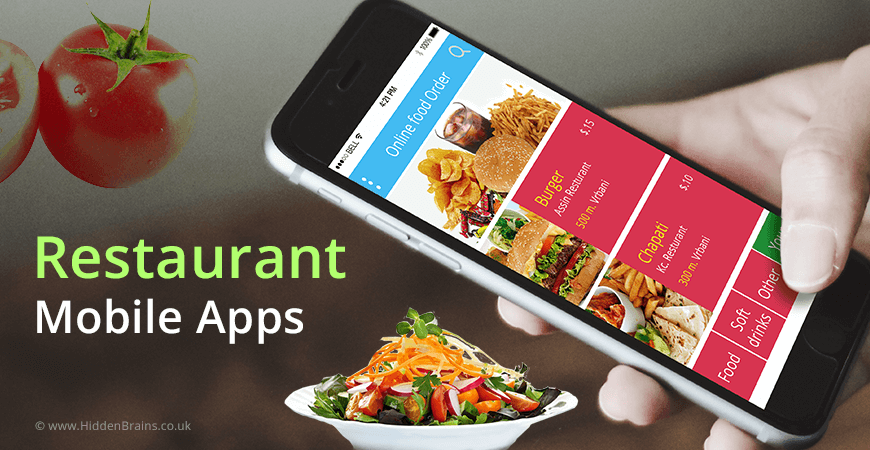 Smartphones and mobile apps serve multi-purpose – be it getting daily dose of news in the morning, booking a cab to workplace or simply ordering lunch or reserving dinner table at your favourite restaurant. Mobile era has compelled several industries to land on this platform for survival in the marketplace. Restaurant is one such domain that is experiencing huge success through mobile app development. Let's know how mobile technology is used by restaurants to delight customers and provide a superior dining experience.
Understanding next generation customers is critical to decide the business strategy of restaurants. Future customers would undoubtedly be tech-savvy. This is what restaurants need to cope up with build an appealing table for customers of tomorrow and evolve their business.
Restaurant mobile apps help to deliver the next-generation customer experience with advanced loyalty programs and functionalities to reserve table in advance or order food at home. There is a huge inflow of demand for development of restaurant mobile app considering an array of useful features and competitive price it comes at.
Features & Cost of Restaurant App Development
Feature rich and fully functional restaurant mobile app greatly helps in connecting with customers, improving customers' interaction with restaurant and spreading a word among other smartphone users. Take a look at following features that should be ideally included in restaurant app:
Display restaurant menu with details of ingredients and cost

Place order through food ordering page of app

Display ambience of restaurant using photo gallery with Picasa, Flickr

In-app ordering and payment with PayPal gateway

Make reservations using the appointment feature

Help route your customers to restaurant via GPS

Incentivize repeat customers with loyalty card feature

Add-ons like Opentable & GrubHub

Event calendar to notify users of special evenings with Google Calendar

Send push notifications about upcoming & ongoing offers

Analyse user's dining behaviour based on ordering history through Google Analytics
Cost to build restaurant mobile app ranges anywhere between 8 and 12000 EUR, spending on number of features to be included, its complexity and number of resources required to work on this project. However, restaurants need not worry about investing money in Restaurant Mobile app development as it is bound to give good returns in terms of higher number of customers, brand visibility and systematic management of orders and customers.
Different Categories of Restaurant Mobile Apps
Depending on the type of restaurant business you run, owners can choose to develop a particular category of mobile app that perfectly matches his requirements:
Reservation Restaurants
This category is an ideal fit for restaurants whose main purpose is to enable users to book tables in advance. The app shows available space in the restaurant at the selected time and accordingly allows users to make the reservation for a table for specified number of people. Admin can manage these reservations by instantly confirming or rejecting the bookings as per the occupancy of table at the given time.
Search for Restaurant Deals and Offers
Build this type of app if you wish to establish a connected ecosystem of restaurants where users can get to know the best deals on food items offered by restaurants in a particular locality. Users need to enter the locality or area where he/she is based and the app presents the best deals of restaurants based in that locality in a fraction of seconds.
Restaurant Searching App
This is a kind of listing app for restaurants that exposes user to all restaurants of the city. Such apps act as a reliable platform for users to explore and find out nearby restaurants of their choice. Restaurant searching apps can also include a feature to find restaurants based on cuisine. The list of restaurants as per the search query should display reviews and ratings to give a rough idea of quality of food and ambience to app users. 
Food Delivery App
This is kind of on-demand service offered to users through mobile app. Food delivery app allow users to place order for meals from  their favourite restaurant, make in-app payment through secured gateway, track the order and give feedback. Upon receiving the order, the backend system or admin forwards the order request to respective restaurant. At the same time, staff member informs the delivery person (either manually or through connected system) to pick up order from restaurant and deliver to particular address.
Food Takeaway App
This category of restaurant app is slightly different from food delivery one where user is responsible for picking up his/her order. This app works exactly in the same manner as food delivery one, i.e. allowing user to place order from restaurant, make payment and tracking it. However, the last step of getting the order delivered at home is omitted as user himself/herself would pick up the order from the selected restaurant.
Build a Restaurant App & Get Avail the Benefits
Though millennials are addicted to the trend of exploring restaurant services through app, experts predict that this behaviour would soon be adopted by all age group of people using smartphone. By having a mobile app for your restaurant, you can directly offer discounts on food items, promote it among app users, inform users about additions of new dishes to menu, allow to place order and give feedback, review and ratings.
Hidden Brains is a reputed restaurant app development company that builds personalized, custom and feature rich mobile app. Discuss your requirements with our mobile app developers who are experienced in designing and development high quality restaurant app.