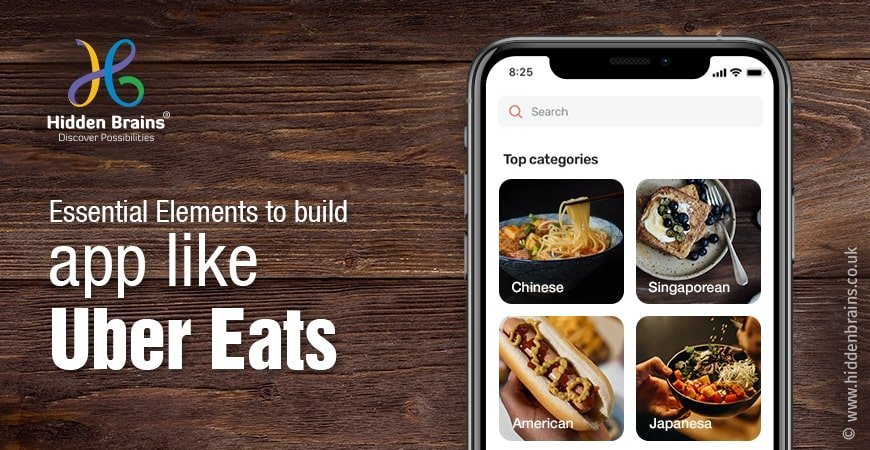 If you are running your food business, then to meet with the latest market trends it is important to launch your mobile applications to your customers. Food delivery services are in high demand and due to covid now people highly prefer to order food at their doorsteps with essential required safety measures. 
Apps like Uber Eats aim is to have less contact transmission with others. Some of the applications are running the market – 
Uber Eats 

Grub Hub 

Foodpanda 
These are the best platforms, which are highly popular and every second smart user has downloaded Apps Like Uber Eats on their devices. Undoubtedly, the food delivery business is the fastest growing. 
How To Develop An App Like Uber Eats in 2021
Let's have a view on the Market growth- 
Market Growth and Future  of Restaurant Delivery Applications 
According to Wikipedia, Due to a variety of new apps and delivery providers such as DoorDash, Grubhub, and UberEats, it is easier than ever for U.S. consumers to order full-service restaurant meals. The size of the full-service restaurant delivery market is predicted to see growth between 2018 and 2022.
According to Forbes, "In 2020, the food delivery sector is anticipated to extend from $107.44 billion (in 2019) to $111.32. Owing to the coronavirus outbreak and the measures to contain it, the global economy has faced a slowdown and negative growth rate in 2020. While in 2023, the market is expected to grow and outstretch up to $154.34 billion at CAGR of 11.51%."
Why should you opt for Apps Like Uber Eats? 
Hassle-free service 

Easy ordering 

Instant and Secure Checkout 

Digital menu with several categories 

Menu cart 

convenient display of images
To launch successful apps like Uber Eats, it is important to integrate all the essential and next-generation functionalities in the app which helps to deliver unique and engaging experiences to the customers. 
Features to integrate –

 
Presently features such as chatbots, loyalty programs, and digital menus with easy booking have turned into an essential part of the app development process. 
When it comes to iPhone app development, then the developers have to be more focused and they have to put more effort as they have to build the applications as per the Apple standard guidelines. If they will not be able to meet the particular requirements, then there are high chances to face rejection from the App Store.
 In order to avoid this and to launch successful applications, partner with an iPhone app development company. 
In this blog, let's know more about apps like Uber Eats and how to launch your restaurant based solutions in the industry. 
Key Elements of Successful Food Delivery Applications Uber Eats
The food delivery application has three major panels as it's functionalities are utilized by three different roles – 
Customers 

Restaurant Owners 

Delivery Person 
Related Post: Food Delivery App Development Cost 
Furthermore, let's know the different processes of these different restaurant delivery system panels. 
For Customers 
The app should be designed in such a way that the customer can easily sign up with all the essential details or they can also sync it with different platforms also including Gmail and Facebook. This is how they can save time and the process can turn more effective and faster. 
Filter  their Favorite restaurants or Cafe
To enhance user experience and turn the ordering process more efficient, offer them an opportunity to place hassle-free orders from their favorite restaurants. By implementing the filter feature allows them to find the best restaurants or their preferred ones easily. 
Recommendations and Reviews 
Ordering the food is also a next daunting task from several items to choose one or to rely on the taste can be confusing for the customers. In this case, offer recommendations and suggestions to users. So, this is how they can order the best meal for them. 
Overview of the digital menu with prices 
Allow them to view the digital menu with prices. It will help to know about different cuisines which are offered by the restaurant. In their budget, they can order what they require. 
From the long list, to finalize at one attempt can be difficult. Allow them to shortlist and then finalize it later. By adding to the cart, they can filter the items, which they need and can make the decision later. 
After reviewing the menu and overviewing the different restaurants. They can place the final order. While placing the order they can get their final amount which they have to pay for their food delivery service. 
Allow your users to pay securely for their orders. Provide them multiple options to pay bills to the customers. Turn the bill payment securely and hassle-free. Integrate Paypal and stripe payment gateways to your application. 
Customers can track their orders easily and know in which phase their order is from getting prepared to pick up even with the advanced GPS integration they can even track the location of the drivers. 
Save their favorite Restaurants and Cafe
For future orders, they can save their favorite cafes and restaurants to place orders easily and faster. 
Preview history and order same 
Customers can preview the history of their orders and even can repeat the same orders. It helps to save their efforts and time. 
 Live Chat with restaurants and delivery person 
They can have a chat with the restaurants and delivery person. It enhances the communication process. 
For Restaurant Owners
Sign up with all essential details 

Upload menu and add photos 

Offer discounts and promotions

Order tracking feature 

Accept or decline orders 

Update customers

Track the location of the courier person 

Get the customize taste from the customers

Seamless communication
Delivery Person 
Sign up with all essential information 

Order management process

Track status with proper location 

History of their customers 

Seamless Communication
Conclusion 
To launch your application in the market is important to continue your food delivery services by meeting modern trends. Here we have provided you an idea of how to launch your business based apps in the market. If you are planning to hire an iPhone app developer, then make sure a developer should have the ability to meet your project requirements.