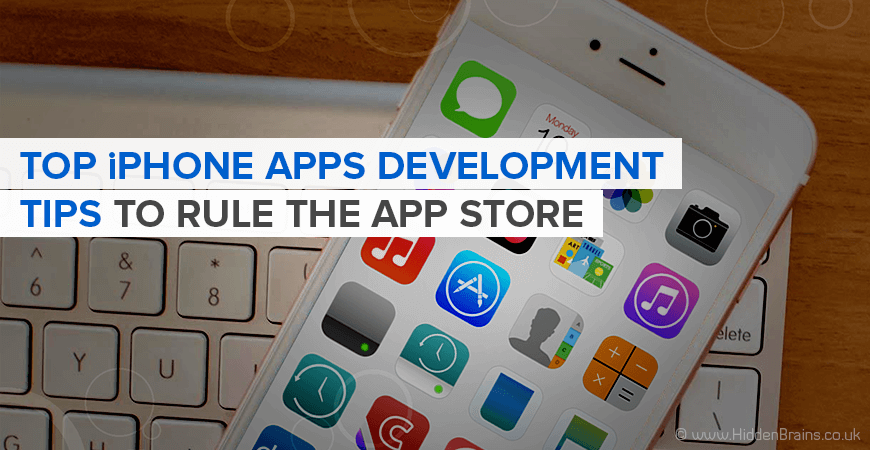 Apple mobile phones are the most trending ones in the market. With so much popularity and demand for iOS, the Apple app store (iTunes) has seen a rise in the number of apps introduced and downloaded by people on a daily basis. Be it a health related app or merely a game, it is sure to find a large group of audience. Observing these market trends, several iPhone app developers are coming up with innovative app ideas. These apps have eased the lives of iPhone users by giving them easy access to entertainment options as well as work related apps.In this post you will read Top iPhone apps development tips to rule the app store
Developers create app with the aim to generate maximum profit from it. For this reason, it becomes necessary for them to know few basic facts about iPhone apps development London. Only then these developers would be able to come up with an app that has good usability and demand among people. Creating an app in the shortest possible time is the biggest challenge faced by developers.
Related Post: App Store Optimization Guide
Given Below are Few Handy Tips and Fundamental Facts About iPhone Apps Development
1. List down all the trending apps on iTunes
Instead of brainstorming on which app will be preferred by users the most, it is wise to get idea of it by analyzing the download results in iTunes store. Check out for the latest apps in each category that have caught the interests of maximum people. Ask yourself a question – is there a scope in the market for a similar kind of app or should I try an altogether new concept? Discuss it with people in the same field and then come to a conclusion.
2. Know the Framework
Developer should learn about the Apple framework 'Cocoa' in a detailed manner. As the app will be developed on the same object oriented framework, complete knowledge of Cocoa is mandatory. Reading books on Cocoa framework and few articles will help you to get a hang of it.
3. Design of the app
Does your app have an attractive design? Good design and user friendly interface is preferred by users. An app with advanced features and functionality gets its value when a designer gives it an appealing look. Graphics and themes are important aspects of any iTunes app. People browse through apps in the iTunes store and randomly click on apps that catch their attention. In order to turn any visitor to customer, it is vital to have a catchy app logo and name along with fascinating design.
4. Performance of the app
How much time does your app take to open? If it takes too long for the app to load, users are likely to uninstall it from their iPhones. Optimize the app to perform faster and smoother for great user experience.
5. Promoting your app
Spread a word about your app to let others know that you have something new in iTunes store for them to use. Text everyone in your contact list to inform them about the newly developed app. Try to get maximum exposure so that increasing number of people browse through iTunes store and download the application.
6. Customer Support
Users might have few questions regarding the working of the application. In this situation, the need for customer support executive is felt. If users do not get satisfactory answers to their queries on time, they would simply delete the app. For a common set of questions, preparing FAQs (frequently asked questions) page is a wise move.
7. Bug Fixing
Developer's work doesn't end once the app is released. Post maintenance is the most challenging phase of the development cycle. Releasing regular updates, fixing the bugs of previous version and adding new features based on users' needs are some of the post launch tasks.
8. Compatibility with all iOS devices
Ensure your app is compatible with all Apple devices including iPhone, iPod, iPad and iTouch. This helps to synchronize the data stored on app on all iOS devices. It is observed that such kind of applications find a good place in the iTunes store.
In addition to these facts, developer should thoroughly read terms and conditions of Apple Store related to the release of an app. iPhone app Developers have to abide by these terms and conditions and come up with an app accordingly. Last but not the least, price the app appropriately. The cost of the application should not be too high nor too low. Fix it as per the current market rate. Also, our experts offer best iPad game development as well as iPhone game development services in UK & Europe.