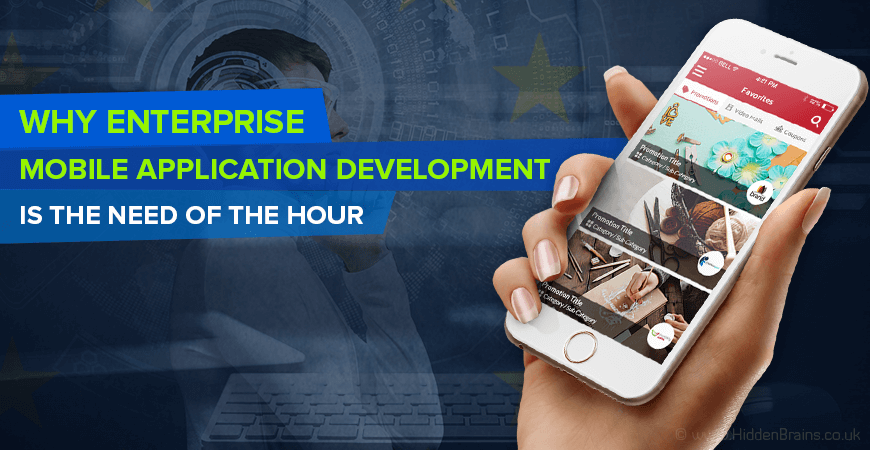 Can you imagine a day without smartphone? Even the thought of it is scary, isn't it? The dependency of people on smartphones is increasing day by day. This is because pocket sized smartphones offer everything you need at your fingertips. Whether you want to shop for clothes or want to avail any service, smartphone app does it all easily.
Business marketing specialists catch the latest trend and try to inculcate it in the business to reach out to people in a better way. So how can they miss out on the craze for mobile apps? Having a smartphone is not a luxury but a necessity. Considering these factors, many enterprises have diverted their attention towards enterprise mobility solutions.
How can your Business Benefit from Mobile Solutions?
Enterprise mobile solutions enable to integrate, mobilize and automate several business operations. Businesses that have mobility solution are experiencing the benefits of it such as increased productivity and efficiency of employees. This is because employees need not sit in front of a desktop continuously to get the office work done. They could move ahead in their project and contact colleagues through mobility services.
Such solutions make it easier to connect with clients along with partners and suppliers. With such easy communication channel and ability to access information at your fingertips, Enterprise Mobile App Development has garnered the attention of businesses all over the world.
Work anytime and anywhere
The flexibility to work anytime and anywhere is the biggest plus point of enterprise mobility solution. Employees can get real time information, which helps them to work faster and more efficiently.
Connect to customers
Customer queries can be answered more quickly with a mobility system in place. As customer has a positive experience with your company, he or she would spread a good word about your services. This, in turn, helps in creating a positive image in the market.
Common mistakes to avoid
Some companies think of developing the enterprise mobility system with the help of in-house resources. However, developing an efficient mobility solution is not a cheesecake. It requires experienced people to work on it. If the mobile app developers are try to build such system, they might end up wasting huge amount of time with otherwise could be utilized for a rather fruitful work.
Businesses can reap the benefits of mobility solution only if the employees are actively using it. It is important to keep a track of what features are boosting employee productivity. The functionalities that are unused by employees should be deleted and replaced with other useful ones.
Companies that are experimenting to use enterprise mobility solution for the first time should start with simple systems with limited features and navigation. Employees take time to understand the system. You cannot expect them to start using the system properly at once. So it's better to start with simple enterprise mobility solution and then move ahead with advanced system as and when employees start using it efficiently.