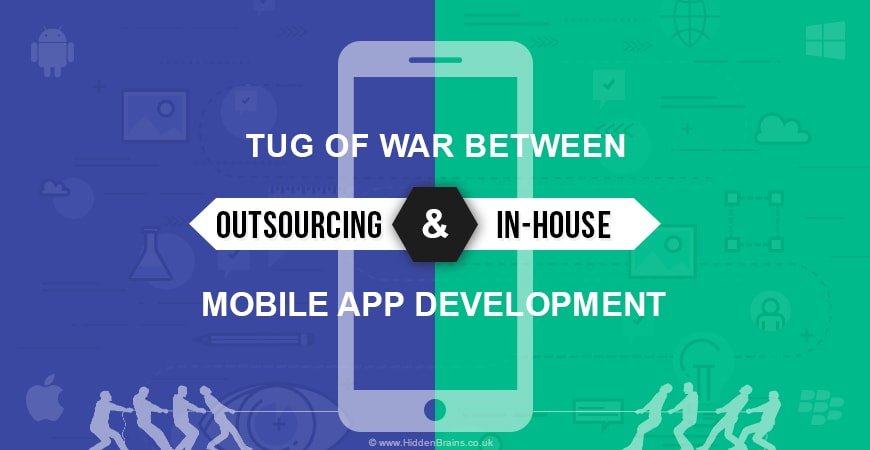 Mobile apps have found an irrevocable place in the professional world of business. Companies from startup level to enterprises are exploring the potential of mobility to widen the reach of business. Every entrepreneur and Digital Marketing Head knows the significance of resorting to this medium. The only thing that makes them hesitate while implementing the mobile strategy is the cost of mobile app development.
Outsourcing the project is cost effective method, while in-house development is a bit heavier on pockets. What makes in-house mobile app development costlier than outsourcing the same work? Is it worth spending extra money on in-house development? Is there any other alternative apart from these two options?
Let's dive deeper to understand which one is beneficial and reliable: outsourcing or in-house mobile app development:
How Does In-House Development Work?
Handing over the project to in-house development team comes as a benefit with regards to some important factors as mentioned below: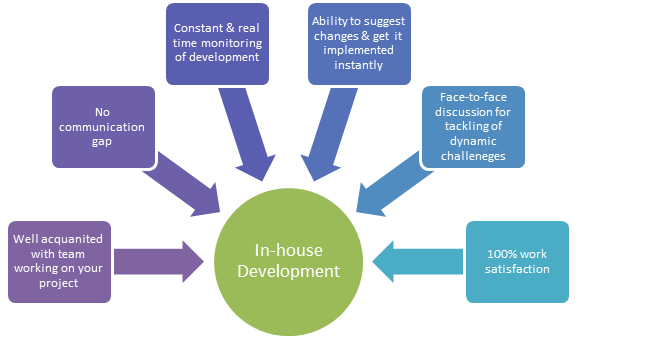 You can personally know which team members are handling your development project. If necessary, you could even ask for replacement of few members to prepare the most efficient team for creating innovative mobile app.
As this team would be working at office, you could communicate your requirements quite specifically and precisely to developers. In this process, project managers and business development executives can give their inputs based on past experience, which could be beneficial for you.
Prototype models can be evaluated in real time to ensure whether your requirements are in par with practical mobile app being developed.
While you are actively involved in development, the final product is bound to give you 100% work satisfaction.
What can you Expect from Outsource Mobile App Development Company?
Most startup entrepreneurs consider outsourcing their mobile app development requirements. Let's know why: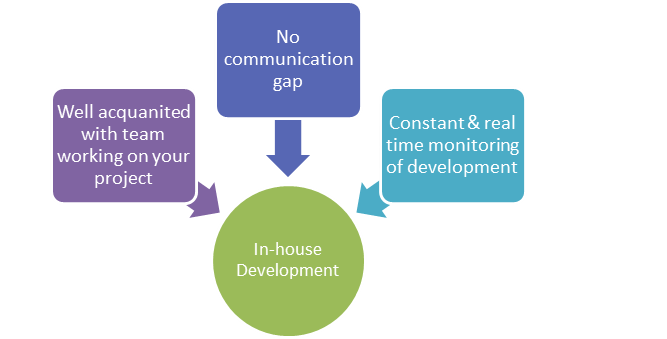 One major factor for choosing outsourcing model is reduced cost associated with development. Outsourcing companies offer jaw dropping mobile app development quotes to allure customers. While many of them are worth it, some deliver low quality work.
When the development work is outsourced, you do not have any overhead of mobile app project. Every challenge is handled by them while you just wait for the delivery time to get the final product in hand.
You have the liability to fix a deadline for project delivery, which make it compulsory for outsource company to deliver you the work till that date. This allows you to plan app's promotion activity well in advance as the delivery date is fixed.
Related Post: Software Development process
Conclusion
While each of these options have their own set of advantages, it is necessary for you to figure out your preferences. Define the purpose of creating mobile app. When app is built for business purpose, it is necessary for it to meet specific industry related requirements.
Outsourcing the work may cause communication problem, which affects the final quality of product. In-house mobile app development work ensures that the final product perfectly matches your business requirements.