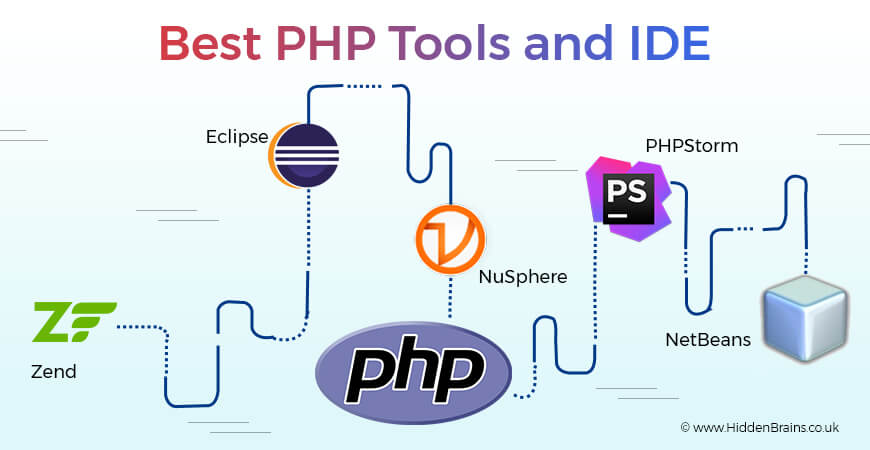 PHP is widely-used open source scripting language used in web application development. This language is the favourite choice of most of the developers as it can be easily embedded into HTML. Being a worldwide popular programming language, web developers use it on a regular basis for fulfilling their website development requirements. To make this work easier and faster, experts have come up with some extremely useful PHP tools that help in the process of website development.
These tools are developed to account for an ideal Integrated Development Environment (IDE) where web developers can work more efficiently to build innovative, engaging and feature-rich websites. The market is flooded with several PHP developing tools, but choosing the best and most suitable ones among them is a daunting task.  In this blog, we shall give the list of 5 best PHP tools that are developer-friendly.
Best PHP Development Tools and IDE
Following is the list of shortlisted PHP Development tools after discussing about it with PHP industry experts, surveying several technology blogs and researching for latest PHP and website development trends:
Eclipse is the first name that comes to any PHP developer's mind when talking of the most useful PHP tools and IDE. This is a cross-platform PHP tool that supports Operating System of Windows, Linux and Mac.
It contains all the development components that are required to develop PHP-based web applications. Moreover, this tool facilitates extensibility and takes advantage of existing web PHP developing tools to empower PHP Web developers
Features:
Syntax highlighting

Content assist

Code formatter

Refactoring

Code templates

Code navigation

PHP debugging

Syntax validation

Power of entire Eclipse ecosystem

Composer support
This is yet another preferred choice of developers for PHP development tool. NetBeans IDE allows developers to build Java mobile, web applications, desktop as well as HTML5 applications using HTML, JavaScript, and CSS. NetBeans being an open source and free tool, it has a large community of developers worldwide.
NetBeans is Java 8's official IDE consisting of editors, code analyzers and converters. This IDE provides an ultimate level of convenience and flexibility to developers by marking lines, matching words and brackets, and highlighting source code syntactically and semantically.
Using batch analyzers and converters, developers can search through multiple applications simultaneously, thereby matching patterns for conversion to new Java 8 language constructs.
Features:
Best support for latest Java technologies

Fast & smart code editing

Easy & efficient project management

Rapid user interface development

Write bug free code

Support for multiple languages

Cross platform support

Rich set of community provided plugins
PHPStorm is the best IDE used for building websites. This tool first came into existence in 2009 and has evolved since then to become a popular choice of developers around the globe. PHPStorm is compatible with WordPress, Zend Framework, Symfony, Drupal, Laravel, Magento, Yii, Joomla, CakePHP and several other frameworks.
PHPStorm is everything that a developer would desire for. It takes care of all types of inspections while the developer is typing the code. With PHPDoc support, code (re)arranger and formatter, quick-fixes, and other features, developers can write neat and robust codes.
Friendly navigation in PHPStorm improves the efficiency of developers by understanding where the he wants to go and takes him there immediately. Empowered with zero-configuration Visual Debugger, PHPStorm keeps developers informed on what's going on in their application. This tool works with Xdebug and Zend Debugger to be used both locally and remotely.
Features:
Inline function/method refactoring

Refactor your code to functional style

Configurable unchecked exceptions

Creating class from test

Codeception: code coverage

Assertions support

Simplified first start

Reformat with Prettier

Create new Vue project

Partial commits in Git
NuSphere is a world-class IDE and state of the art PHP Editor with the power to speed up the developer's work by 50%. This IDE is especially useful when the website or web application to be developed is complex. NuSphere speeds up debugging and this is a big reward for the person coding PHP.
It is possible to build, develop, edit and debug PHP Applications with PhpED – NuSphere PHP IDE. It starts with encoding PHP code with NuCoder – NuSphere powerful PHP encoder. This IDE also speeds up PHP Applications using PhpExpress – NuSphere, which is a commercial PHP Accelerator available free of cost to developers. It is simpler to deploy PHP applications with the help of Webserver using PHP IDE publishing tools.
Features:
Kiosk or full-screen mode for PHP applications

Pop-up of PhpDock window

Binding of PhpDock web server

Protect PHP code with NuCoder – NuSphere

Accelerate PHP applications with PhpExpress
Zend Studio is a popular PHP tool and IDE that allows developers to code faster, debug easily as well as take advantage of the massive performance gains using PHP 7. This allows developers to build highly complex and feature-rich PHP applications Development with minimal coding efforts.
The main reason why PHP developers choose Zend Studio is because this IDE automatically scales according to the DPI settings of the underlying operating system and supports HiDPi displays.
Features:
Boost performance by 3 times with proven improvements in indexing, validation and searching of PHP code

Robust debugging capabilities with Xdebug, Zend Debugger and Z-Ray integration

Support for other development tools including Docker and Git Flow

This IDE contains extensive plugin capabilities for the large Eclipse ecosystem

Allow PHP applications on server along wth cloud support for Amazon AWS and Microsoft Azure 
What's Your Choice: PHP-based Website or DIY Website Builder?
Conclusion 
PHP development tools and IDE have gone a long way in helping developers build innovative websites and web applications. There are several other tools available in the market; however the ones listed here are the most useful and popular ones.