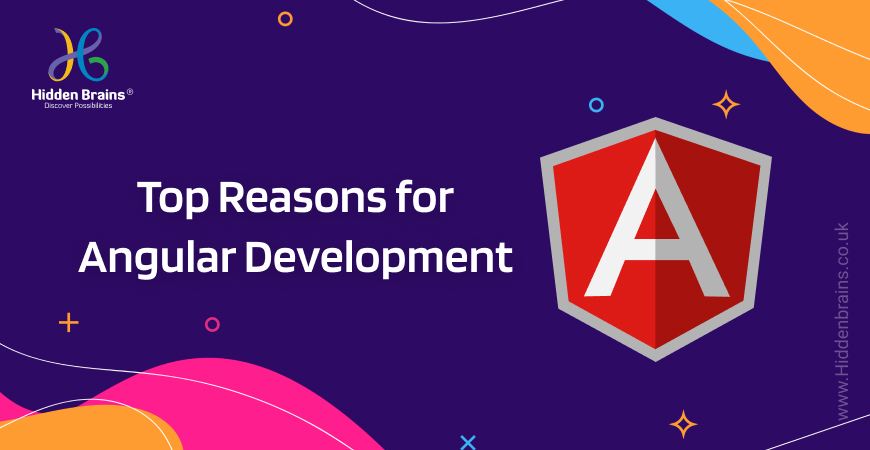 The web development industry is constantly evolving and offering next-generation experiences to users. With the advent of advanced robust technologies and high-performance frameworks, the web and mobile applications development process have redefined and turned into advanced and faster as ever before.
A vast number of technologies have been introduced in the market to build a rich web application. Among them, Angular.js development services have grabbed huge attention from the developer community looking to create robust apps. It helps to build single-page applications and also supports MVC ( Model View Controller) architecture patterns. It is considered a feasible option for enterprise-level applications to launch successful solutions in the market.
The demand for Angular.js development services is growing at a rapid rate. According to SimilarTech, 366,468 websites are globally powered by the Angular.js framework. In this blog, let's discuss this popular framework and the top reasons we should opt for this technology.
Glance on Angular.JS
According to Wikipedia, AngularJS is a JavaScript-based open-source front-end web framework for developing single-page applications. It is maintained mainly by Google and a community of individuals and corporations. It is known as the superheroic Javascript MVVM framework that is easy to learn and supports SPA functionalities.
It is written in Javascript and launched under the MIT license. This technology was launched by the top reputed company Google and is also called the robust framework that ensures you deliver high-quality solutions to the users.
There are several reasons developers prefer to opt for this technology. These include open-source, updated with the latest trends, and high flexibility to create feature-rich and secure solutions.
Furthermore, let's discuss the strong reasons you should consider Angular.js technology for your next project development requirements that will allow you to decide to partner with the best web development company UK.
Why should you opt for the Angular.js technology for your next project?
Faster Development with MVC
Angular.js offers a faster development process and is based on the MVC structure that refers to the model view controller. It allows separating the different layers into three parts that simplify the development process, making it far more accessible and faster than before. Undoubtedly, this helps to boost the productivity of the development process and sort the complex technical challenges.
The other next advantage of this technology is that it offers ready-to-use templates that make the integration process more manageable and effortless. With innovative and creative templates, you can add a modern and brand identity touch to your solution. But to create the design from scratch is the next major challenge and requires a lot of time.
Angular.js allows you to sort the significant challenge in the coding process. It helps developers save a considerable amount of time by offering them an opportunity to reuse the code for their multiple projects. Hence, developers can reuse the codes for different projects at the same time.
To write high-quality and easy-to-read code from scratch is the next daunting task for web developers. With Angular.js, developers can use the same code for different projects, and this technology resolves this major challenge of the development process compared to the other platforms.
With Angular.js, developers can opt for less coding process and also simplify the development process faster and exclude all the coding-related hassle. This technology offers a simple database to the developers that excludes all the additional functionalities and integration from the strategy. This also makes the testing process easier and far more effective.
Angular.js developers can opt for the easy testing process as it offers different frameworks and technologies that allow testing the different solutions to be more accessible and faster than other platforms that ensure they deliver successful solutions in the market.
With Angular.js, you can focus on the significant attribute, and that is security. This is the primary concern of mid to large enterprises, and this technology allows you to meet the latest security trends. Moreover, it also will enable businesses to streamline different processes and turn the solutions into powerful and advanced applications.
Angular.js is known as a robust framework that delivers high-performance and easy-to-use applications. This framework provides advanced functionalities that allow attracting customers, including routing, content sanitization, API client, validations, and many more.
Supports Third Party Integration
Angular.js supports third-party integration services that allow you to leverage the benefits. In order to build the solutions from scratch requires a huge amount of time and effort, but with third-party integrations via API the process is far easier and faster than ever before.
Conclusion
Angular.js is the most popular and trending technology that delivers highly engaging and innovative solutions in the market. Undoubtedly, it has simplified the development process and turned to web developers' topmost choice due to its advanced features.
In the above blog, we have mentioned all about the Angular.js technology that you should know about—along with this, we provided you with solid reasons for opting for this technology.