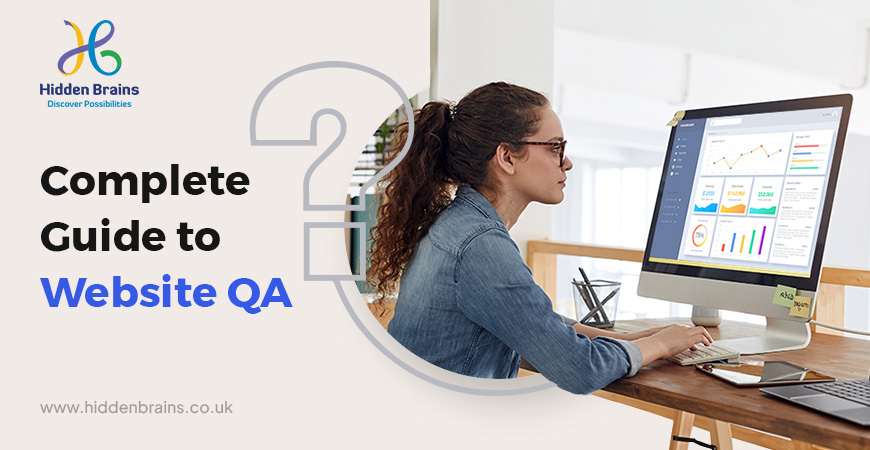 QA testing is the final step after the Website development is over. It is important as it plays a vital role in developing high-quality software. Once the QA testing is done, the customer gets the final project without any errors and bugs. Also, it enhances the reliability, convenience, readability, and ease of understanding the code. So it is best to know the Complete Guide to Website QA.
There are different steps that a QA Analyst and Quality Testing Services need to follow and present to the users how easy and logical the code is. Based on the complexity, the estimation of QA can be calculated. If a website is quite complex, it will take comparatively a lot more time. In this blog, we will discuss some of the major steps that QA Analyst needs to follow while testing and discuss some important points from a complete Guide to Website QA.
Some Important Statistics for QA testing and its Impact
Approximately 50 percent of QA analysts now use AI testing tools to do quality assurance of their Websites. This number is expected to increase constantly, and new tools will come up to make the QA process much quicker and more seamless.
As Covid 19 has made a huge impact on the working structure, most of the QA teams work remotely and apply different strategies to enhance the overall testing process of the software.
Many QA analysts use high-end tools to fasten the process of QA testing. Such techniques allow them to apply shift right and shift left testing. Also, they try to overcome various challenges by incorporating the QA techniques during developing any software or Website.
What is QA Testing?
Website QA is independent of the design and development process. With the help of QA, you would be able to find the issues with designs and the code, which would later help you improve the UI and measure the performance of the UX.
Why is QA of a website quite essential?
To deliver high-end products with consistency in the code and quality standards, it is quite important to conduct QA. Sticking to the correct set of guidelines would help you discover the performance issues and the bugs that can damage the Website's functionality and compromise security. With a complete checklist of QA, the QA analyst would be able to make your Website more responsive and easy to adapt to the users.
What are the important types of Website QA?
If you want to create a QA process, then it is quite essential to know certain types of QA testing. You can choose any type based on your needs and prepare a custom checklist accordingly.
It is the complete process where the Analysts try different buttons and text boxes to understand their behavior. In case of any bug, it can be fixed by the UI designer.
It is another important type of testing where the website quality is tested. Core web vitals, page-load speed, and overloads are important components tested. There is also a spike test that is helpful to understand the behavior when there is a sudden increase in the number of users.
During User testing, QA ensures that visitors can easily navigate different pages and components of the Website. Also, they should be able to find the correct information to understand the working of certain features. Some of the important elements that QA emphasizes are content hierarchy, menu structure, site structure, and page hierarchy.
It ensures that the Website performs without errors and bugs on different browsers and devices. This also provides all the components are well placed and aligned, so it does not get broken on variable screen size.
Security Testing is usually done along with another testing as it helps to know any vulnerabilities and possible attacks on the Website. During this phase, it is ensured that all the important pages like payment portals, login, and signup pages do not have any bugs that can compromise security.
Search Engine Optimization(SEO) is the testing where marketers ensure that the Website is optimized so that It can be easily ranked on search engines such as Yahoo, Bing, and Google. On-page and off-page SEO is tested during SEO testing, such as meta descriptions, page titles, SEO-optimized URL structures, and much more.
Last but not least, the QA process involves Code review, where the complete code of the Website is audited to find and fix bugs.
Web QA Checklist According to the Complete Guide to Website QA
Since you have understood all the different types of QA tests, Complete Guide to Website QA suggests the complete end-to-end checklist that one should follow while doing a QA of any Website. Consider this the foundational list to which you can add more steps based on your needs.
If your Website is of type Ecommerce, there are quite important elements you need to consider. The buying and selling of products on an eCommerce website is a complex process with several stages which need to work together properly to ensure customers can buy any product or service successfully.
Some important components to check are payment gateways, payment options, and data that you would be storing. Also, it would help if you designed a signup process on your Website that is easy to understand for potential customers.
It is the testing where you need to test some of the complex features of your Website. Like in the case of the Hotel booking website, test if all the bookings happen successfully and data is stored correctly, so it doesn't affect the inventory of the rooms. Even if the Website is quite simple and easy to understand, you should leave no stone unturned to test the basic functionalities as this will help you to stand at par with the Competitors.
Most of the websites are often linked to broken websites that don't work and let users not get the correct experience. Hence, checking if all the links are working properly is always advised. One easy way to test this is to click all the links on the Website, especially in the important sections like FAQs and Contact Us.
Many websites are there with good UI and amazing content, but due to broken links, the whole user experience worsens, and it can lead to customer setbacks.
Check the Browser and Device compatibility.
There are chances that your Website can be opened on any device or browser. Hence it is quite important to check if the Website works properly. If your Website in Firefox is of a certain type, then the same kind should be there on a different browser like Brave browser.
You will find a lot of browsers, which are quite popular, but some browsers are quite new in the industry. There is nothing wrong if you check the Website working for non-popular browsers. There are sometimes millions of visitors on various websites for less popular browsers.
Interoperability and Adaptability
Your Website might look amazing on the windows laptop but not on a big monitor screen. There are chances that your Website doesn't support a large number of pixels or high-quality resolution. This can become a big problem as customers might stop using your Website due to improper navigation and a poor display of the components. While doing QA, always ensure to consider this point and test your websites on different types of screens.
If your Website has some forms, such as signup or login forms, test the complete process for forms before you launch a website. Also, you should ensure that it does not end up in conflict or on the wrong page.
User experience and form structure go hand in hand as many customers look for a faster way to get the details to contact you. This is the reason why you should always put some emphasis on the forms. Another important aspect to look into is the mandatory fields. You should never fill your form with a huge number of required fields as it negatively impacts the website performance and worsens the User Experience.
Structure the Website in a way that is intuitive and easy to navigate
A website with low performance always has bad architecture and rough navigation. Most customers are not technical; complex navigation can make them impatient and not return to the Website. While Doing QA, you must ensure that all the elements are easily discoverable and reachable. You can also recommend developers add some mini tooltips or tutorials when a user loads the website for the first time.
Summary
Optimizing the Website in the best way possible is essential to offer optimum results for your businesses. Also, it would be best if you spent quality time doing QA analysis and following the important steps in the checklist above as per the Complete Guide to Website QA. It will help you to get through the QA process quickly and seamlessly.
Launching the Website once QA is done fully and there are no bugs or performance issues is recommended. A bad website can always damage your business reputation seriously; hence, always be careful while doing QA. To get complete support and more information, you can avail of the Quality Testing Services from different QA companies.
Relevant Blog: Why Should You Hire QA Engineers in Your Team?
Do Not Forget To Visit Our Robust and Secure Services:
Mobile App Development Company in The UK | iOS App Development Company In the UK | Android App Development Company in the UK | Web Application Development Agency in the UK | PHP Development Company in the UK | ASP.NET Development Company in the UK | Hire Developers in the UK | Hire Best iPhone App Developers in the UK | Hire Android App Developers | Hire Web Developer in the UK | Hire PHP Developers In The UK | Hire ASP.NET Developers in the UK