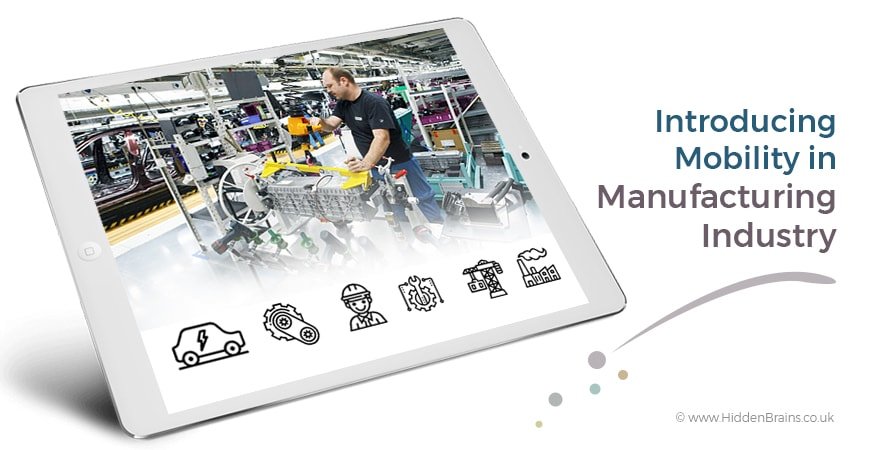 Manufacturing industry being the biggest of all is constantly under the pressure to improve its speed to market, increase its overall production and address the needs of diversified dynamic market. As per deep research and study of experts, it can be said that cost control, extended reach and increased capability is possible with synchronization of mobile technology. Mobile apps for manufacturing companies are increasingly becoming popular considering its profound use and widespread benefits.
As per report on manufacturing industry, the technological priorities of CEOs are as follows:
Mobile technology tops the list with 73% occupancy rate

Cyber security is the next important technological priority with 72% voting

70% executives choose data mining and analysis as technological priority
Mobile Revolution in Manufacturing Industry
The impact and influence of mobility is not limited to any particular industry. Be it retail, real estate, healthcare or hotel business, mobile solutions are currently the most trending and frequently used ones.
If you are skeptical of the use of mobile apps for manufacturing industry, below mentioned pointers would give an overview of its utility:
Advanced technical features of mobile app allow for high level coordination from production, development till delivery stage.

High level CRM through mobile application in manufacturing sector allow for tracking of real time status of each process.

Precise analytical reports derived from mobile apps are used to access enterprise data for accelerated decision making procedure.

Streamline an array of processes including logistics, inventory management and invoicing.
Present Usage of Mobile Apps for Manufacturing
Mobile solutions can help in effective management of manufacturing processes. Being known to this fact, more than 50% of process manufacturing industry and more than 30% of discrete manufacturing industry are currently leveraging strength of mobile technology. Implementation of mobility in manufacturing can be in any form – either as RFID-based sensor networks or mobile devices that can automate different process.
Following statistics explains why manufacturing companies are inclined towards maximum use of mobile app and other enterprise mobility solutions:
70% manufacturers look at mobility as the key driving factor in transforming downtime to productive time.

80% manufacturers plan to increase the use of mobile apps and other mobility solutions for experiencing high productivity in manufacturing processes.(Data Source Infosys)
Integrating mobile technology to formulate new production strategy, processes and procedures has given effective results in the production. Converging existing processes with mobility has resulted in measurable gains.
Apart from rapid increase in production, mobility in manufacturing has resulted in clear communication, enhanced collaboration and effective responsiveness to meet client deadlines. Considering the long term benefits of mobility solutions in manufacturing, entrepreneurs are now focusing to standardize on industrial-grade mobile devices including tablets designed for manufacturing environments.
10 Ways of Implementing Mobility in Manufacturing
Inventory management systems for enterprises that use smart devices for real time inventory tracking, accurate traceability and reporting systems.

Introducing transparency in sales fulfillment by tracking distributed order management.

Allowing clients or customers to review status of order by integrating mobile CRM systems with order management process, development process and delivery.

Get an instant quote through mobile app for customized production, i.e. built on order with details on pricing and earliest delivery dates.

Trace the production through mobile app and check quality and status of order with real time analysis and reports.

Check compliance of new machines with existing ones and send notification to user for maintenance of machineries for improved production.

Access dashboards form mobile app to track production of manufacturing devices.

Coordinate with supply chain managers and logistics manager through mobile app for manufacturing industry.

Using smart machinery powered by Internet of Things (IoT) for intelligent production, automated tracking and real time delivery status.

Reduce turnaround time, increase efficiency and overall productivity by removing latency time in manufacturing.
How Can Hidden Brains Help in Developing Mobile Apps for Manufacturing?
Hidden Brains is award wining mobile app development company helping manufacturing companies to address complex business challenges with its innovative mobile solutions. If you are in plans to build mobile app for your manufacturing industry, contact Hidden Brains executives today who can help you in following ways:
Analysis of your manufacturing landscape

Defining roadmap design

Assessment of infrastructure readiness

Evaluation of product

Analysis of vendor and manufacturing process

Proof-of-concept development
We can help you gain a competitive edge in manufacturing with our digital services and solutions that can be customized as per your business requirements.