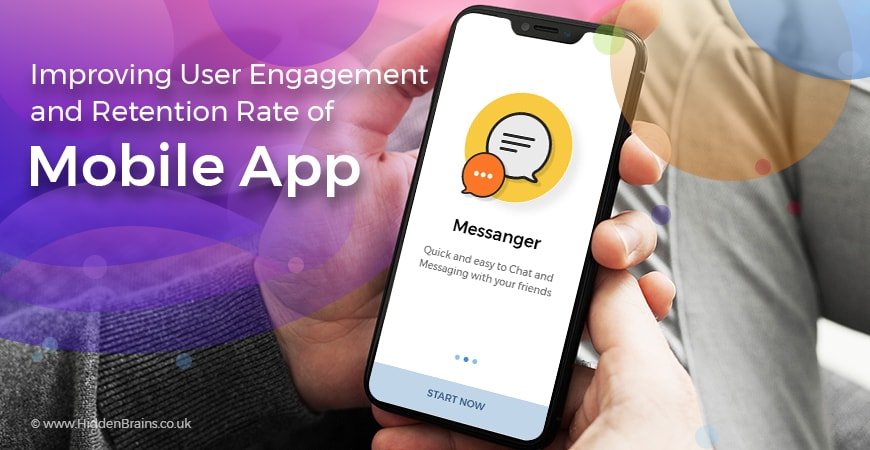 The market of mobile app development is highly competitive. As an app owner, you may witness hundreds or thousands of new downloads each day, but how many of them are converted into active, engaged and profitable users? As per a survey, 80% of users abandon an app in less than 3 days after actually downloading it.
What could be the possible reasons for app abandonment? The attention span of people is narrowing in this digital age where each brand has something interesting to offer. In this scenario, if the mobile app lacks in any factors relating interactivity, UI or UX, you lose the battle.
App engagement and user retention are a perfect recipe for app's success. Let's learn about some useful tips for improving user retention of mobile app:
Push Notifications
Push notification is a double edged sword; it not used safely it can hurt app owners or app marketing team. This is a widely used technique, but rarely understood method of user engagement. The foremost rule to make the most of push notifications is to use it only when needed.
Keep a check on frequency of push notifications that you send to users – it should be just perfect to catch the attention of users without irritating or disturbing them.  Personalized notification sent individually to user after understanding his/her in-app behaviour helps to engage users and provoke them to click on it and explore the app.
Incentivize Users
All that users need to stick around the app is a strong reason. What could be better than offering those incentives or benefits in terms of loyalty points? Incentivizing users is the best method to reduce churn rate and this can take any form such as gamification, rewards or loyalty.
The type of incentives that can be rolled out completely depends on the nature of your app. For example, apps that are looking forward to higher in-app purchases can roll out incentives in terms of offering discounts. For premium apps, users can be motivated to continue with the app by allowing them to earn usage-based rewards for time they spend using your app.
Smooth Onboarding Experience
It is believed that users create an impression in their minds during the very first usage of app. Users who do not have a good onboarding experience would retain that negative impression deeply rooted and sooner or later would end up deleting the app.
For improved engagement and user retention, it is recommended to take a look at your current onboarding process and see if there are ways in which you can simplify it for your users. This simplification can come in different forms such as making it easy to login by providing multiple registration options. It is also advisable to walk your users through exactly how to best use your app through short tutorials. A well designed UX that displays all primary features of app in a clear manner is also beneficial.
Personalization
Mobile apps that provide users with a personalized experience are bound to offer satisfactory experience. For example, when an app says 'Hi, have a good time using the app', it is less likely to engage a user or catch the attention when compared to sentence, 'Hi Alex, hope you are having a good time using the app'.
The bottom line is more aligned the experience is with user's needs and preferences, more likely they are to continue using the application. App owners should personalize the user experience, whenever possible, to display relevant content in the app. Such kind of personalized experience delivers real value to the user.
Conclusion
User engagement and retention is majorly responsible for deciding whether the customer would continue till lifelong or your app is simply an afterthought for the user. Set a benchmark for app's user retention and improve it using these quick tips and techniques.
These tips can help to combat the drop-off in user engagement and retention. Some have already opted for some of the advanced techniques, while others are still stuck to traditional approaches like email marketing. Get started with your mobile app development project and get valuable users for your app with Hidden Brains.
Hidden Brains is a leading mobile app development company helping clients take a stride in the digital world through innovative mobile apps. Discuss your business requirements with Hidden Brains professionals and get an instant free quote immediately.