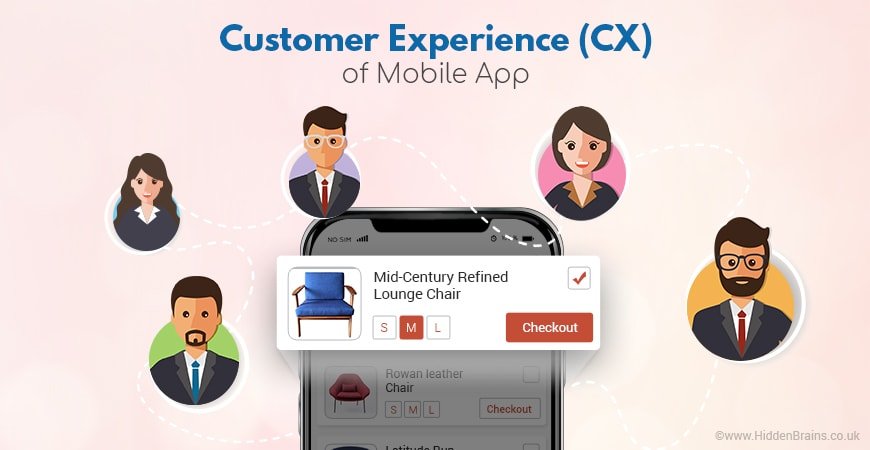 Developing a mobile app for your business requires walking down on a challenging road. An array of factors is jointly responsible for the success of app. To overcome the roadblocks and dynamic challenges that come in the way of building app, businesses partner with a reliable mobile app development company.
Did you know that your business app would just be a needle in a haystack where there are over 2 million apps already available in the App Store? Regardless of how promising your app's features are, it is quite possible that users ignore if it does not appeal them in first usage experience. Customer Experience (CX) takes the lead role when it comes to defining the success of mobile app.
"The consequences of a customer-led, digital-centric market are becoming clearer and starker."

—-FORRESTER
Statistics of Mobile App Customer Experience
As it is rightly said, 'numbers speak louder than words'. To emphasize the significance of mobile app's CX from business perspective, take a look at following numbers:
Bad mobile experience can do serious damage to your brand and end up in major losses in business.  As per the

WOW Local Marketing research, 52% of customers are less likely to engage with the company owing to bad mobile experience.
84% of companies

that operate on the basis of customer-centric approach focus on improving the mobile app customer experience.

72% of businesses

say that improving the customer experience is their top priority to boost overall sales

Companies that deliver excellent customer experience

growth in revenues by 4 to 8%

above the market.
How to Improve Mobile App Customer Experience?
Statistics discussed in above section answer the question 'why should I focus and invest in improving customer experience of mobile app?' Take a look at following graphical representation to understand the top 3 reasons to improve customer experience:
Data Source :- http://www.genesys.com/, https://www.superoffice.com/
Customer experience is directly related to how the user feels about your brand. The experience user has with your company mobile app affects his/her behaviour and loyalty. Let's know of the possible ways to improve CX of mobile app:  
1. Personalization 
This is the secret to delivering successful customer experience. All customers expect their businesses to give them due importance by remembering them after the very first interaction. The more personalization you offer, the greater will be the engagement. 
2. Usability
No matter how good the interface and design of mobile app is, users would connect to it only if it offers some sort of utility to them. The app should address end user's needs in minimum number of clicks. Improving overall usability of app can aid in overhauling the mobile customer experience that your business is providing. 
3. Seamless Purchasing Experience
If your business mobile app involves purchasing, be very precise in designing interface. If the purchasing process is clunky, customers may avoid making the purchase. Some people even abandon the mobile app if the purchasing process is lengthy or complex. Such loss of business can be simply avoided by delivering best-in-class customer experience. 
4. Loyalty Benefits 
Include a triggering element that makes customers come back to your app by introducing rewards in form of free products, cashback, or simply accessing special discounts. These are part of loyalty program that help businesses earn new customers as well as retain old ones.
5. Push Notifications
Push notifications are an assured way to get attention of customers, provided they are used strategically. One thing to remember is that your customer would have several apps installed in mobile phone. Sending too many push notifications would make the user feel irritated, which might eventually lead to deleting the app. Sending personalized push notifications and at a fixed frequency can help in improving customer experience of your mobile app.
Mobile App Customer Experience is the New Battlefield
The success of mobile app completely depends on how good customer experience it offers. Businesses are increasingly focusing on CX aspect to improve customer engagement. This seems to be a viable solution for survival in this cut-throat competition of mobile app marketplace. When customers are pampered during their usage of app, they feel comfortable and there are minimal to zero chances to abandon your app.
Win the battlefield of customer experience with Hidden Brains  – a reputed mobile app development company serving over 39+ industries. Whatever may be your requirement of mobile app, professionals at Hidden Brains have an apt solution that fulfil your objectivity and core purpose of building the app. We design and develop mobile app that delivers exceptional customer experience. Win more customers and downloads for your business app by building an exclusive mobile app now!