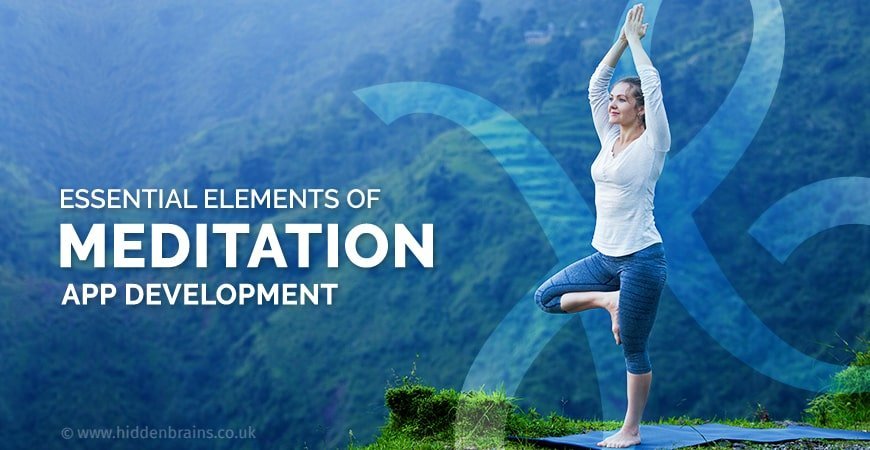 In this fast moving world, everyone has become so busy that they don't have time for themselves. Human beings are continuously engaged in overcoming responsibilities, which leads to stress and serious diseases. 
Different technologies have offered several innovative approaches to lower daily stress and overcome depression. The goal is to ignite inner peace and maintain health & wellness. However, when we think about peace, then the first thing that comes to our minds is meditation. Presently, meditation practise is in high demand, and advanced mobile applications aimed at promoting mental wellbeing to live stress free are growing.
According to Statista, the meditation market in the U.S. was estimated to be worth around 1.21 billion U.S. dollars and was predicted to grow to over 2 billion dollars by the year 2022.
Top App Market drivers of the Meditation Sector- 
These mobile applications are high in demand, and users are constantly leveraging their features. With its advanced and modern integrated features such as morning meditation routine, bedtime stories, and customization or curation of own music, the goal is to allow users to meditate and keep their mind stress free. Users can use these applications at any time and from anywhere including airports and offices.  It helps them to get rid from the stress. 
Are you planning to launch your meditation based  mobile application? But are you not technically savvy? In such a scenario, hire a mobile app developer who can transform your app idea into reality. Hiring a mobile app developer will free you from the technical side to help you focus on the business aspect of the application.
Furthermore, there are several challenges that you might face in the app development process. 
Challenges in the Meditation App Development
1. Simplicity and Speed
The foremost challenge that app developers have to face in the development process is to keep the structure simple. Presently, there are several advanced and modern trends dominating such as AR and VR. However, to maintain the simplicity and loading speed of the app with modern and latest technologies is a major challenge of the app development process.
2. Device Compatibility and Screen Size
This is the second major challenge that app developers used to face and it is important that they should focus on both device compatibility and screen size. Every app owner aims to attract a huge number of users and convey the best impression. There are several devices available in the market and top leaders keep launching the devices. Before building the app, developers should plan the strategy that the application should be compatible with several Android and iOS devices. Apart from this, developers have to focus on the other important attributes UI and UX. In order to increase the user experience, it is important that the designing components should be executed in a proper framework and compatible on multiple devices. It helps to deliver flawless service experience.
Different operating systems have unique development strategies and ensure seamless performance on mobile devices. Your app should be compatible with various other aspects including screen resolutions, sizes, and pixel densities.
3. Performance 
The secret of the successful application is high performance attributes. It is a common challenge that an app developer faces. However, a developer should launch the app, should run successfully without bugs and crashes. Furthermore, it is a daunting challenge to integrate functionalities in such a way that it should not affect the battery life of the devices. 
In order to launch a successful mobile application, it is important to consider several factors or steps, which will help you to stay ahead in the market competition.
Things to consider during Meditation App  Development
1. Clarify your Idea 
Before hiring an app development team, it is important that a user should be clear with their concept and goals. In the market, there are several types of meditation applications available and app owners should finalise which application they should launch to the users. 
Different Meditation applications 
Yoga app

Mental health tracker app

Meditation music app

Guided sleep meditation app

Weight loss meditation app

Meditation app for beginners

Walking meditation app

Breath meditation app
2. Right Application Platform
After finalising the type of your application, choose the right application platform through which you can reach a huge number of users. There are two major operating systems,  including Android and iOS. To boost the development process and get the application at the affordable prices opt for the cross platform development. It will help you to launch your app on multiple operating systems with the same source code. It helps to reduce both the cost and efforts.
3. Consider UI and UX Attributes 
Design plays a pivotal role in the mobile application, it is important to choose the right UI and UX approach. With the right colours, high resolution images, layouts, and proper designing, integrate animated movements. It will help your users to easily interact with your application. 
4. Cutting Edge technologies 
To meet the steps with the tech world, it is important to integrate the advanced and emerging technologies in your applications. By integrating the modern technologies, you can offer unique and next generation experiences to your users. Presently, AR and VR are in high demand and impress users with their functionalities. 
Essential Features to include in your Meditation applications 
1. Sign up and Sign in Profile 
2. Customized user profile 
3. Smart Search 
4. Push Notifications
5. Sleep stories 
6. Live Streaming 
7. Tutorial Video 
Conclusion
Meditation mobile application is exponentially growing and attracting a huge number of audience towards them. Before launching your meditation app, consider several factors and features into your app. It will help you to launch successful app in the market and increase your customer experience.