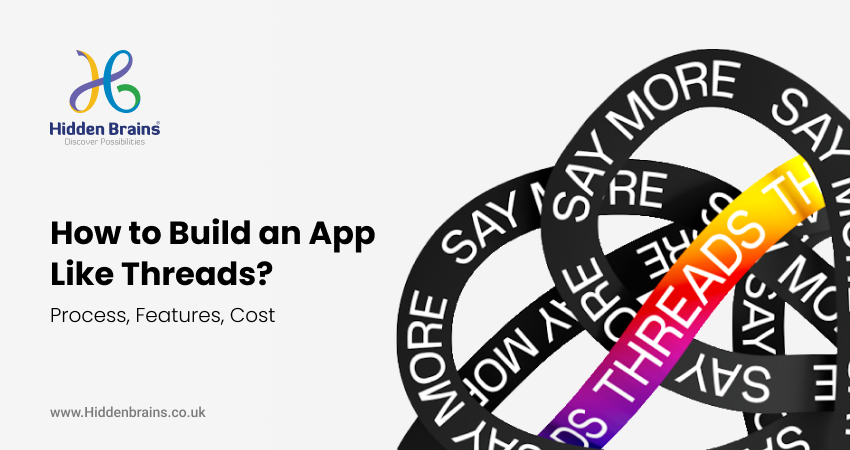 "How to build an app like Threads by Instagram?" – Are you also excited to get the answer of this question?
Well, with a reach of 30 million sign-ups in 16 hours from its launch and 100 million users in just a week, Threads- the Instagram app has become a most sensational social media app that has shaken the grounds of the social media industry with its record-breaking users.
Moreover, it won't be wrong to say that "Meta, the tech giant, has recently revealed its latest offering – 'Threads,' a microblogging app intended to directly challenge Elon Musk's Twitter dominance."
Is Threads A New Way Of Sharing Text?
Yes Indeed! Mark Zuckerberg's initial version of Threads built by Instagram has provided a separate space for real-time updates and public conversations. In fact, it has become a platform where billions of people around the world can connect over photos and videos.
Intagraph's Threads is an exciting new microblogging app that revolutionizes the way we share our thoughts and ideas. It offers a fresh and user-friendly platform for expressing yourself through text, making it perfect for connecting with others and sparking engaging conversations.
Whether you're a seasoned influencer or a casual user, Threads provides you to share your passions, stories, and insights with the world effortlessly.
It's a creative and unique social media platform where your words truly come to life, redefining the art of communication in the digital age and enabling you to get connected with a wide audience.
Is Developing an App Like Threads a Worthy Decision for Businesses?
With approx 2.96 billion users on Facebook, 2 billion users on Instagram, and 2.2 billion users on WhatsApp- the first question usually businesses have in mind that whether the social media app market still has room for new apps.
Social media experts claim that there are around 200-250 app clones available on Twitter, but what sets Threads – an Instagram app – apart? Why is it grabbing the attention of social media enthusiasts?
That's not all!, here are a few statistics that help you compare the influence of Threads over other leading social media platforms.
Threads, the app developed by Instagram, made an impressive entrance into the social media scene, garnering 1 million users in a remarkable 2-hour timespan from its launch. Within just one week, it achieved an astonishing 100 million users, showcasing its rapid popularity.
ChatGPT, a notable platform, achieved a similar milestone by acquiring 100 million users in a relatively short timeframe of 2 months.
TikTok, the widely-known video-sharing platform, reached the 100 million user mark in 9 months, emphasizing its swift rise to fame.
Contrasting the fast-paced growth of Threads and TikTok, Instagram, during its early days, took 2.5 years to gain 100 million users, showcasing a steady and gradual growth trajectory.
For businesses eyeing a chance to shine in the market with their own social media app, questions arise: Is it truly worth investing in a platform like Threads? And if so, how to build an app like Threads and how much does it cost to build an app like Threads?
Don't worry! Being a leading social media app development company in the UK, we've got you covered everything in this blog. Our experts will provide you with expert insights on how to build an app like Threads Instagram, its costs, features, and monetizing strategy.
So, let's get started and discover the secrets behind building an app like Threads. Instagram's text-based app Threads, is a top trending social media app that can elevate your online social media product-based business to new heights. So before you get straight into the process to hire a software development company in the UK, let's get started!
How To Build an App Like Threads?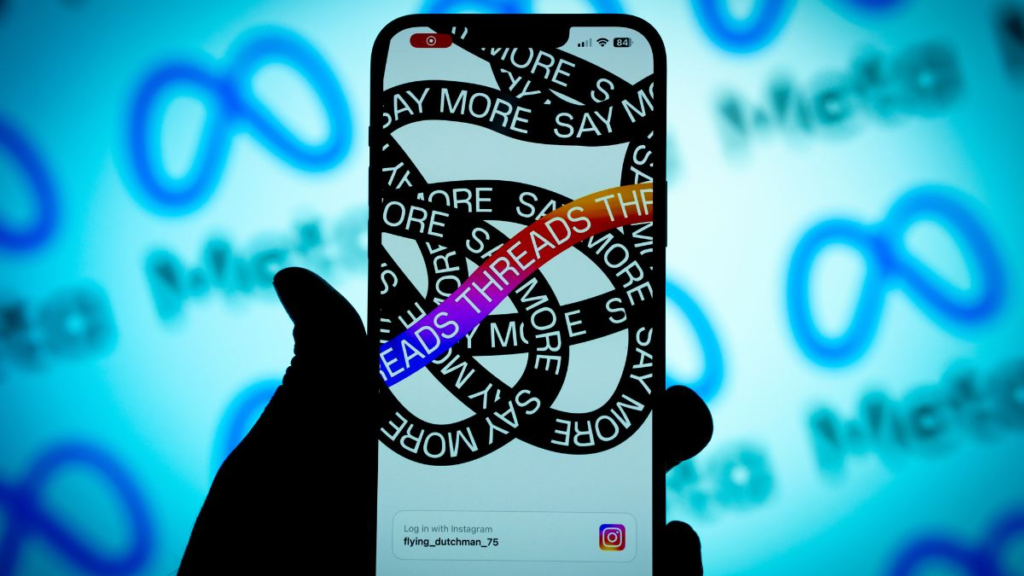 Image Source: raconteur.net
Building a text-based app like Threads is a complex task that requires the expertise of a dedicated app development company, such as Hidden Brains UK, with a proven track record in developing a social media app like Instagram or Twitter.
So, here's a step-by-step guide to help you get started:
Market Research: Conduct thorough market research to understand the target audience, competitors, and current trends in the microblogging and social media app space. Identify what sets Threads apart from other platforms and determine the unique selling points you want to incorporate into your app.
Define Your Objectives: Clearly outline your app's objectives and goals. Decide on the core features, functionalities, and user experience you want to offer. Consider incorporating features like microblogging, close friends' groups, real-time status updates, media sharing, etc.
Choose the Right Platform: As of now, Threads is available on both iOS and Android platforms. So decide whether you want to hire an iOS app developer in the UK or go for a Native Android app or opt for cross-platform development using frameworks like React Native or Flutter. Native apps often provide a better performance, but cross-platform solutions can save you up to 40% on development costs and 80% on development time.
Design and Prototyping: A social media text-based app like Threads boasts a simple, and easy-to-navigate app interface. So create a captivating and user-friendly design for your social media app. Start with wireframes and prototypes to visualize the app's flow and user interface. Iterate on the designs based on feedback and ensure a seamless user experience.
Backend Development: Build a robust backend infrastructure to support user authentication, data storage, real-time messaging, and content delivery. Consider using cloud services like AWS, Firebase, or Azure for scalability and reliability.
Frontend Development: Implement the user interface based on the finalized designs. Focus on creating a visually appealing and intuitive layout that aligns with your brand identity and resonates with your target audience.
Microblogging and Real-Time Updates: Develop the core microblogging feature, allowing users to post and interact with short-form content. Implement real-time updates for status sharing to ensure instant communication.
Media Sharing and Integration: Enable users to share photos and videos seamlessly within the app. Integrate with popular media services like Instagram, so users can cross-post content easily.
Close Friends' Feature: Implement a feature that allows users to create and manage private groups for sharing exclusive content with close friends.
Testing and Quality Assurance: Thoroughly test the app for bugs, performance issues, and security vulnerabilities. Conduct alpha and beta testing with a select group of users to gather feedback and make necessary improvements.
Launch and Marketing: Once the app is fully developed and tested, launch it on the respective app stores (Google Play Store and Apple App Store). Develop a marketing strategy to promote the app and attract users to join the platform.
User Feedback and Iteration: Continuously gather user feedback and insights to identify areas for improvement and new feature ideas. Regularly update the app to enhance the user experience and stay ahead of the competition.
Building an app like Threads requires a dedicated team of designers, developers, and product managers. It's essential to focus on user engagement, privacy, and security to create a successful and sustainable social media platform.
Read more to know how much it costs to hire an Android app developer in the UK.
How Do Social Media App Like Threads Work?
Threads is an independent app developed by Instagram, aiming to empower users to share their thoughts with their connections and engage in public discussions.
But the central question is how it will work. By hiring a mobile app development company in the UK, you can build an app Like Threads that simply works like Instagram's new text app like Threads.
Let's understand how it works.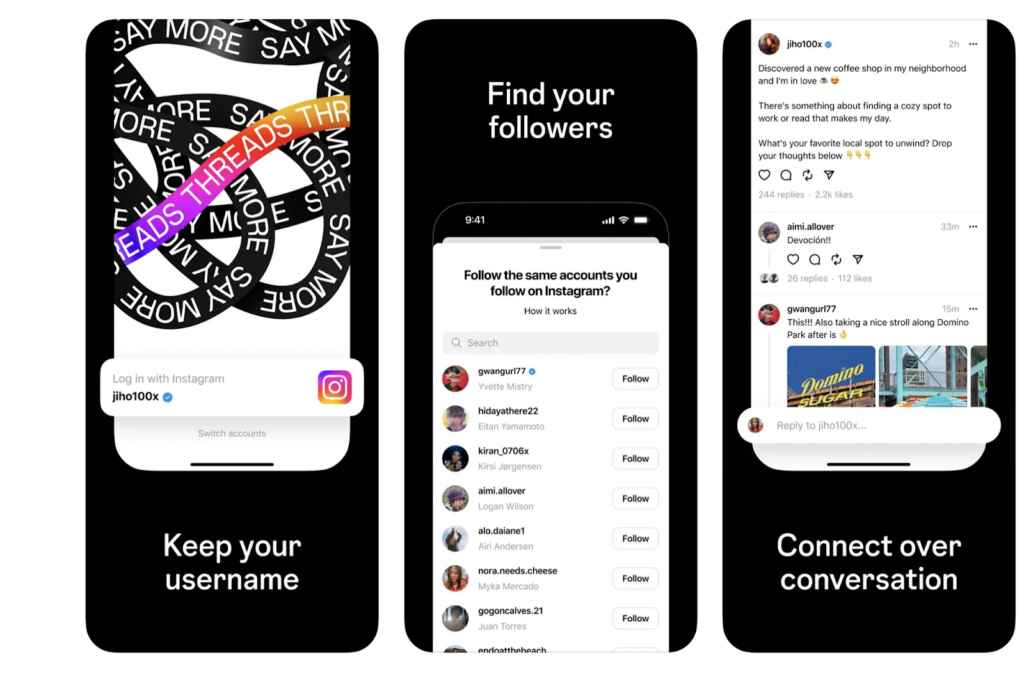 Image Source: vox
To ensure a user-friendly interface and quick accessibility, Threads actually blend the concepts of both Instagram and Twitter, with a slight emphasis on text-based updates complemented by photos and videos, offering an enjoyable and user-friendly experience for social media enthusiasts.
To access Threads, an Instagram account is mandatory. Once logged in with your Instagram ID, the app enables you to send follow requests to your Instagram followers and those you follow, inviting them to join you on Threads.
You can choose to keep your Threads account private or public without affecting your Instagram settings, ensuring control over your sharing preferences.
Sharing your thoughts is a breeze: simply click on the "+" button, type your content, and hit "Post."
Unlike Twitter, where users with a blue tick enjoy extended privileges, Threads treats all users equally. Normal accounts can write thoughts up to 500 characters, attach links, include up to 10 photos, and post videos up to 5 minutes long. Every user has an equal opportunity for reach based on content quality and engagement.
When posting, you can select the audience type: Anyone, Profiles you follow, or Mentioned Only @, offering flexibility in sharing updates.
Threads provide a seamless connection between text-based communication and visual media, offering an inclusive and dynamic platform for expressing ideas and connecting with others.
Read more to know Pro 10 Tips To Make Your Business App Successful!
What Makes The Social Media Text-Based App Threads Different From Twitter?
When comparing Twitter and Threads, it's crucial to explore their distinct features and functionalities. These popular platforms offer communication and expression opportunities, but each caters to different user preferences.
So before you hire a web development company in the UK, it is better deeply compare everything from character limits and video lengths to content discovery and threading experiences.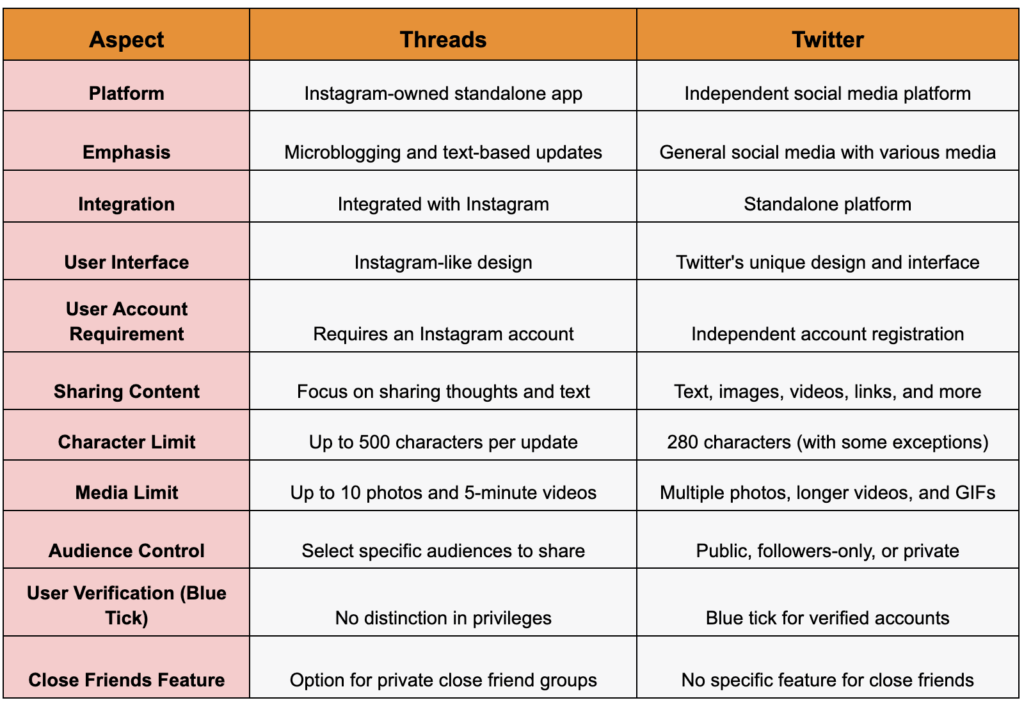 Image Source: AppsDevPro
Now you know how Threads is different from Twitter and what exactly makes it stand apart from others. So how to build an app Like Threads with the right features?
Let's get into it…
Features To Build an App Like Threads
Threads might be inspired by Twitter, but it has various other features and functionalities that make it stay ahead of Twitter. By hiring a software development company in the UK, you can build an app like Threads with a great choice of features which may include:
Profile Creation: At the outset, users should be able to create their profiles with ease, customizing details like their username, profile picture, and bio. Adding personal touches, such as cover photos, themes, and stickers, allows individuals to showcase their unique personalities and connect with others on a deeper level.
Follow and Unfollow Functionality: Implementing a follow/unfollow feature is essential for building relationships and enabling users to curate their network. By giving users control over their feeds and the content they see, they can seamlessly follow or unfollow other users based on their interests and preferences.
Thread Creation: Allow users to initiate new threads where they can share text, links, videos, and images with their followers. Privacy settings should be in place, empowering users to decide who can engage with their posts. This personalized approach enhances communication and connection within the app.
Search Option: An intuitive search feature should be available for users to find specific profiles and posts, enabling easy discovery of content and users of interest.
Reactions (Emojis): Incorporate a variety of emojis to allow users to express their reactions to specific messages within a thread. Emojis add an extra layer of emotion and interaction to the conversations.
Thread Mention Feature: Enable users to catch the attention of specific individuals in a busy thread by using the @mention feature. This ensures important messages are never missed by the intended recipients.
Sharing Threads on Third-party Applications: Facilitate direct sharing of threads on the leading platform of Instagram, bridging the gap between the two apps and expanding the reach of users' conversations and experiences.
These are the few essential features that help you build an app like Threads, but what's the use of creating a Clone of Threads? To make your app stand apart in the social media app industry, you need to consult social media app development company in the UK that specialized in crafting solutions that drive a success.
But how much will it cost to build an app like Threads?
How Much Does It Cost to Build An App Like Threads?
The average cost to build a Twitter-like text-based app will be ranging from $15,000 to $25,000. But it won't mean that the app development cost can't be lower than $15,000 and won't go above $25,000. The ultimate cost to develop an app like Threads is majorly affected by its complexity. So here we have provided an estimated cost based on various complexity levels.

Image Source: AppsDevPro
Let's closely evaluate what other factors are affecting the cost of developing an app like Threads…
Major Factors Affecting The Cost of Developing an App Like Threads
The cost of developing an app like Threads, similar to Twitter, can vary based on several factors. Let's explore the main variables that can impact the development cost:
Complexity of Features: The number and complexity of features you want to include in your app will influence the cost. Features like user registration, profile management, Threads posts, following/unfollowing users, hashtags, search capabilities, direct messaging, notifications, and real-time updates add to the complexity and cost.
Design and User Experience: Investing in a user-friendly and visually appealing UI/UX design can increase the development cost, especially if you hire UI/UX designers or design firms for custom designs.
Platform and Devices: The cost will depend on the platforms you choose to support, such as iOS, Android, or both. Separate development efforts are needed for each platform, and additional costs might arise if you support different devices, screen sizes, and resolutions.
Technology Stack: The choice of frameworks and technology stack can also affect the price. Different programming languages, frameworks, and tools have varying learning curves and development times, which can influence the overall cost.
Tech Stack Required To Create a Text-based App Like Threads:
Frontend: HTML, JavaScript, CSS, React
Backend: Node.js, Express.js
Database: MongoDB
Real-Time Updates: OAuth
Authentication: WebSocket
Deployment: AWS (Amazon Web Services)
Additional Tools: Git (Version Control), Socket.io (Real-time Communication), Heroku (PaaS), Nginx (Web Server), Redux (State Management), Postman (API Testing)
Backend Infrastructure: The complexity and scalability needs of the backend infrastructure can impact the cost. Setting up servers, databases, integrating APIs, and ensuring security measures are in place are important factors to consider.
Third-Party Integrations: If you plan to incorporate third-party services like social network APIs, analytics tools, or cloud storage, it can affect the development cost, especially if these services have usage-based pricing or require additional development work.
Maintenance and Updates: Ongoing maintenance, bug fixes, updates, and customer support require additional resources and expenses. It's essential to consider the cost of maintaining the app and responding to user feedback.
Location of App Development Firm: The rates for developers, designers, and specialists can vary significantly based on their experience and location. Different regions and countries have different pricing ranges.

Image Source: AppsDevPro
These are the rough estimations of the hourly rate of developers at various locations.
But you can read more to know how much does it exactly cost to build an app in the UK?
How To Make Money From an App Like Threads?
While making through your social media app can be easier than anything if you know the right monetizing strategy. There are many strategies to make money from your social media app, but here we have listed a few top choices of money-making methods for businesses.
In-App Advertising: Integrate targeted advertisements within the app. You can offer different types of ads, such as banner ads, sponsored posts, or native ads, that blend seamlessly with the user experience. Advertisers can pay to promote their products or services to the app's user base, generating revenue for your app.
Premium Features or Subscription Model: Offer premium features or a subscription plan to enhance the user experience. Users can opt for a paid version of the app that provides exclusive benefits, additional functionalities, or an ad-free experience. Implementing a freemium model can entice users to upgrade to the premium version, generating a recurring revenue stream.
In-App Purchases: Allow users to make in-app purchases for virtual goods, digital content, or exclusive features. For example, users could buy virtual stickers, themes, or emojis to personalize their profiles or posts. Ensure that the in-app purchases enhance user engagement and are relevant to the app's content and audience.
Conclusion: How Do Hidden Brains UK Can Help You Build An App Like Threads?
With this blog guide, you will have an idea that how Threads like a text-based app has set the social media industry on fire. Though this blog has explained everything about how to build an app like Threads, still, you need to hire mobile app developers in the UK with the specialization to translate all these things practically. And Hidden Brains UK is one such reputed and leading social media app development company backed by a skilled and specialized team that can handle the app complexity and is capable of building success-oriented apps for clients.
So if you are looking for experts, then you can drop a query below or contact us!
FAQs
What is Threads?
Threads is a text-based social media app developed by Instagram, allows users to share thoughts and engage in public discussions.
What features are essential for the app?
Must-have features include user registration, microblogging, media sharing, follow/unfollow, and search functionality.
How much does it cost to build an app like Threads?
The cost varies based on complexity, features, and team rates. It can range from $20,000 to $100,000+.
How long does app development take?
The timeline depends on complexity and team size. A basic app may take 3-6 months, while a complex one could take 6-12 months.
How can I monetize a text-based app like Threads?
Consider in-app advertising, premium features or subscriptions, in-app purchases, and data analytics services for monetization.
How long does app development take?
The timeline depends on complexity and team size. A basic app may take 3-6 months, while a complex one could take 6-12 months.
How can I monetize the app?
Consider in-app advertising, premium features or subscriptions, in-app purchases, and data analytics services for monetization.
Do Not Forget To Visit Our Robust and Secure Services:
Mobile App Development Company in The UK | iOS App Development Company In the UK | Android App Development Company in the UK | Web Application Development Agency in the UK | PHP Development Company in the UK | ASP.NET Development Company in the UK | Hire Developers in the UK | Hire Best iPhone App Developers in the UK | Hire Android App Developers | Hire Web Developer in the UK | Hire PHP Developers In The UK | Hire ASP.NET Developers in the UK