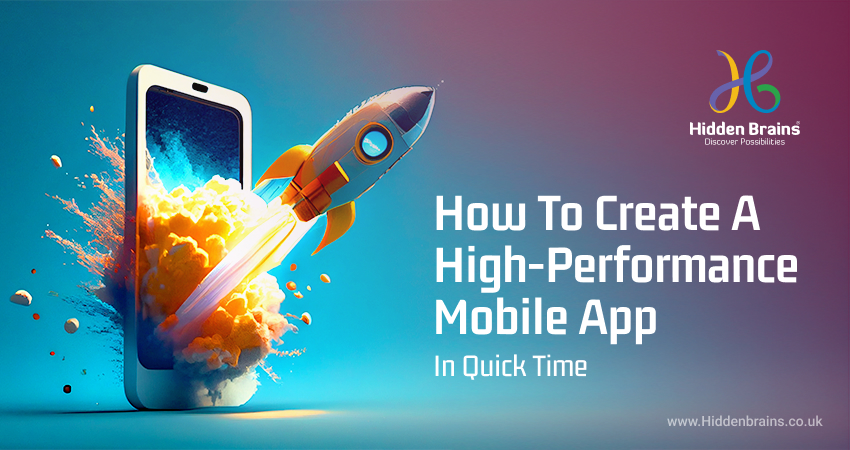 How to create a mobile app? Are you also looking for an answer to this question?
In fact, with recent reports saying that revenue generated by mobile apps is expected to reach $2,692 million in 2023 and will be growing at the CAGR of 11.28% till 2027, businesses from all across the world are inclining towards the question that "how to make a high-performing mobile app?".
During a pandemic, I guess, most businesses have already realized the importance of having a business mobile and even a few have quickly migrated their traditional business model to digital platforms.
According to the reports, the demand for mobile apps had suddenly struck up from 204 billion in 2019 to 255 billion in 2022.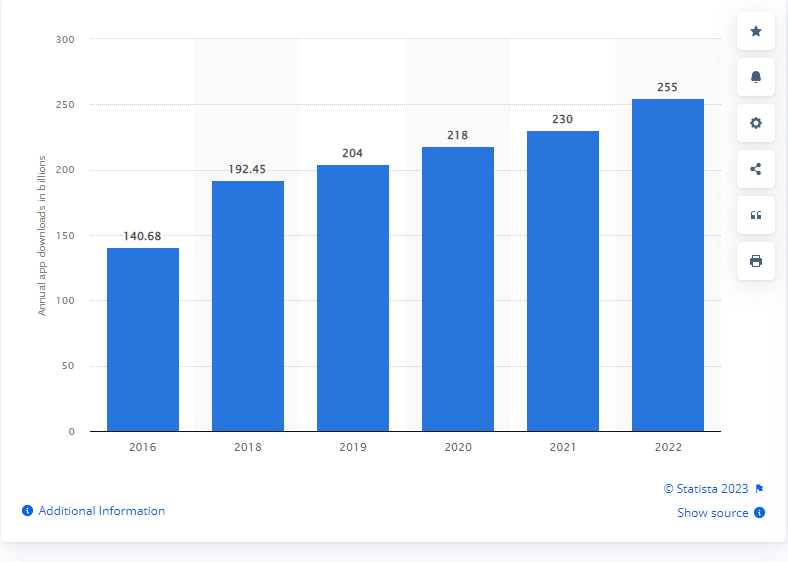 Image Source: statista.com
While the IT industry is flourishing and flooded with mobile applications, businesses are in urgent need of understanding the tips to create a high-performance mobile app in the UK.
If you're also one of those who is all set to create a mobile app but not sure how to make it successful and develop it quickly, then this blog is for you. Here we will guide you from the top tips for creating a successful mobile app to the best platforms to hire a software development company in the UK.
Let's jump on the top 10 tips to create a mobile app in a quick time…
How To Create An App in the UK: 10 Tips To Develop an App In Quick Time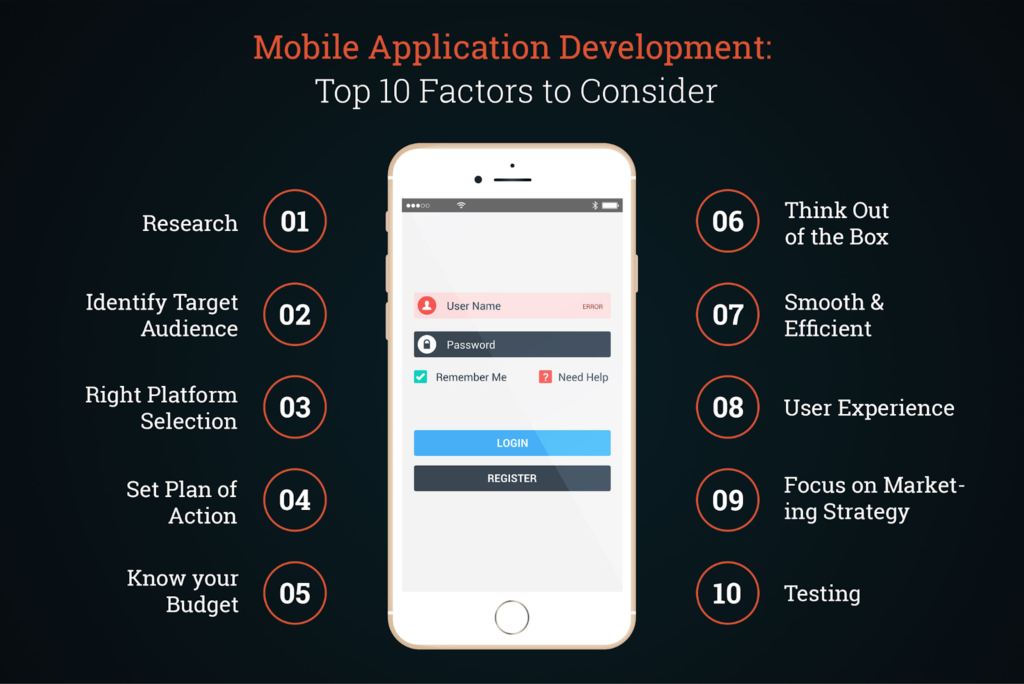 Image Source: apogaeis.com
Developing an app in the UK can be an exciting task. A mobile app can quickly turn your startup business into a lucrative venture. But all it needs is careful planning and execution to ensure success. So here we are providing 10 essential tips to help you create an app efficiently and effectively.
1. Define Your App's Purpose and Target Audience
When it comes to building a mobile app, most businesses make the mistake of getting straight into development. Though turning your business model into a mobile app can be really exciting but soon that excitement can turn into a costly blunder if you are not clear with your objectives.
To create a mobile app in a quick time frame, it is important that you start the process rightly. Make sure you hire a mobile app development company in the UK that helps you clearly define the purpose of your app and identify your target audience. Understanding your app's value proposition and its intended users will shape your development strategy and marketing efforts.
2. Conduct Market Research
Another tip for creating a mobile app that adds an edge to your business success is to conduct in-depth market research. To make precise research, make sure you identify your market competitors, market trends, and potential opportunities.
Analyze all the successful apps in your niche to understand their key features, user preferences, pain points, and areas for improvement. This knowledge will help you create a mobile app that enables you to establish a benchmark in the market by simply helping you to deliver the best functionalities and better user experience to the users.
3. Deliver A Value-Added App To Your Customers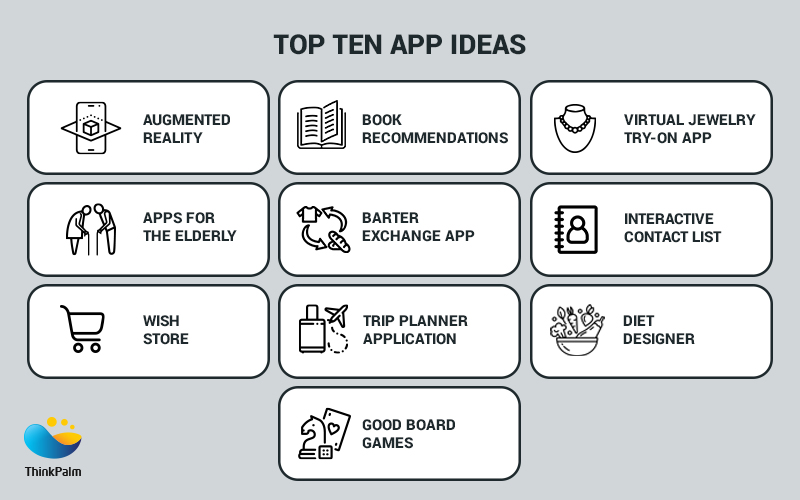 Image Source: thinkpalm.com
Based on your research and brainstorming, refine your app development idea. The ideal way to choose the right app idea is to make sure that your app delivers value to the customers. Prefer hiring mobile app developers in the UK that enables you to develop an app that targets a specific group of potential users.
Now the question is how would you decide what's in demand and what type of application you should invest in?
Well, according to the research report of Statista says that during the first quarter of the pandemic, the demand for social media apps witnessed an aggressive hike. So to fulfill that gap, startups had came up with brilliant social media apps and existing ones have introduced such engaging features that boost user retention.
Overall, the three main ingredients of choosing the right app idea include:
Customer's Needs
Business goals
Technological Solution
So the simple mantra is to create a mobile app that brings an essential advantage to users that they are encouraged enough to download the app and feel excited to use it!
4. Think About the Features And Functionalities
So now you have already spent enough time thinking about your app idea. Now it's time to add functionality and features to it to elevate its profile.
Usually, profile login, social media sharing, notification alerts, and payment integration, all seem to be common features in all applications. So how would you make your app stand apart from the competition?
To add uniqueness to the product idea, many businesses consider adding an abundance of features to their application. But this might end up overlooking the core of your product idea. Instead of just jumping straight on deciding the list of features, keep your focus on understanding "that users always look for simplest ways to solve their problem".
So if you are looking to quickly market your app, then developing an MVP solution is a perfect idea for startups!
Read more to know the benefits of developing an MVP solution for your business.
5. Choose the Right Development Approach
No matter how brilliant your app idea is, if you are not choosing the right development approach, then your entire efforts will be in vain. Depending upon the target audience, select the appropriate development approach for your app, such as native, hybrid, or web-based.
Now the central question is how will you decide which is the right development approach for your app idea.
Primarily, you need to consider factors like time-to-market, cost, performance, and target platform(s) to make a decision. Native development provides better performance but may require more resources, while hybrid or web-based solutions offer cross-platform compatibility.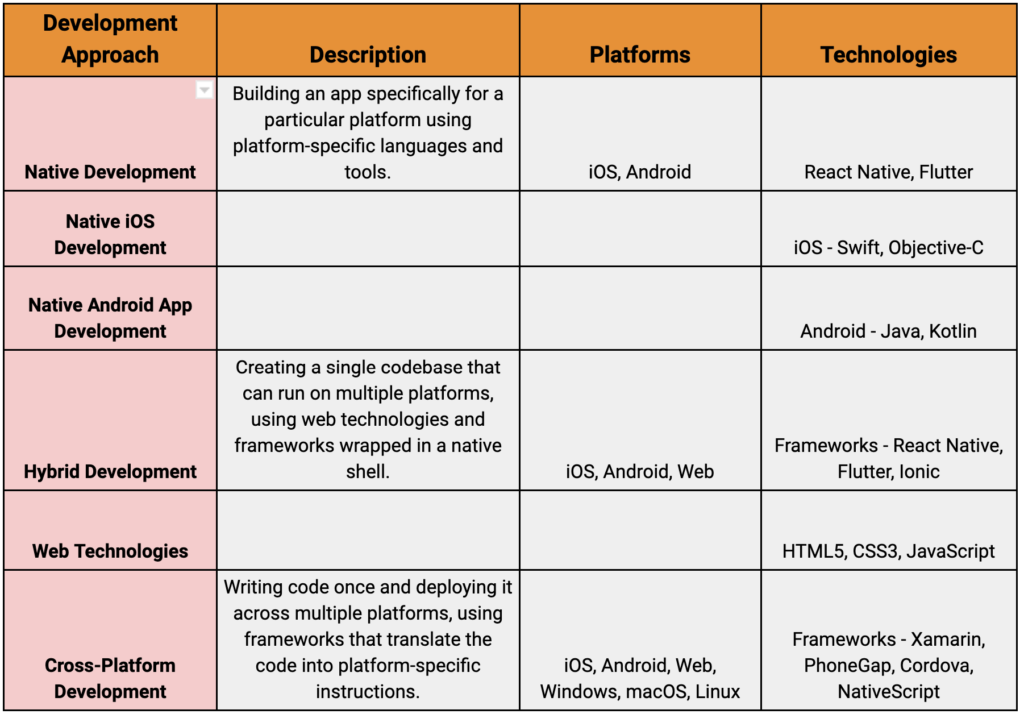 Image Source: hiddenbrains.co.uk
In case you are planning to create a native Android app, then you can hire an Android app development company in the UK to kickstart your app development process.
6. Build a Talented App Development Team
To create a mobile app, usually you need an app development team that may consist of a back-end developer, a front-end developer, UI/UX designers, quality assurance engineer to bring your app to life. Make sure you hire an app development company in the UK that can save time, reduce risks, and ensure high-quality results.
Before you collaborate with the app developers, make sure to check these parameters:
Signing NDA to ensure app security
Diversity of company profile
Ownership of app coding
On-going and post-launch app support
Money back guarantee
Flexibility to work in different time zones
Scalability of coders according to the project complexity
By keeping in mind these parameters, you can easily narrow down your list of app development companies in the UK experienced in transforming app ideas into a perfect solutions.
These are a few basic tips that help you streamline the baseline of app development. Now before you hire app developers in the UK, you need to check some technical tips that help you expedite the app development process…
Pro Tips To Create a Mobile App in Quick Time Frame
Building a mobile app within a quick time frame requires careful planning, efficient development processes, and effective project management. Here are some expert tips to help you create a mobile app quickly:
7. Use Pre-built Components and Libraries
Leveraging pre-built components and libraries can significantly speed up development. Open-source libraries are available for various functionalities like authentication, networking, UI elements, and more. These libraries provide tested and reusable code that you can integrate into your app, reducing the time spent reinventing the wheel and allowing you to focus on the unique aspects of your app.
8. Utilize Backend-as-a-Service (BaaS) Platforms
BaaS platforms like Firebase or AWS Amplify offer ready-to-use backend services, such as user authentication, database management, and cloud storage. These services eliminate the need for building and maintaining your own backend infrastructure, saving development time. BaaS platforms provide well-documented APIs and easy integration, allowing you to focus on the front-end development and app logic.
9. Adopt an Agile Development Approach
Agile methodologies, such as Scrum or Kanban, promote iterative development and collaboration. By breaking the project into smaller, manageable tasks called sprints, you can focus on delivering working increments of the app within a shorter time frame. Regularly review and adjust your plans based on feedback and progress, ensuring that the development process stays flexible and responsive to changes.
10. Use a Cross-Platform Framework
Cross-platform frameworks like React Native, Flutter, and Xamarin allow you to write code once and deploy it on multiple platforms (such as iOS and Android). Also, you can hire an Android app developer in the UK to save development time as you don't have to write separate codebases for each platform. These frameworks use a single codebase to create native-like user interfaces and interactions, resulting in faster development and easier maintenance.
So by combining all these tips together, you can create a mobile app that ensures high performance and success in this thriving marketplace. But the central question is how much does it cost to create an app in real?
Let's get to know the real answer…
How Much Does It Cost to Create an App in the UK?
The range of mobile applications is quite vast, and different applications boast different functionalities. Hence, there is no standard cost to create a mobile app in the UK. To determine the real estimation of any application, you need to evaluate its features, functionalities, its design, technologies, and more. To help you get an estimation, here we have segregated the app development cost into three sections depending on the complexity.
Basic App Development Cost: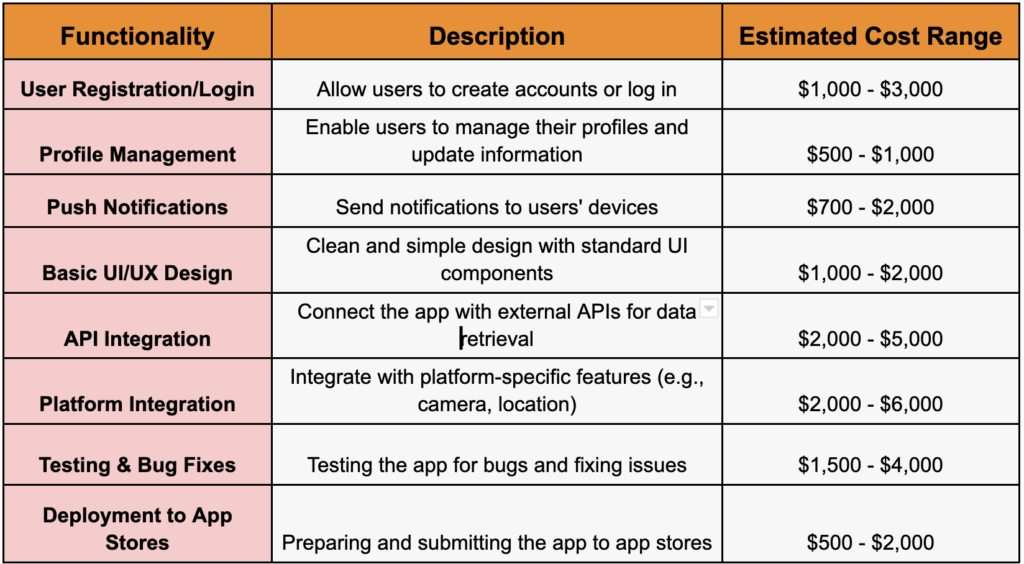 Image Source: hiddenbrains.co.uk
Some of the real-life examples may include A simple note-taking app with user registration, profile management, push notifications, and the ability to create and view notes.
Medium App Development Cost: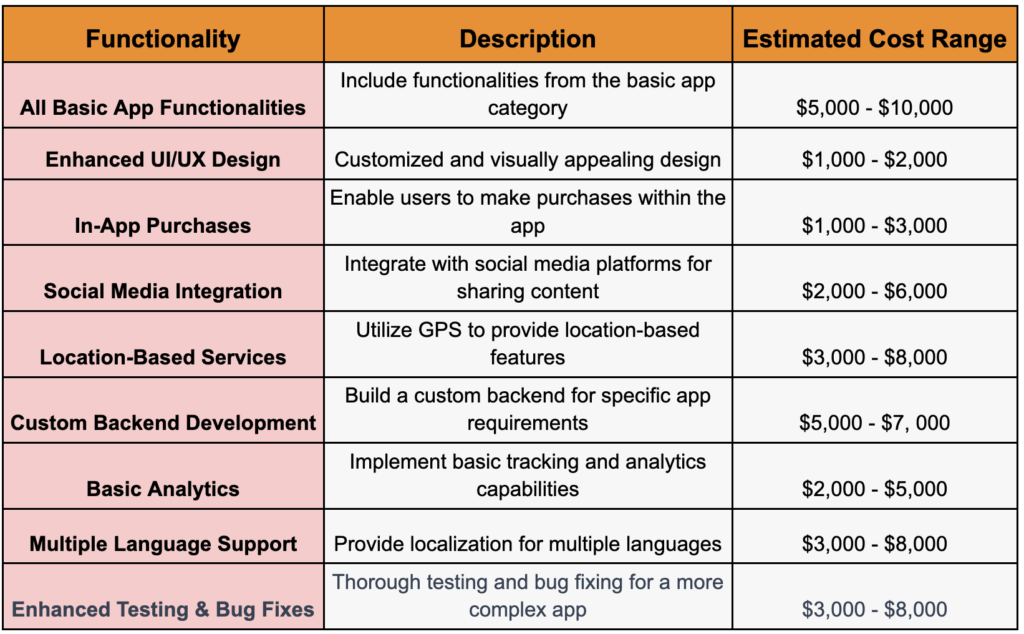 Image Source: hiddenbrains.co.uk
Some of the most common real-life examples are- A social networking app with user registration, profile management, in-app purchases for virtual goods, social media sharing, location-based features, and custom backend development.
Advanced Mobile App Development Cost: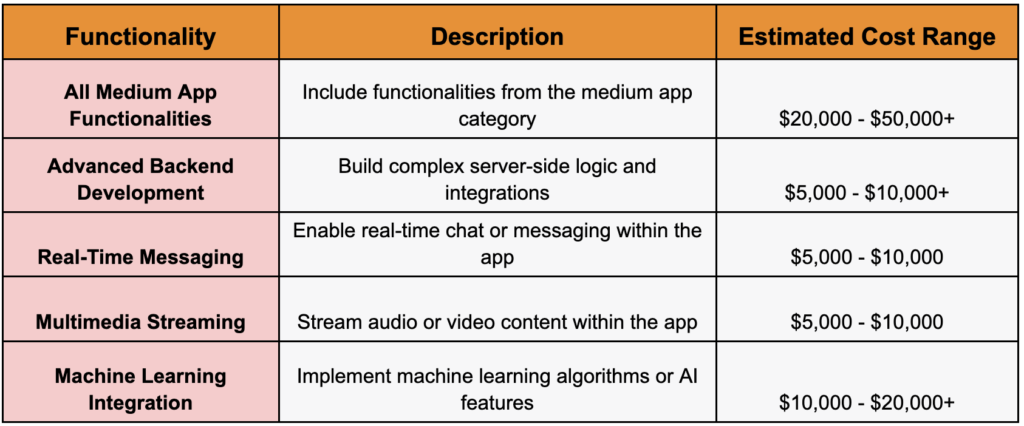 Image Source: hiddenbrains.co.uk
Some of the real-life examples of advanced applications are – a ride-sharing app with all the functionalities of the previous categories, plus real-time messaging between drivers and passengers, multimedia streaming for in-app entertainment, machine learning algorithms for ride predictions, advanced analytics for driver performance, and more.
Conclusion:
How Do Hidden Brains UK Can Help You Launch Your Mobile App In 5 Days?
In conclusion, if you are looking to create a mobile app in a quick time then Hidden Brains UK can help you launch your mobile app in just 5 days through their Rapid Mobile App Development (RMAD) service. You can hire a mobile app development company in the UK, you will get access to a development team who uses low-code or no-code tools and pre-built templates to create fully functional and customized mobile apps in a committed time.
With a focus on quality, speed, and customer satisfaction, Hidden Brains UK can help you bring your app idea to life quickly and efficiently. So if you're looking to launch your app in a short time frame without compromising on quality, you can drop your query below and discuss your project directly with our experts.
FAQs
How much does it cost to develop a mobile app?
The cost of developing a mobile app can vary based on factors such as app complexity, features, platforms, design, and development resources. It's best to consult with a professional app development agency or get a detailed project estimate to get an accurate cost assessment.
Which platform should I choose for my mobile app, iOS, or Android?
The choice of platform depends on your target audience and business goals. iOS typically has a more affluent user base and higher app revenue, while Android has a larger market share globally. Consider factors like target audience demographics, revenue potential, and development budget to make an informed decision.
Do I need a separate app for iOS and Android?
It depends on your target audience and resources. While it's possible to develop a single cross-platform app using frameworks like React Native or Flutter, separate apps for iOS and Android may provide a better user experience, taking advantage of platform-specific features. It's important to weigh the benefits against the additional development and maintenance costs.
How can I monetize my mobile app?
There are several monetization options for mobile apps, including in-app purchases, subscription models, advertisements, sponsored content, freemium models, or selling the app outright. The choice depends on your app's nature, target audience, and revenue goals. It's important to consider the user experience and value proposition while selecting a monetization strategy.
How can I ensure my app's success after launch?
Continuously monitor user feedback, analytics, and app performance to identify areas for improvement. Regularly update and maintain your app to fix bugs, add new features, and stay relevant. Engage with your user community, provide excellent customer support, and actively seek user feedback to enhance the user experience and drive app success.
Do Not Forget To Visit Our Robust and Secure Services:
Mobile App Development Company in The UK | iOS App Development Company In the UK | Android App Development Company in the UK | Web Application Development Agency in the UK | PHP Development Company in the UK | ASP.NET Development Company in the UK | Hire Developers in the UK | Hire Best iPhone App Developers in the UK | Hire Android App Developers | Hire Web Developer in the UK | Hire PHP Developers In The UK | Hire ASP.NET Developers in the UK