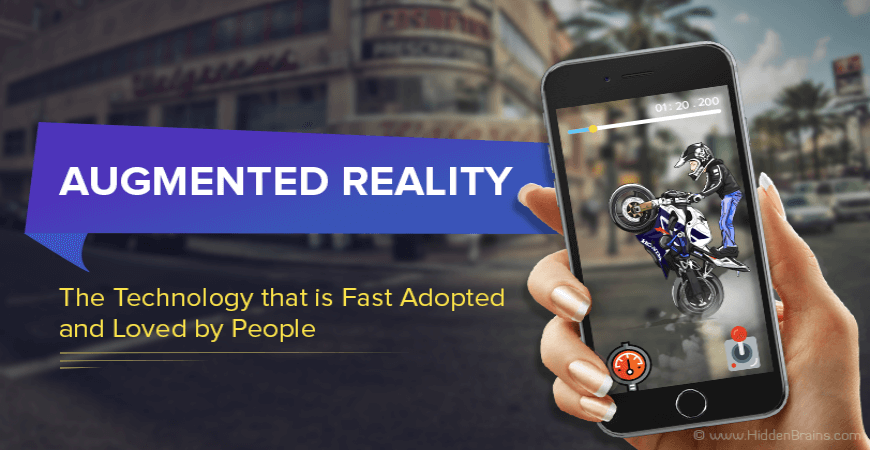 Virtual reality and augmented reality are much talked about concepts today. While some have a clear idea on these technologies, some still give a surprised look when they come across these names.
What is Virtual reality and Augmented Reality?
Virtual reality relates to the use of software to produces 3D images or impactful sounds that gives an experience of real world elements. On the other hand, augmented reality is all about connecting to physical real world using computer accessories such as headsets, glasses and more.
Why is Augmented Reality Concept Welcomed with Open Arms and Loved by Audience?
The view of real world is modified by computer AR headsets and glasses to give an immersive experience to user. The best part about Augmented Reality Development is that it enhances user's perception of reality, which he thinks is his own real world.
Augmentation works in real time, which is why it is possible to digitally manipulate the information in order to make it interactive. Thus, the components of digitally attractive world are put forth to user's perceived real world.
Pokémon GO: A Successful Mobile Game Based on Augmented Reality
Pokémon GO is one game that enables a player to travel between real and virtual world. The game that reached 100 million downloads in its first month surely has something interesting and unique in it that sets it apart from billions of other games in the App store.
This is a location based game that encourages players to step out of their comfort zone in search of pokies that are hidden in surrounding real world locations.
Pokémon GO game lets players collect different species of pokies as they search for it in surroundings, meanwhile exploring the world around them that usually goes unnoticed in this digital world. This augmented reality game makes players feel connected to their surroundings by knowing more about it.
As you move around in the city, mobile phone alerts you of nearby Pokémon. This is when players explore surroundings to encounter different species. Once found, players can aim on their touchscreen mobile phones and throw Poké ball to catch the Pokémon.
The mixture of virtually digital world with real surroundings, real time and location gives magical experience to users, which is why 'Pokémon Go' game became a favorite of people in no time.
Unexplored Possibilities with Augmented Reality
Caudell, the person who coined the term 'AR' was of the opinion that this concept would see acceptance in diverse industries such as construction, architecture and even automotive design. However, it was too early for these industries to accept this technology and experience the depth of it.
This concept was left aloof till the time smartphones started ruling the world. The age of smartphones opened up path for new technologies and innovations in the effort to offer best possible experience to users.
BBC news channel has been using AR since a decade and opens up on the convenience this technology offers. Each element or object can be operated upon separately such as presenter, overlay or sound. Breaking down each component simplifies the programming experience.
AR: Developing Concept
Though mobile and video games have welcomed this concept and enjoyed its benefits, other industries are still trying to overcome technical issues that come while its implementation in research labs. Augmented Reality will soon take over all the fields with its immense potential that is still to be explored.