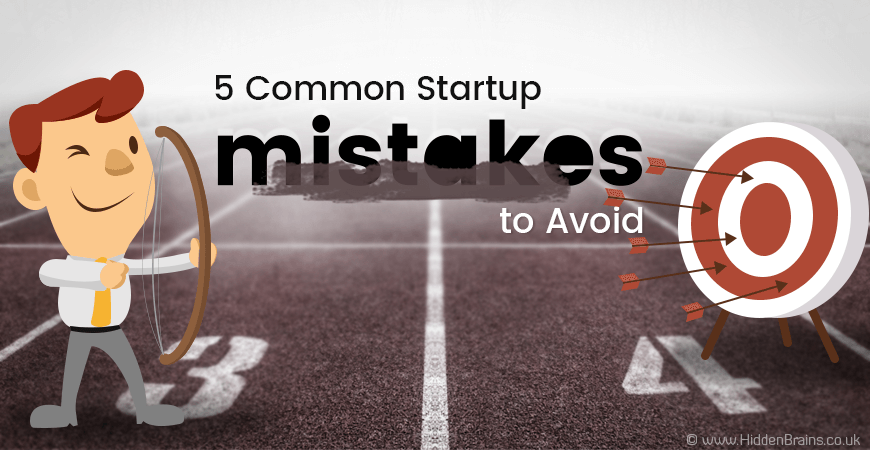 Struggle, patience, do-not-give-up attitude are some popular buzz words attached to the term 'startups'. Every big company begun its journey as a startup, but what made them reach so high despite facing the same set of struggles that you as an amateur entrepreneur are facing?
Taking proper steps and decision at the right time is very important in business. This blog gives you insights on 5 common startup mistakes that can be avoided by being acquainted about it in advance. Let's discuss them one-by-one:
Compromising with Expertise
As a matter of fact, you should accept that your in-house team cannot be good at everything. As a startup, you would not have a big team size, which may require you to look for expert help outside office premises.
Do not compromise on level of expertise, as focus on 'quality' is the first step to a successful business. This high quality comes at a price, which should not be compromised on. It is an investment for future business. 'Invest generously on talent and expertise', this is the ground rule for business.
Disregarding Data and Analytics
Assumptions have no place in business. Every decision you take as an entrepreneur should be justified with facts and analysis. Remember, you are not answerable to anyone else but yourselves. Do not take business as a gamble played on sixth sense or baseless assumptions.
Data speaks what is going right as well as what's wrong in your business operation strategy. Study business data to get deep and logical insights on how to plan your next strategic move. If necessary, purchase analytics tool as per the nature of your business to study your customers and work towards fulfilling their requirements.
Investing Money Randomly
Once your business is on the right track, do not jump to scale too quickly. It is too early to judge the pattern of growth of your startup. Do not get overexcited to hire more employees or spend heavily on marketing.
Compare the priority areas which require investment with respect to money you have in hand. Strike a balance so that no business operations are hampered with your investment decision.
Being Rigid About Your Idea
Do not be rigid about the idea you have in mind. Take suggestions from experts in the industry to become aware of possible challenges and risks involved in implementing your idea. Entrepreneurs cannot be stubborn and egoistic; this is not the right attitude to conduct business.
For example, you own a startup that is into offering mobile app development services. Discuss the process you are going to follow for development project with experts and experienced developers who have good expertise in this arena. By doing so, you are saved from being prey to common startup mistakes to avoid.
Failure to Delegate Work
Most startup entrepreneurs are skeptical about delegating work and prefer to do all things by themselves. This attitude is one the biggest startup mistakes to avoid. Delegation of work has to be done properly to appropriate persons for its successful completion.
Define work processes and make respective teams responsible for a particular task. Train them as per your work and business standards to get the expected quality of work. This can lead to smooth project management, thereby making pace for you to get involved in higher authority tasks.
Wrapping It Up
These learning will enable you to avoid these 5 common startup mistakes. However, this does not imply that you will have an easy startup entrepreneur life, but you will know what to do to avoid anticipated risks. Good luck to all startup entrepreneurs!